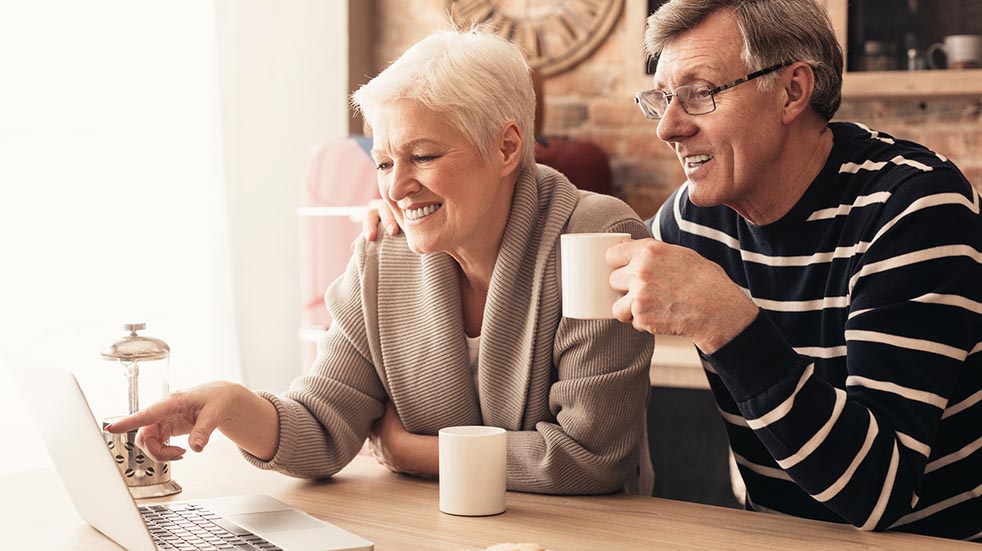 Turn off Netflix and switch on your brain: there's a whole world of culture and curiosities available for free online. Whether you love ballet, wildlife, science or opera – or just want to try something new – here's where to look...
At the start of lockdown, we snapped our diaries shut – with concerts cancelled and plays postponed, who knew when we'd get our next culture fix? But bravo for the UK's resourceful, resilient entertainment industry, which has embraced the 'new normal' wholeheartedly – hosting virtual events, setting up live-streams and raiding its archives for gems to enjoy online.
This month, there's a bumper crop of free cultural content; indeed, you might find your diary is busier than ever. But first, if you'll forgive us, a simple plea: many of the nation's arts institutions are in dire financial straits, with their funding cut and no clue when audiences will return. So, if you enjoy something they've shared for free, consider making a donation – no matter how small – to help ensure that the show will go on.
1. Plan a night at the opera
Until 4 June
Photo: Royal Opera
With its vibrant score and light humour, Jules Massenet's Cendrillon is the kind of opera that first-timers will enjoy – yet there's enough depth and technical prowess here to satisfy aficionados too. Based on the classic Cinderella tale, it was performed by the Royal Opera in 2011 to great acclaim: think lustrous costumes, well-played comedy and beautiful duets between our girl and her Prince Charming. And for a few more days, you can experience the show in its full glory via this online stream.
2. Learn from the experts
1, 3, 8, 10, 15 & 17 June
The University of Manchester's Lockdown Lectures are continuing into their second month, with sessions from some of the UK's greatest minds. While we've already heard from Brian Cox (above) about particle physics (stream the prof's Q&A session here), June's line-up includes experts on immunology, sociology, history and more.
3. Take a trip to the Globe
1-14, 15-28 June
Since the start of lockdown, London's Globe Theatre has been streaming free performances, and June is no different – with The Merry Wives of Windsor (1-14 June) and A Midsummer Night's Dream (15-28 June) both available to watch online. Like what you see? The Globe Player offers 130 productions to rent or buy.
4. Get some garden inspiration
1-30 June
Amanda Aldous Fine Art, which represents some of the UK's best-loved contemporary artists, would usually be presenting its summer programme about now. Instead, it's focusing on virtual shows – like the month-long Garden Sculpture Online Exhibition, which will showcase new outdoor sculptures and installations. And next month, look out for the gallery's Cornish Art Online Exhibition (1-31 July).
• Follow our tips on how to get your garden ready for the summer
5. Don your lab coat and goggles
2-7 June
Curious minds will relish Cheltenham Science Festival @ Home – not least because it's hosted by AIDA (above), the world's first AI curator. As well as free virtual events and videos, there'll be expert Q&As (with the likes of Brian Cox and Martin Rees), science activities for all ages, and everything from 'nerdy' pub quizzes to the science of the perfect cocktail.
6. Pick up the pace with live e-motorsports
3, 6 & 13 June
You don't need a paid subscription to enjoy unlimited access to motorsport.tv – an online channel that streams over 125 different motorsport series and more than 3,000 hours of breathtaking archive footage. This month sees e-motorsports take the lead, with live streaming from BP Supercars Allstars Eseries (3 June), the Formula E Race at Home Challenge (6 June) and the Virtual 24 Hours of Le Mans (13 June).
7. See Tom Hiddleston tread the boards
4-11 June
Photo: National Theatre
Tom Hiddleston (The Night Manager, Avengers) earned widespread applause for his performance in the Shakespeare tragedy Coriolanus at the National Theatre in 2014. If you didn't get a chance to see it, you can stream it to your living room for one week only. Set in Ancient Rome, it follows a despondent population's push for revolution and revenge – with Hiddleston playing the only man who can help them. The question is, can he outwit his enemies too?
8. Enjoy a 'private' performance from Norah Jones
4, 11, 18 & 25 June
What could be more soothing in these difficult times than the velvety vocals of Norah Jones? The multi-award-winning singer/pianist is performing live gigs from her own home via Facebook, every Thursday at 10pm (BST). And if you missed her previous shows, they're also still available to watch.
9. Delve into the Old Vic's archives
From 5 June
Now's your chance to catch A Monster Calls, the award-winning production staged at London's Old Vic last year. It'll be airing free from 5-11 June on the theatre's YouTube channel – the first of a series of free online recordings. This is a new initiative, so details are few: to keep up, check online and follow #YourOldVic on social media.
10. Catch soul-soothing symphonies
5, 12, 19 & 26 June
The RSNO – Scotland's national orchestra – presents a new online concert every week via its Friday Night Club. The performance details aren't usually revealed until the week before, but previous crowd-pleasers have included Beethoven's rousing Symphony No 9 and Brahms' much-loved Symphony No 1 (and they're all still available online). Tune in on Facebook, YouTube or the RSNO website.
11. 'Meet' Kate Mosse and Victoria Hislop
6 June
The Virtual Literary Festival feels remarkably like the real thing: there's an exhibition hall (where you can browse new book releases), a theatre (where author talks and workshops are held), and even a café (for chatting online with fellow book lovers). On 6 June, its Historical Fiction Book Festival will feature big-name novelists Kate Mosse, Victoria Hislop (above) and Ellen Alpsten in conversation. Create an account with MyVLF and you'll be instructed how to join in.
12. Step up your workout
6, 20 & 27 June
The Skyrunner Virtual Series connects athletes from all over the world in 'mountain-running' races – with live streaming, pro commentary and prize giveaways. The real events usually take place on peaks throughout Europe, but the virtual series can be completed anywhere you like – even if you've no mountains nearby. So sign up, print out your 'race bib', and take on the Hochkönig Skyrace (6 June), the Livigno SkyMarathon (20 June) or the Minotaur Skyrace (27 June). Good luck!
13. Take a moment to remember
7 June
In its annual 'Reflections' event, Cornwall Hospice Care invites the public to celebrate their lost loved ones – usually in a poignant group ceremony on the beach. But this year, it will be hosted online, with a dedicated 'memory page' and a nationwide candle-lighting (via Facebook) at 5pm on 7 June. Participation is open to everyone, regardless of whether your loved one passed away at Cornwall Hospice Care or not.
14. Embrace the silly side of life
7, 14 & 21 June
Photo: Spymonkey
As part of its 'Emergency Physical Comedy Aid Package', Spymonkey – a Brighton-based theatre company – is streaming its past productions online: expect rude songs, slapstick silliness and non-stop absurdities. New for this month there's Stiff (the show that launched the company internationally), Every Last Trick (it's 'gloriously loopy', said The Times), and A Christmas Carol (because who knows what month it is any more?). Belly laughs guaranteed.
15. Celebrate the launch of LSO's new season
11 June
It's certainly not the season-starter it was hoping for, but London Symphony Orchestra has decided that the show will go on – so will launch its 2020 programme online. The first concert (part of its fantastic Always Playing initiative) will feature a triple bill of works by William Walton, Emily Howard and Colin Matthews – directed by Sir Simon Rattle. Here's how to watch.
16. Plan for a life less chaotic
11 June
Photo: Dr Rangan Chatterjee
Feeling frazzled? Take a deep breath and sign up for Dr Rangan Chatterjee's free stress-busting workshop, which promises practical tips for managing, overcoming and reducing pressure in your life. Chatterjee has written three best-selling books on the topic, and also hosts the Feel Better Live More podcast. While registration is free, there's an optional donation to mental-health charity Mind.
• Discover how crafting can boost your mental wellbeing
17. Rock on – in your living room
12-14 June
Download Festival, arguably the UK's rowdiest rock weekend, is sadly cancelled this year – but Download TV will blast you with archive sets, exclusive footage and music from some of the bands that were due to play live. Headliners include KISS, Iron Maiden (above) and System of a Down – so warn the neighbours, tune up your air guitar, and rock on via YouTube, Facebook, Twitter and Instagram.
18. Savour a summer romance
19 June
A tale of young love set in the Suffolk countryside, La Fille Mal Gardée is the perfect summertime ballet. Bright, breezy and full of youthful optimism, the Royal Ballet's production – which was staged in 2005 – will be streamed online on 19 June (and available on-demand afterwards) via both Facebook and YouTube. It's all part of the #OurHouseToYourHouse series, which showcases productions, masterclasses and behind-the-scenes footage from the Royal Opera House.
19. Feel the power of the Summer Solstice
21 June
Though Stonehenge is closed to visitors, it's keeping us entertained with virtual tours, activity ideas and a surprisingly moving gallery of the past 150 years – but that's not all. On 21 June, it will live-stream the Summer Solstice via its social media channels, capturing the fabled sunrise over the prehistoric stones: a combination of cutting-edge tech and timeless spirituality. Follow the Stonehenge Twitter account for more details.
20. Settle down for story time
25 June
Photo: Wild Geese Theatre Company
Every month, Ready...Story...Go! sees actors from the Wild Geese Theatre Company read aloud from favourite books, in performances aimed especially at Primary-age children. If you're battling through home-schooling, it's a joy to plonk the little ones in front of this vibrant, talented bunch – though don't forget to register for your (free) ticket in advance.
21. Get your Glastonbury fix – from home
26-28 June
This year's Glasto was going to be a biggie: a celebration of its 50th year, with a line-up more star-studded than ever. But even though the party's postponed, the BBC will be screening performances across TV, radio and online – capturing the spirit and song of the last half-century. Better yet, fans can celebrate 'Glasthomebury' via Facebook, raising funds for charity in the process.
22. Sing along with the Royal Albert Home
All month
So far, the Royal Albert Home project has brought the likes of Alfie Boe (above), Katherine Jenkins and Rufus Wainwright to our living rooms, so we're excited to hear who this month's acts will be. At the time of going to press, the details hadn't yet been revealed – but if they're not your cup of tea, you can always take your pick from archived performances instead.
23. Broaden your mind with new Sky channels
All month
Look forward to some hard-hitting, thought-provoking telly with the launch of three new Sky channels: Sky Documentaries, Sky Nature and Sky History (all free for Sky customers). On the Documentaries channel alone, there'll be more than 100 non-fiction programmes to stream from day one – as well as plenty more glossy new series starting over the next few weeks. Here's a teaser…
24. Brush up your photography skills
All month
While many of Udemy's online courses are chargeable, it has released lots of free ones too – covering photography, astronomy, aromatherapy and much more. Each course features video tutorials by certified instructors – all of whom are experts in their field. There's even a tutorial in camera confidence, so you can boost your Zoom and Skype skills. Take a look at all of the options.
• Learn a new skill at home with our pick of the best YouTube channels
25. Do some 'random acts of wildness'
All month
Bravo for The Wildlife Trusts, whose #30DaysWild campaign will put the country's flora and fauna in the spotlight – encouraging participants to do one 'wild thing' every day throughout June. There's a free digital pack for all who sign up, which includes a wallchart, nature bingo, posters and more – plus lots of activity ideas tailored to families, businesses, schools and care homes.
All photos Getty Images unless otherwise stated