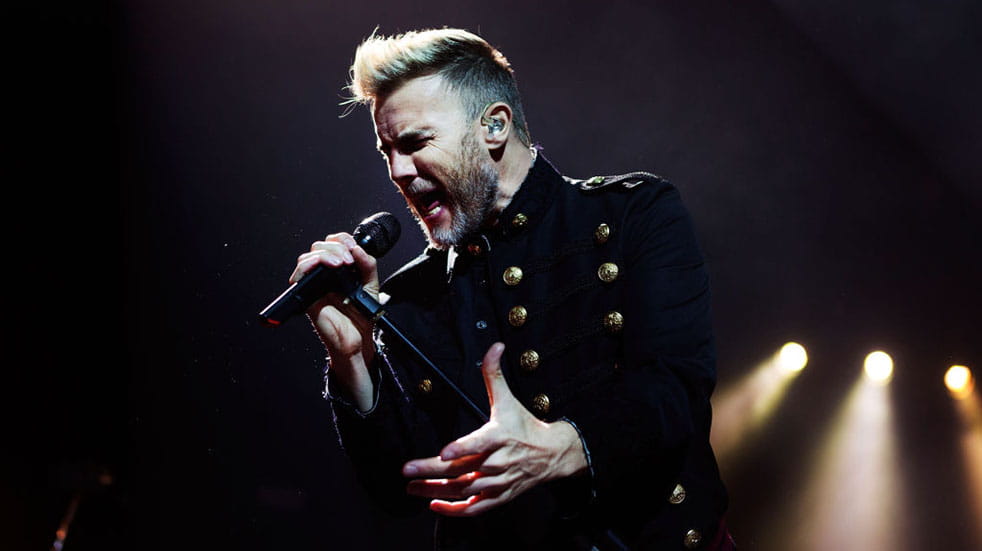 While attractions are starting to reopen, big gatherings in person are still a while off. Luckily, plenty of festivals and other events have gone online to deliver unique experiences that can be enjoyed from your living room. From plays and performances to workshops and Wimbledon, here are 20 highlights for July.
1. Pride Inside
28 June – 5 July

A summer staple that's marching on regardless, Pride Inside will see Amnesty International, UK Black Pride, Stonewall and ParaPride join together for virtual celebrations. Throughout the week, there will be music, comedy, poetry and other arts-based events.
2. Happy Place Festival
Until 12 July

TV star Fearne Cotton is presenting her wellbeing and music festival in a lockdown-friendly format this year. It'll be well under way by the time you read this, but there's still plenty to look forward to (and also content to catch up on). With everything from yoga classes to live shows from the likes of Gary Barlow, it's sure to leave you feeling good.
3. Wimbledon Recreated
29 June – 12 July

It wouldn't be summer without strawberries and cream at Wimbledon. But while the tennis won't be taking place this year, Wimbledon Recreated offers a different, enjoyable spin on the occasion. There will be trips down memory lane to some of the tournament's greatest matches, games for the family to take part in, and a few fun recreations of matches using footage sent in from players and fans in lockdown across the world.
4. Isolation Mastered
1 – 8 July
London's JD Malat Gallery put out a call for artists to create works during the coronavirus lockdown, and has now selected 20 to be in the online exhibition Isolation Mastered. Art lovers will be able to view the works online and vote on their favourite, with the winner getting their own show at the gallery next year.
5. Aurora Orchestra
1, 5 and 12 July

One of Britain's most accomplished collections of musicians, the Aurora Orchestra is streaming three very different performances in July. Song of the Earth and Metamorphosen are both moving musical pieces, while on 12 July Four Places combines atmospheric music with two films to give a more immersive experience.
6. Storify: How to Create Stories
1, 8 and 15 July
Credit: National Theatre of Scotland
Theatre makers Sarah Rose Graber and Ruxy Cantir present a series of online workshops aimed at helping children aged 5+ master the art of storytelling. Each episode will result in an original tale for kids to share with their friends and family.
7. Essence Festival of Culture
2 – 5 July
Credit: Essence
For the second weekend in a row, black women's lifestyle publication Essence will be celebrating black culture with a programme of concerts, discussions and wellbeing sessions. Visit the Essence Facebook page for details on how to stream.
8. Let's Rock Presents '80s Lockdown Fest 2
3 July
Following the success of its first '80s Lockdown Fest back in May, Let's Rock is presenting a follow-up. Don your leg warmers and rah-rah skirt, and boogie in your front room to the likes of Wet Wet Wet, Tony Hadley and Marc Almond. Although the event is free, donations to the Child Bereavement UK charity are encouraged.
9. Lost Horizon
3 – 4 July
From the creative minds behind the Glastonbury Festival's Shangri-La area, Lost Horizon is a virtual reality event that combines big music acts such as Fatboy Slim and Carl Cox with an immersive experience. You can enjoy it through your phone or computer, but if you have a VR headset lying around, you can really explore the festival displays and stages. You'll need a free ticket to partake, so be sure to snap yours up.
10. Scottish Agricultural Show
3 – 4 July
Yes, even agricultural shows are moving online while social distancing restrictions are in place. Farmers are invited to upload videos of their livestock to be judged in various categories, and there will also be a virtual food and drink tent, along with cookery demonstrations. Visit the Royal Highland Show website to find out more.
11. Surge
4 July
Credit: Surge
A combination of street art, theatre and circus shows, Surge is leaving its usual Scottish base to bring together entertainment from around the world to its web page. The evening of interactive experiences will include cabaret events and performances from as far afield as Australia, finishing off with a DJ set.
12. The Creative Craft Show
4 – 5 July
There's been a lot of craft inspiration taking place online over the last few months, with The Creative Craft Show a mecca for all makers. With classes on jewellery, calligraphy, paper craft, stitching, sewing and more, you can pick up some new skills and ideas, and connect with fellow crafters across the country.
13. World of Railways Virtual Exhibition
4 – 5 July
If you enjoy the sight of miniature railways trundling around a track, then you should head to the World of Railways website for its Virtual Exhibition. Over the course of the weekend, there will be loads of fascinating content including exclusive videos, demonstrations and interviews with people in the industry.
14. Stiles Drew Prize
5 July
To mark this year's Stiles Drew Prize, an ensemble of West End stars will perform 15 new songs in a virtual concert. The winning song will then be chosen by the judges in an evening of celebration that fans of musicals should not miss.
15. Mood Music
8 – 14 July
Credit: Old Vic
Another famous theatre that has put many of its old plays online, London's Old Vic hosts Mood Music from 8 – 14 July. Delving into the treacherous side of the music business, the production from 2018 sees excellent showings from Ben Chaplin, Pip Carter and the rest of the cast.
16. National Theatre at Home
9 and 16 July
Credit: National Theatre
Classic performances from the National Theatre have been greatly welcomed by those looking for lockdown culture. National Theatre at Home now enters its final month, with 9 July seeing The Deep Blue Sea starring Helen McCrory presented for a week on its website, while on 16 July the initative will be going out with a bang with Amadeus.
17. Liverpool Arab Arts Festival
9 – 18 July
Now in its 19th year, the Liverpool Arab Arts Festival still has plenty to offer in its digital incarnation for those looking to learn as well as be entertained. There are free workshops on writing, lectures in history, plus poetry, films, music and dance throughout the week.
18. Rootstock
11 – 12 July
A celebration of music and wine from France, Rootstock is presenting 48 hours of music from all genres to an international audience. You'll also be able to vote for your favourite artist – and while you can partake in the festival's choices of fine wines, you're more than welcome to attend with your drink of choice from your local shop.
19. Stonehaven Folk Festival
11 – 12 July
Credit: Stonehaven Folk Festival
Another popular annual music event that's heading online, Stonehaven Folk Festival brings together a great collection of Scottish and Celtic sounds over two days. As well as music to enjoy at your leisure, there are workshops and even competitions you can take part in.
20. BBC Proms
17 July – 12 September
The world's most famous classical music festival is going ahead, albeit across digital and radio platforms, with eight weeks of concerts from the past and present. The BBC Proms will see favourite moments voted for and requested every evening, kicking off with a unique virtual performance of Beethoven's 9 Symphonies marking the 250th anniversary of Beethoven's birth on 17 July. There is something for the kids with CBeebies taking to the stage, while the organisers are hoping to have live performances from the Royal Albert Hall at some stage.
21. London Pizza Festival
18 July
A novel way to bring the flavours of Borough Market to your home, the London Pizza Festival is packed with classes and tips to make your own Italian pies in your kitchen. If that sounds like too much hard work, plenty of pizzerias will be offering delivery – and what's more, you don't even have to be from London to take part.
22. Royal Albert Home – Nashville Meets London
18 July
The famous London venue is opening virtually to bring you a taste of the best country music around for Royal Albert Home – Nashville Meets London. Head to the website to see performances from The Cadillac Three, Michael Ray and Yorkshire's country adherent Twinnie.
23. Chroma Harp Duo present A Musical Journey Around the World
22 July
As part of Live Art Local's varied creative events in its Culture @ Home programme, Chroma Harp Duo are using their musical talents to take you on a magical, musical ride around the world. It's about fun, games and audience participation as much as the beautiful, international flavours of the music, and the younger audience it's aimed at need only a rug, blanket or chair to join the ride – though any music fan looking for some escapism would be welcome.
24. The Beatbox Collective: The Beatbox Experience
29 July
Another Live Art Local event, The Beatbox Experience sees 2015 world beatbox champions The Beatbox Collective show you how to create your own sounds and instruments using just your voice. The Collective will also judge who is crowned the 2020 Live Art Local online beatbox champion.
25. Stockton International Riverside Festival
30 July – 2 August
Stockton International Riverside Festival is back for its annual event, covering both new live performances as well as highlights from previous years. If you're a fan of street theatre, dance, circus acts and more, there's bound to be something here to cheer your spirits.
All photos Getty Images unless otherwise stated