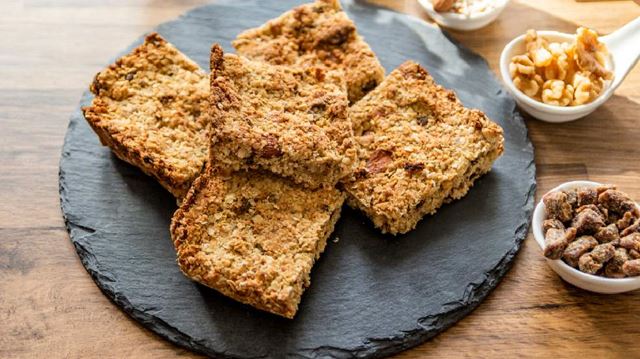 When we're in lockdown, it's so tempting to comfort ourselves by gorging on takeaways, crisps and chocolate.
However, while 'emotional eating' is understandable in the midst of a crisis, doing it too often can have a negative impact on our health, potentially leading to obsesity, feelings of guilt and a loss of self-esteem. The good news is that there are plenty of foods out there that are both yummy and great for our physical and mental health. Things like beetroot, rocket, oats and ginger offer amazing benefits, and all of these can be integrated into delicious dishes for the whole family.
To inspire you, here's a selection of recipes from our friends at BBC Good Food...
Beetroot houmous toasts with olive and mint
Photo: Mike English / BBC Good Food
The mint is a must here – don't be tempted to leave it out, as the flavour works so well with the sweet, earthy beetroot and feta. Eating a rainbow of colourful fruit and veg is so beneficial to our health, and this is one way to add some deep-purple beetroot to your diet.
Takes 12 minutes. Serves 2.
What you need
• 2 slices seeded wholemeal soda bread
• 210g can chickpeas, drained
• 200g ready-cooked beetroot, sliced
• 1 tbsp lemon juice
• 1 small garlic clove
• 1 tsp rapeseed oil
• 30g feta, crumbled
• 6 pitted Kalamata olives, halved
• a few fresh mint leaves
1 Toast the bread – if the slices are quite long, halve them first.
2 Meanwhile, tip the chickpeas into a bowl with half the beetroot, the lemon juice, garlic and oil, and blitz with a stick blender to make houmous. Spread on the toast, top with the remaining beetroot and scatter with feta, olives and mint.
PER SERVING 381kcals • fat 12g • saturates 3g • carbs 47g • sugars 11g • fibre 11g • protein 16g • salt 1g
---
Beetroot and goat's cheese quiche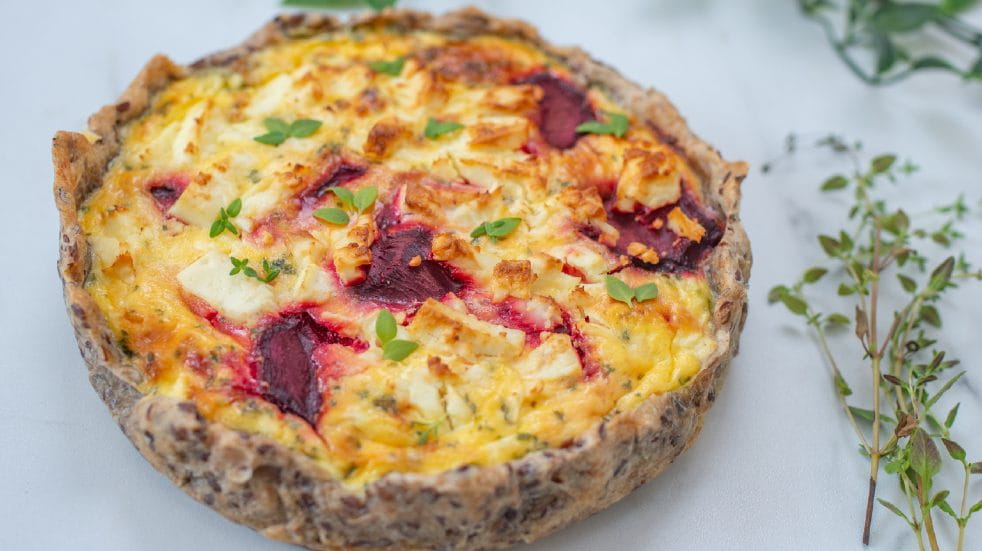 Served warm with a pile of rocket or green salad, this quiche makes a really nice lunch. If there are any leftovers, you can eat them the next day.
Takes 1hr 25 mins. Serves 8.
What you need
• 250g plain flour, plus extra for dusting
• 125g cold unsalted butter, cubed
• 100g cheddar, grated
• 150g cooked beetroot, roughly chopped
• 3 large eggs
• 100g crème fraîche
• 50g cheddar, grated
• 200g goat's cheese, thinly sliced
• rocket or green salad, to serve
1 For the pastry, put the flour, butter and 1/2 tsp fine salt in a large food processor, then pulse until the butter is incorporated and you have a breadcrumb-like texture. Add the cheese, pulse two-three more times, then gradually drop in 4 tbsp cold water, pulsing between each addition, until the mixture comes together. Tip the dough onto a lightly floured work surface and knead gently until smooth. Heat the oven to 200C/180C fan/gas 6.
2 Roll the pastry out on a floured surface until large enough to line a 23cm loose- bottomed tart tin, the thickness of a 50p piece. Line the tin with the pastry, leaving any excess overhanging, then prick the base several times with a fork. Chill for 30 mins. Line with baking parchment, then fill with baking beans. Transfer to a baking sheet and bake for 15 mins. Take out the parchment and beans, then bake for 10-15 mins more until cooked and pale golden. Use a serrated knife to trim the pastry level with the tin.
3 Meanwhile, blitz the beetroot in a small food processor until smooth. Whisk together the eggs, crème fraîche, cream and blitzed beetroot in a bowl, then mix in half of the goat's cheese and lightly season. Pour into the tart tin and dot over the remaining goat's cheese. Bake for 25-30 mins until just set. Leave to cool in the tin, remove, then pile some rocket on top, if you like. Slice and serve.
PER SERVING 570kcals • fat 43g • saturates 27g • carbs 27g • sugars 3g • fibre 2g • protein 17g • salt 1.1g
---
As-you-like-it katsu curry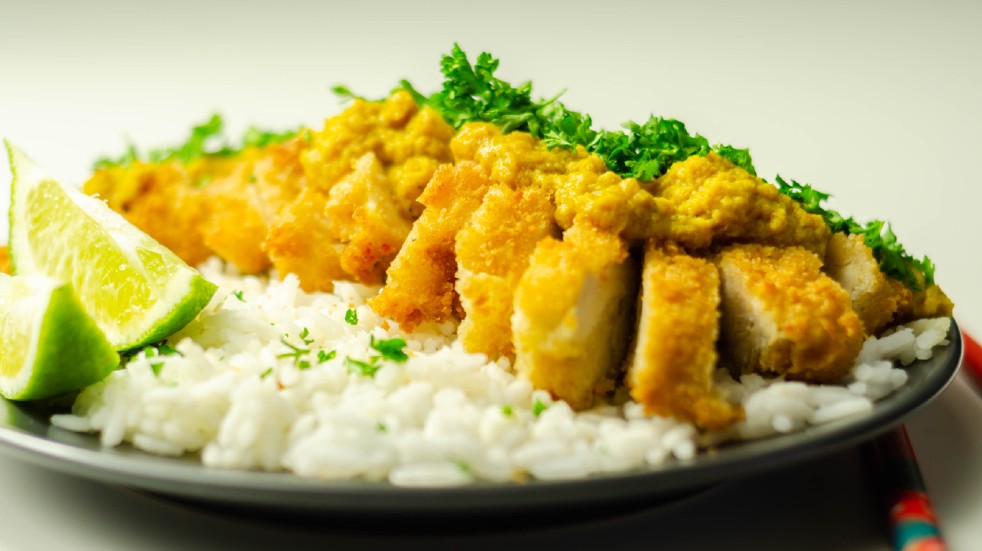 This dish can be vegan or include meat, and is allergy-friendly so you can all sit down to one dish come dinner time.
Takes 1hr 5 mins. Serves 4.
What you need
• 4 tbsp rapeseed or vegetable oil
• 2 x 200g pouches cooked rice (we used brown basmati)
• 1⁄2 large cucumber, peeled into ribbons handful mint or coriander leaves, or both
• lime wedges, to serve
For the sauce
• 1 tbsp rapeseed or vegetable oil
• 2 onions, chopped
• 2 large carrots, chopped, plus 1 peeled into ribbons
• 2 garlic cloves, crushed
• thumb-sized piece ginger, peeled and grated or finely chopped
• 1 tbsp curry powder, mild or medium depending on your spice tolerance
• 1⁄2 tsp ground turmeric
• 400ml can coconut milk
• 2 tsp maple syrup (or use honey if not cooking for vegans)
For the katsu
• 1 tbsp cornflour
• 8 chicken mini fillets, or a 280-300g block firm tofu, or half and half
• 200g fine breadcrumbs (gluten-free if necessary)
1 First, make the curry sauce. Heat 1 tbsp oil in a pan, cook the onions and chopped carrots until the onions are soft and starting to caramelise, about 8 mins. Add the garlic and ginger and sizzle for another 30 secs, then stir in the curry powder and turmeric. Once the spices are warmed through, add the coconut milk, maple syrup or honey and 100ml water. Season well, cover and simmer over a low heat for 20 mins.
2 Now make the katsu. In a wide bowl, mix the cornflour with 4 tbsp water and some seasoning. Dip the chicken or tofu into the flour mixture (if cooking for both vegans and meat eaters, make sure you dip the tofu first to avoid mixing it with meat). Place the breadcrumbs in another bowl and dip the chicken or tofu in it, turning until well coated.
3 When the onions and carrots in the curry sauce are soft, blitz using a hand or table-top blender. If the sauce is too thick, add a little more water, check the seasoning adding more salt, maple syrup or some lime juice, if you like. Keep warm.
4 Heat the oil in a frying pan and cook the chicken or tofu for 4-5 mins on each side until golden and cooked through. Warm the rice and divide between bowls. Top with the curry sauce, katsu chicken or tofu, and serve with the cucumber, carrot ribbons, herbs and lime wedges.
PER SERVING 743kcals • fat 32g • saturates 16g • carbs 80g • sugars 14g • fibre 6g • protein 29g • salt 1.4g
---
Wild salmon with coconut chutney and green pilau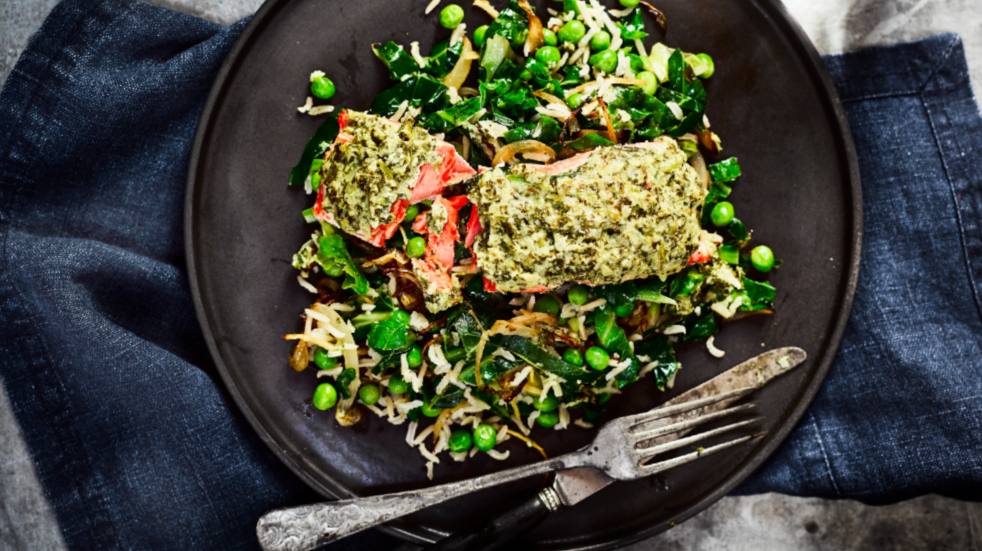 Photo: Mike English / BBC Good Food
In our diet plans we recommend using wild salmon rather than farmed. Wild salmon has firmer flesh, a darker colour, a stronger taste, and contains less saturated fat. It's an ideal partner for the spice and citrus flavours in this recipe.
Takes 50 minutes. Serves 2.
What you need
• 1 tsp rapeseed oil
• 1 onion, sliced
• 25g ginger, cut into thin matchsticks
• 2 garlic cloves, chopped
• 1 green chilli, deseeded and sliced
• 2/3 small pack coriander
• handful mint leaves
• 20g creamed coconut
• 1 lime, zested and 1/2 juiced
• 50g brown basmati rice
• 2 x 100g skinless wild salmon fillets, thawed if frozen
• head of spring greens (about 175g), stalks trimmed, finely shredded
(remove outer leaves if tough)
• 125g frozen peas
• 1 tbsp ground coriander
1 Heat oven to 200C/180C fan/gas 6. Heat the oil in a large, non-stick wok and add the onion, ginger, garlic and chilli. Cook briefly over a high heat to mix everything, then cover and leave to cook gently for about 10 mins until the onions are soft. Scoop two spoonfuls of the mixture into a bowl, add the coriander, mint, coconut, lime zest and juice with 1 tbsp water and blitz to a purée with a stick bender.
2 Meanwhile, boil the rice for 20 mins, then drain.
3 Spread half the coconut mixture over the fish and wrap up in a parcel of foil. Bake for 10 mins.
4 Carry on cooking the onions, uncovered this time, until they start to brown. Add the spring greens and stir-fry for a few mins until softened. Add the rice and peas with the ground coriander and cook until the veg is tender. If the mixture starts to stick, add 1 tbsp water. Stir through the remaining coconut mixture, then serve with the fish.
PER SERVING 553kcals • fat 21g • saturates 8g • carbs 51g • sugars 13g • fibre 11g • protein 34g • salt 0.2g
---
Golden orange and walnut flapjacks
This is one of those great treats that you can just sling together and bake.
Takes 45-55 minutes. Serves 12.
What you need
• 250g/9oz unsalted butter, chopped into pieces
• 250g/9oz golden caster sugar
• 175g/6oz golden syrup
• 425g/15oz porridge oats
• 50g/2oz walnut pieces
• finely grated zest of 1 large orange
• 3 tbsp fine-cut orange marmalade
1 Preheat the oven to 180C/gas 4/fan 160C and generously butter a 28 x 8cm shallow baking tin. Melt the butter, sugar and syrup over a medium heat, stirring all the time. Take off the heat and stir in the oats, walnuts and orange zest. The mixture should be quite soft.
2 Tip the mixture into the baking tin and level it off. Bake for around 30 minutes or until the edges are golden brown but the centre is still a little soft. Remove from the oven and mark into 12 pieces while it is still warm, cutting down halfway through the mixture with a sharp knife. Leave to cool.
3 Heat the marmalade with 1 tbsp water until it becomes syrupy. Brush this glaze over the flapjack mixture and leave to cool before cutting into 12 pieces. They will keep in an airtight tin for up to a week.
PER SERVING 455kcals, protein 7g, carbohydrate 60g, fat 22g, saturated fat 12g, fibre 4g, added sugar 36g, salt 0.12g
Photos: Getty Images, unless otherwise stated