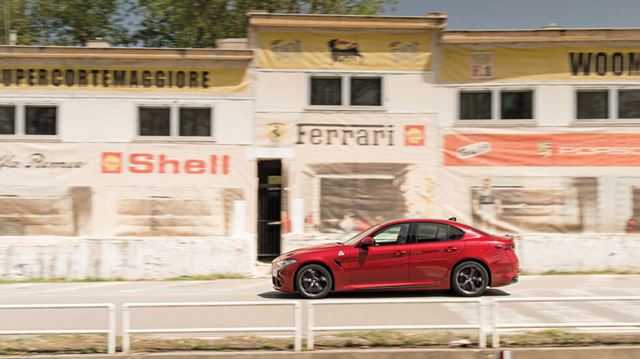 See what's excited our motoring editor on a test drive along Sicily's former Targa Florio route. Alfa is having a renaissance, and the pretty Giulia is its figurehead.
Alfa's many victories on the roads of the legendary Targa Florio open-road race are just one reason why it's practically impossible to be a petrolhead and not love Alfa Romeo. Even the name sounds romantic. Of course, owning one can also be infuriating – Italian mechanics are rarely out of work – and yet somehow Alfa is always forgiven. Almost. Because for the last ten years or so, the company has struggled to deliver any real hits. In fact, you have to look back further than you think to find the last truly brilliant Alfa.
But now, well... just look at the Giulia. Has an everyday, four-door saloon car ever looked so good? And so, we thought, what better way to celebrate the company's return to form than to bring one to the home of its past glories: the route of the Targa Florio road race.
Filling up a car with petrol in Sicily is a little less hazardous now than in the days of the Targa. We pull alongside the pumps in Palermo, where a man dutifully tops up our Alfa Giulia as the Sicilian sunshine pings off the blood-red bodywork. But even he drips a little benzina on the ground, perhaps distracted by the car's shapely metalwork. Hard to blame him really.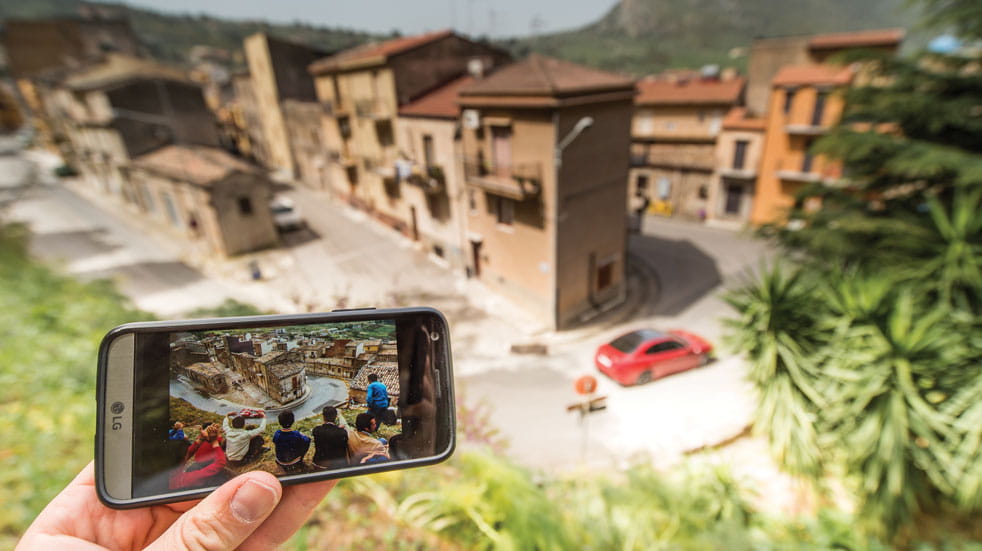 The Alfa Giulia is greeted with whoops from locals along the Tara Florio route.
Alfa Romeo Giulia Quadrofoglio
We've borrowed the Quadrifoglio (QV) version with its 500bhp, twin-turbo, 2.9-litre V6 developed alongside Ferrari. Not all Giulias have such exotic engines – there are more sensible ones at more affordable prices – but all get the same exotic styling and all have rear-wheel-drive, a sign that even the more prosaic models really do aim to please. If you're in the market for a mid-size family exec, the Giulia provides an interesting, expressive alternative to the usual Germans and Jaguars.
Of course, being well versed in home-grown heroes, they know all about our Alfa. In the medieval town of Caltavuturo – through which the race once passed – five men wrestle with a giant tractor tyre outside a backstreet garage.
"Bella machina!" they yell as we pass, our V6 gently burbling. A group of boys on bicycles do the same. You wouldn't get that reaction in a BMW M3.
With a 0-62mph time of 3.9 seconds, a top speed of 190mph and a rasping six-cylinder soundtrack, the QV would embarrass many of the cars that once raced around here. Usually those sorts of numbers would be accompanied by super-stiff suspension and a faint fear of losing control. Yet in the Giulia the grace-to-pace ratio is almost perfect. Engage the softest suspension mode, leave it in third gear – riding the groundswell of torque – then swish through corners with the elegance of a slalom skier. Sporty, yet weirdly relaxing.
This epic drive is made even finer with the addition of the best-looking Italian saloon car in recent memory. It's good to have you back, Alfa. Don't leave it so long next time.
---
Car buyer's guide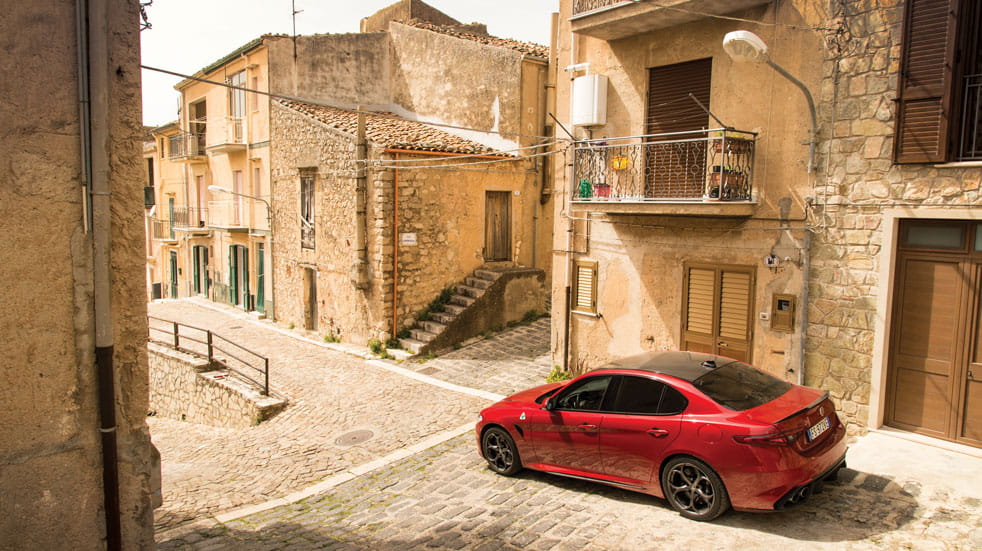 An Alfa almost always scores points over its more businesslike competition in the style department.
Alfa Romeo Giulia, from £33,195
Tested: Quadrifoglio
Engine: 2891cc 6cyl petrol, RWD, 8spd automatic
Power & torque: 510hp, 600Nm
0 – 62mph: 3.9 seconds
Fuel economy: 27.2 (WLTP)
CO2 emissions: 206g/km (NEDC)
Weight: 1524kg
Price: £63,540
Styling
Here's where an Alfa almost always scores points over the more businesslike competition, and – to our eyes at least – the Giulia doesn't disappoint. Only the Italians could make a four-door saloon look like this.
Interior
With a swooping dashboard, a sporty feel and intuitive controls (including a new rotary control pad for the infotainment on board) it's a big leap on from old Alfas – yet it lags behind Mercedes and BMW when it comes to tech and materials.
Performance
It's not only the 191mph Quadrifoglio that looks after its driver – all Giulias have rear-wheel drive and beautifully balanced handling. There are two 2.2-litre diesels (160hp and 190hp), two 2-litre petrols (200hp and 280hp), plus the 2.9-litre V6 QV (511hp).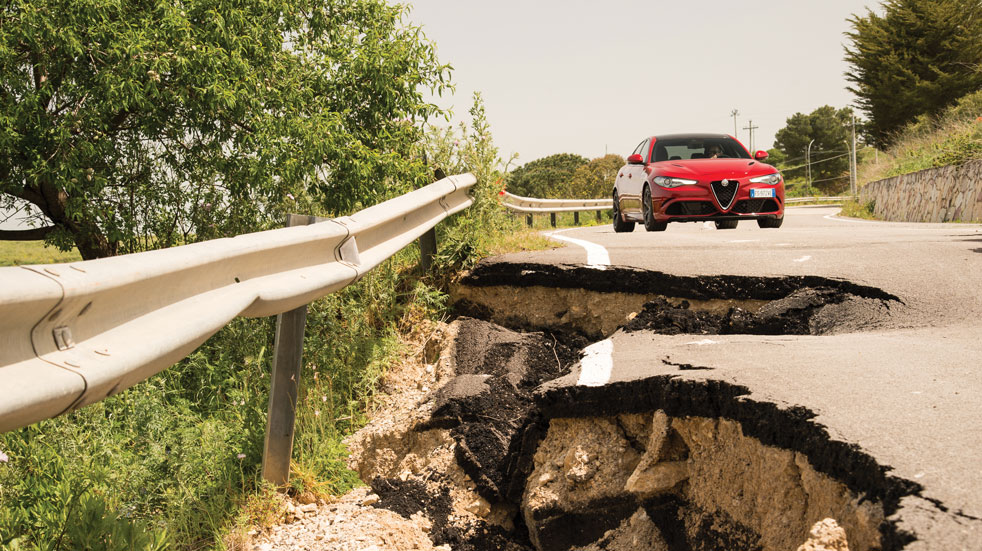 The Alfa Giulia deftly deals with the challenging Targa route.
Pricing
Prices start from £33,195 for Super spec, which isn't badly equipped at all. The warmed-up, 280hp Veloce is probably the sweet spot of the range at £39,600, while the super-heated Quadrifoglio is £63,540. The 2.2-litre diesel engines should deliver over 50mpg (measured by the new, more realistic WLTP criteria). Expect rather less (around 37mpg) from the 2-litre petrols.
Verdict
The Giulia sports saloon (along with the Stelvio SUV) is Alfa's comeback car; the first result of a new grand plan under the revamped Fiat Chrysler mothership. And we're pleased to report it's good news. Not only does it look like an Alfa Romeo should – even the everyday diesels have oodles of Italian elegance – but it drives like one too.
Alternatives
Mercedes C-Class (from £30,850)
It's less entertaining to drive and to look at. But with impressive on-board tech, a beautifully made cabin and lots of driver assistance innovations, it's the one you'd want to spend your time in.
BMW 3 Series (from £32,445)
BMW has been refining its essential, mid-size saloon for 40 years now. The just-launched, latest generation continues the good work: quiet, efficient, great to drive and smartly styled. It remains the benchmark.
Jaguar XE (From £33,915)
Recently refreshed, the neat XE strikes an almost magic balance between comfort and handling. However, it's a bit small in the back, a little plain in the cockpit, and certainly not as arresting as the Alfa from outside.
---
Save on a new Alfa Romeo with Griffin
Boundless members can now make great savings on Alfa Romeos – and many other cars – through our approved partner Griffin.
---
Photographs by Thomas Salt