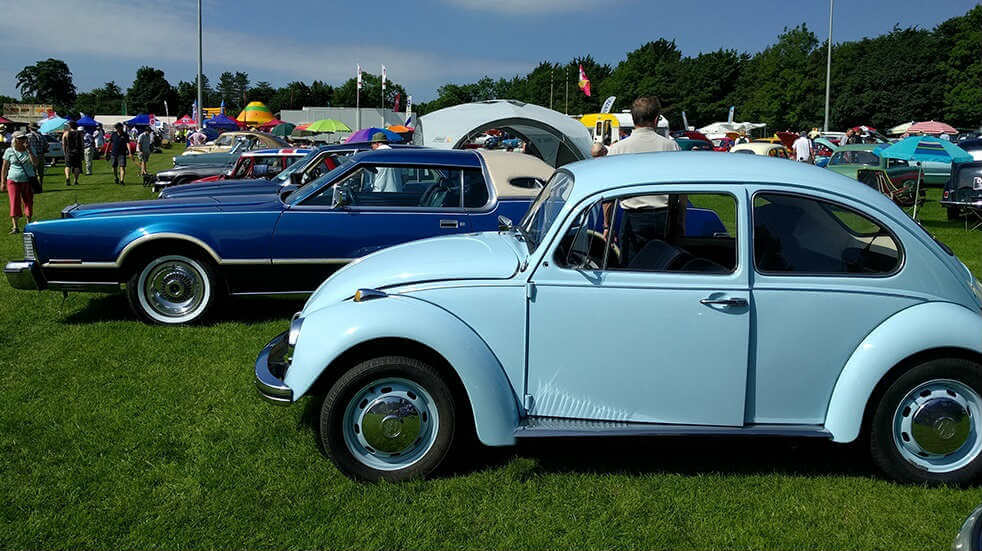 Whether you're feeling the need for speed or looking for a family friendly classic car show, 2019 is chock full of great motoring moments.
The London Classic Car Show
Thursday 14 – Sunday 19 Feb
ExCel London
In 2019 this celebration of the world's greatest classic cars includes a collection of historical aero-engined cars and a special exhibition marking the 50th anniversary of The Italian Job. A major pull is the indoor 'runway' where some of these beautiful vehicles are fired up and driven right before your eyes (and ears).
Race Retro 2019
Friday 22 – Sunday 24 February
Stoneleigh Park, Coventry
This speedy show has plenty of iconic racing cars and might even give you the chance to rub shoulders with some motorsport legends. Race Retro are boasting their biggest rally stage yet in 2019, and there's also a huge autojumble.
Harewood Hillclimb
Saturday 1 June
Harewood Ave, Harewood, Leeds
Not your standard car show but a beautifully chaotic race featuring a range of vintage cars that's well worth the watch. You can also try out the course in your own car on a number of days throughout the spring and summer with a Harewood Driving Academy instructor.
---
Isle of Man TT
Sunday 1 – Saturday 7 June
This week of races on the Isle of Man will whizz by at breakneck speed, but motoring experts and casual spectators alike will appreciate the skill it requires. 2018 record-breaking drivers Dean Harrison and Peter Hickman made this the fastest road race on the planet. Will 2019 be quicker still?
---
MotoFest 2019
Saturday 1 – Sunday 2 July
Town centre, Coventry
Join Boundless at MotoFest 2019 – a free event with something for the whole family to enjoy. Coventry is the venue for a whole load of track action, and much of the ring road and city centre will be taken over by supercars, rally cars and classic motors. You'll also find displays, competitions, food, drink and live music, as well as an exclusive Boundless members' area.
---
The Goodwood Festival of Speed
Thursday 4 – Sunday 7 July
Goodwood House, West Sussex
Only got time for one motoring event this year? Make it Goodwood. There's a huge range of cars to see and you might run into some famous drivers enjoying the show, too.
And if you're feeling a little more nostalgic you could visit the nearby Goodwood Circuit later in the year (Friday 15 – Sunday 17 September) for The Goodwood Revival – vintage-themed and therefore aptly dubbed the 'Festival of Tweed'.
---
Silverstone Classic
Tuesday 16 – Sunday 28 July
Silverstone Circuit, Northants
Historic race cars take to the track at the home of the British Grand Prix in this exhilarating three-day event. There are also plenty of vehicles on display, so you can get a little closer to your favourites, as well as aerial displays, a Saturday night concert and lots of shops and stalls. Come and say hello to the Boundless Classic Vehicle Group, too.
---
If you're interested in classic motors and fancy taking part in tours and displays then check out the Boundless Classic Vehicle Group.
---
Cranleigh Classic Car Show and Autojumble
Sunday 12 August
Cranleigh Showground, Cranleigh, Surrey
With 1000 classic vehicles and an autojumble, plus events in the arena, The Classic Car Show also includes music, children's entertainment and a car raffle.
---
CarFest 2019
North: Friday 26 – Sunday 28 July
Bolesworth, Cheshire
South: Friday 24 – Sunday 26 August
Laverstoke Park Farm, Laverstoke, Hampshire
Both in aid of BBC Children in Need, these family events are filled with track races, classic and modern cars, plus music from fantastic bands, great food and a parade.
---
Concours of Elegance
Friday 31 August – Sunday 2 September
Hampton Court Palace, Surrey
The world's rarest cars gather in this exquisite setting; over the weekend the Concours of Elegance will have over 300 gleaming examples of luxury and performance cars.
---
Trax Silverstone
Sunday 7 October
Silverstone Circuit, Northants
Performance cars and supercars will be on display as Trax comes to Silverstone, along with drifting demonstrations, sprint tests and experts on in-car audio.
---
London to Brighton Veteran Car Run
Sunday 3 Nov
Starting at Hyde Park, London
At this historic motoring event you can see some of the earliest cars around (the event only accepts vehicles from before 1905) make their way from Hyde Park at sunrise all the way to Brighton.
---
NEC Classic Motor Show
Friday 8 – Sunday 10 November
National Exhibition Centre, Birmingham
Classic cars and motorbikes will fill the NEC exhibition halls for the Classic Motor Show with the Meguiar's Club Showcase, cars for sale, the Discovery Live stage with the Wheeler Dealers, and the car restoration theatre.
---
Beaulieu
Beaulieu, New Forest
From Aston Martin to VW, Beaulieu runs a number of events entirely dedicated to fan-favourite vehicles throughout the year. Top that off with a Supercar weekend in August and a huge international jumble – the biggest this side of the Atlantic – in September, and most motoring enthusiasts will find some reason to visit in 2019.