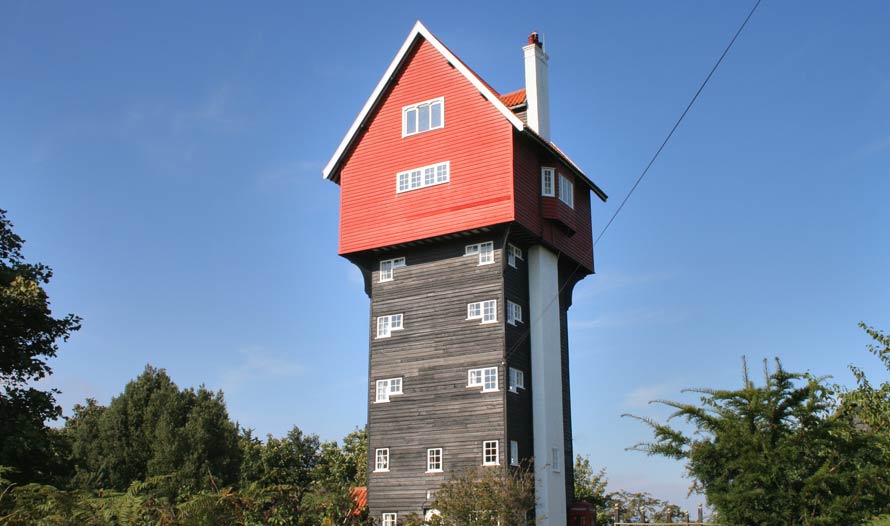 1. See dolphins in the wild
You don't need to go abroad to see dolphins, whales, sharks, seals and porpoises in the wild: they are regularly sighted in the Hebrides. Sea Life Surveys specialise in wildlife trips from the isle of Mull.
---
2. Stay in a castle
Clytha Castle is a fairy-tale-style folly in the middle of the Welsh countryside that has been beautifully restored as holiday accommodation, sleeping up to six people.
---
3. Join the have-yachts
If you fancy holidaying like the super-rich, then how about a night on Sunborn, a 108-metre yacht moored at the Royal Victoria Dock in London? Spend the day taking in the sights of the capital, before returning to the yacht for fine dining in the restaurants with views across the lights of the city. If you really want to live it up, book one of just four private suites.
---
4. Britain's most remote pub
This holiday takes getting away from it all to a whole new level. The Old Forge Pub in Knoydart, West Scotland, is 18 miles from the nearest road or a seven-mile ferry trip across the water, making it mainland Britain's most remote public house. Surrounded by mountains and forest on the shore of Loch Nevis, The Old Forge is famous for its super-fresh seafood, ales brewed at Glenfinnan micro brewery and raucous ceilidhs, with a variety of accommodation ranging from self-catering apartments to wild camping.
---
5. Stay in a haunted house
Coombe Abbey, a 12th-century former monastery in Warwickshire, has more than its fair share of ghosts. The most famous are a hooded monk who, legend tells, was murdered here in the 14th century, and a gypsy girl called Matilda who put a curse on the household after she gave birth to a stillborn child by the master of the house. There are monthly ghost walks and dinners.
---
6. Sleep in the UK's highest mainland railway station
Dent Station, on the beautiful Settle-Carlisle line through the Lake District, is the UK's highest station. Surrounded by beautiful countryside and four miles from the nearest village, it's still in active use – ten trains a day stop here. But the old station building is now privately owned and available for holiday hire with a difference.
---
7. Become a golf world champion
The World Crazy Golf Championships are held every year in Hastings. Anyone can enter for a small fee and there's a total prize fund running into thousands. (The low thousands.) It's first-come, first-served, so you need to get in quick to grab a place. And be good: you will need to keep close to an 18-hole par score of 36 to stay in contention. So maybe start practising. There's a full calendar of serious ('serious') mini golf events, alongside the blue riband event, too.
---
8. Sleep in a lighthouse
Just two hours' drive from London, the once-derelict West Usk Lighthouse, overlooking the Bristol Channel, has been beautifully re-imagined as a holiday home. Bedrooms have either four-poster beds or waterbeds and there's even a sauna. And – seriously – there's even a life-sized Dalek. Unusual enough for you?
---
9. Relax on Britain's most beautiful beaches
The beaches on the Pembrokeshire coastline are regularly voted Britain's best. Boundless members get 10 per cent off holidays at Haven's Lydstep Beach Holiday Park, right next to its own beautiful, big, sandy Blue Flag beach.
---
10. Sleep in a log cabin
Swallowtail Hill Farm in Rye, Sussex, has been actively developing biodiversity for more than a decade – meaning there's plenty of bird life, butterflies and barn owls in the area, as well as regular farm animals. The kids can feed the goats while you learn to drive a tractor. Out in the woods and fields, there are several equally idyllic accommodation options, including Hansel and Gretel-style cottages-on-wheels and cosy log cabins.
---
11. Sleep in a luxury treehouse
With prices from £250 a night, it's not cheap but, then again, a luxury hotel suite perched in the treetops is a pretty unique setting. Secluded and idyllic, the Treehouse at Harptree Court, near Bath, is a once-in-a-lifetime experience that takes the idea of 'glamping' to a whole new level (quite literally). Lots of nice attention to detail – a copper bath, a welcome hamper of local goods – has helped it win rave reviews from visitors.
---
12. Stay in a vintage, luxury American trailer
A little slice of vintage Americana, three miles north of Dartmouth, Devon. Stay in a luxury, silver Airstream trailer – it has all the retro cool of a vehicle built in 1956, but has been refitted with all mod cons, too, including flat-screen TV, Wi-Fi, power shower, underfloor heating and air conditioning. Proper glamping.
---
13. Bear Grylls family survival course
Don't expect a cosy camping weekend toasting sausages over a campfire. On this Bear Grylls survival course, you'll be daubed in camouflage paint, purifying water in a sock and wading through mud up to your neck – but it's got to be somebody's idea of fun, right?
---
14. Fishermen's huts, Whitstable
Stay in a cosy, converted fisherman's hut, right on the beach in Whitstable. We've been: it feels like you are miles from anywhere when, in fact, there are tremendous seafood restaurants and a bustling little town within five minutes' walk. Sample user review: 'The nicest room we'd ever been in... You can hear the clanging of the beached boats and the swish of the sea all night.'
---
15. Martello Tower
Many of the mini castles built around the coast to keep Napoleon out 200 years ago have now been converted into holiday lets, including Martello Tower. They make for spacious interiors, great sea views (of course) and unique holiday experiences.
---
16. Sleep in a cell
Get a taste of life behind bars, without the criminal record, with a stay at Malmaison in Oxford. This former Victorian prison has been converted into a quirky 95-bed hotel where you can sleep in the actual cells. It might retain the imposing brick entrance gate and atmospheric metallic staircases of its penal days, but there are enough creature comforts to ensure you'll enjoy doing time here.
---
17. Sleep in the clouds
If you could pluck a house straight from the pages of a fairy tale, this would be it – and the idyllic family that lived here would, of course, be the fairest of them all. Originally a water tower, it has been converted into a 70ft-tall luxury holiday home, with room to sleep up to 11 and a cavernous open-plan games room on the top floor, overlooking the beautiful Suffolk coast. Step into your own fairy tale for the weekend.
---
18. Stay in an old Nazi look-out tower
Built on the orders of Jersey's occupying German forces during the Second World War, the six-storey Radio Tower offers panoramic views from its 360-degree observation platform/lounge/diner. It has now been restored as a three-bedroom holiday let.
---
19. Live on a Yellow Submarine
In the town where the Beatles were born you can stay on a narrowboat reinvented as a yellow submarine. The outside: just as you would hope. The inside: a glitzy celebration of 60s pop style, complete with Beatles gold discs and a scooter from Quadrophenia. Unique. Sleeps up to eight people.
---
20. Make history
Or, at least, help uncover history. Orkney archaeology tours offer you the chance to spend a week at the north Scotland archipelago under the expert guidance of professional archaeologists. They will guide you over Neolithic and Viking sites as well as more modern digs. Only available to a maximum of eight people at a time, this is a real hands-on experience with the opportunity to see 'live' excavations.