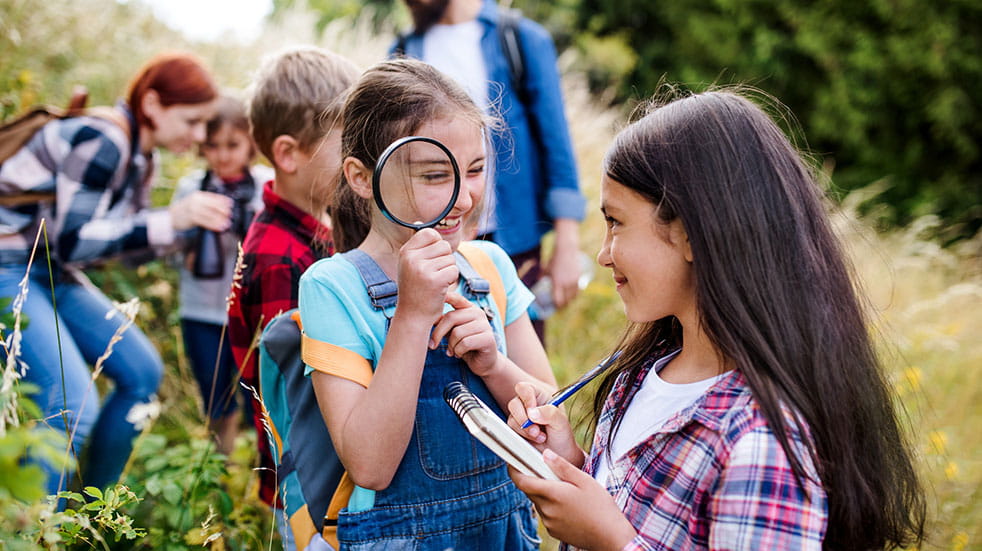 The climate's getting cooler now that we're seguing into autumn, but don't let that stop you enjoying some of the brilliant things that are happening in October.
Whether you like going on woodland walks, gathering up some delicious local produce at a farmers' market or listening to a poetry recital from one of the country's most talented wordsmiths, you'll find something to do in our list.
And if you don't feel like venturing out into the seasonal chill, don't worry as a number of this month's events will be taking place online. Grab a mug of coffee, put your feet up and explore in your own time!
(Please note that all of these details were correct at the time of writing, but events may be subject to change. Please visit the relevant websites for the very latest information.)
1. Book yourself in for some literary stimulation
Baillie Gifford Borders Book Festival, until 4 October
Now in its 17th year, the Baillie Gifford Borders Book Festival actually started in July, but there's still time to join in the fun, which is happening online this time around. Still to come are conversations with former Olympic cyclist Sir Chris Hoy and broadcaster Andrew Marr, the latter of whom will be talking about his new book, Elizabethans: How Modern Britain Was Forged.
2. Explore a woodland art exhibition
Taking Flight Community Art Trail, until 30 October
The New Forest looks stunning at this time of year anyway, but there's another reason to visit during October – it'll be your last chance to enjoy the Taking Flight Community Art Trail that's been there since the beginning of September. Organised in association with the Army Flying Museum near Andover, it's lined with works by local groups and individual artists. Youngsters can also hunt for mini knitted planes and tag them on social media.
3. Pay tribute to some key workers
Everyday Heroes, until 30 November
Credit: Linda Nylind
An outdoor exhibition held at London's Southbank Centre, Everyday Heroes celebrates the men and women whose selflessness and hard work has kept us safe during the coronavirus pandemic. There are over 40 portraits of ordinary but vital front line workers to admire, covering everything from photography to oil and paint.
4. Marvel at nature's glorious collage
Scottish Tree Festival, until 1 December
There's no better time to enjoy Scotland's spectacular scenery than in autumn, when the landscape transforms into a rich tapestry of seasonal colour. Taking place at various sites across the country – from Skye's Armadale Castle to Logan Botanic Garden near Stranraer – and also online, the Scottish Tree Festival features over 50 events designed to bring you closer to nature.
5. Get excited by science
IF Oxford, 1-31 October
Stuck for things to do on a rainy day? Look no further than Oxford's huge 'science and ideas festival', which will be held exclusively online this year. Over the course of the month, there will be more than 100 events for adults and children to enjoy, from poetry to politics, contemporary dance to cosmic exploration.
6. Enhance your knowledge
Black History Month, 1-31 October
Credit: S Pakhrin
Originating in the United States, Black History Month was first celebrated on these shores in 1987. As usual, towns and cities across the UK will host events ranging from lectures and workshops to storytelling and comedy – but for obvious reasons, a number of activities will be moving online this year.
7. Make and share
Fun Palaces, 3 & 4 October
Now into its seventh year, Fun Palaces is aimed at bringing communities together through arts, crafts, science and culture. For two days in October, venues across the UK are transformed into 'fun palaces' where local people can share ideas, create together and make new friends. While there are fewer physical events taking place this year, you can also join in with various activities online.
8. Soak up the arts
Haddo Arts Festival, 3-10 October
Usually hosted at Haddo House in Scotland but taking place exclusively online this year, Haddo Arts Festival is a celebration of music, theatre, literature and crafts. The 2020 programme includes a humorous tour of the property by Myrtle Throgmorton, an illustrated talk on the poet Lord Byron, and a variety of music recitals.
9. Give your tastebuds a treat
Edinburgh Farmers' Market, 3, 10, 17, 24 & 31 October
Every Saturday, Castle Terrace in Edinburgh is transformed into a busy farmers' market, with traders offering everything from fruit and vegetables to meats, cheeses and even wool – all of it locally produced. The market is still going ahead during the pandemic, with a number of measures in place to keep people socially distanced.
• Celebrate the very best of British food and drink this autumn
10. Head down to your local repository
Libraries Week, 5-10 October
Though we live in an increasingly digital world, libraries still play an important role in society. And Libraries Week is aimed at reminding people of what these institutions can offer. This year, there are events taking place both around the country and online, from talks with well-known authors, to educational classes and workshops.
12. Take a hike!
Dursley Walking Festival, 7-13 October
On each day of the Dursley Walking Festival, there will be guided walks that explore this pretty Gloucestershire town and its surrounding area – everything from shorter strolls and those where you can take your dog along, to more strenuous hikes. There's even a family treasure hunt. For obvious reasons, the organisers will only be accepting limited numbers, and measures will be in place to ensure that all walkers keep their distance from one another.
13. Go and see Peter Rabbit
Beatrix Potter's Fairyland, 7, 8, 11-14 & 23-31 October
Credit: Paul Hermans
As the creator of Peter Rabbit, Jemima Puddle-Duck and many other iconic literary characters, Beatrix Potter is one of the nation's best-loved authors and illustrators. This free exhibition at London's V&A Museum displays some of her best work, and examines how she was inspired by both the natural world and other artists.
14. Get snap happy
Photo London Digital, 7-18 October
Moving from London's Somerset House to the internet for 2020, Photo London Digital brings together some of the best contemporary photography from galleries across the UK, Europe, the USA and Asia. The works on display will include everything from portraiture to pop art, abstract photography to collage.
15. Explore with the whole family
Sidmouth Science Festival, 9-18 October
Sadly, there won't be an opportunity to take in the sights and sounds of the seaside at this year's Sidmouth Science Festival, as it'll all be taking place online. You'll have plenty to explore, though, with a varied programme of talks, workshops and other science-related activity – most of it free. Perfect for adults and children alike!
• 10 of the best socially distanced days out in the UK
16. Keep your eyes peeled
Where's Wally? Spooky Museum Search!, 9 October-1 November
Credit: Fjmustak
Ideal for a kids' activity during October half-term, the Where's Wally? Spooky Museum Search invites you to pick up an activity sheet at your local museum and then try to spot the bespectacled hero around the premises. No fewer than 75 museums across the UK are taking part in the initiative, so check the website for your nearest one. There are even prizes up for grabs!
17. Enjoy a live feed
Virtual Wells Food Festival, 10 & 11 October
The coronavirus may have put paid to the Somerset city's traditional foodie shenanigans this year, but the fun will very much continue in a virtual format, with an impressive programme of demos, masterclasses, live music performances and even games with prizes. Make an indoor picnic and join in with the celebrations.
18. Hear from some of life's true achievers
Phenomenal Women, 11 October – 8 November
Named after the poem Phenomenal Woman by Maya Angelou, this event at London's Southbank Centre celebrates the accomplishments of black female professors, who account for just 35 of the 19,000 professors working at UK universities today. Among the exhibits will be some of their groundbreaking research, along with insights into the barriers they've had to overcome.
18. Be entertained and educated
Belfast International Arts Festival, 12 October-1 November
From dance, theatre and music to talks and art exhibitions, Belfast International Arts Festival is a vibrant hotbed of creativity. Among the free highlights of the 58th edition – much of which is being streamed online – are a screening of John T. Davis's celebrated road movie Route 66, two concerts showcasing the extraordinary madrigals of Monteverdi, and panel discussions on poetry and politics.
19. Embrace your Irish side
Liverpool Irish Festival, 15-25 October
Liverpool has always had a close affinity with Ireland, and the people of the city celebrate that relationship every year at the Liverpool Irish Festival. This year's 11-day extravaganza will feature a number of free online events, including musical performances, historical talks and fine art exhibitions.
20. Tuck into a feast of foodie content
Llangollen Food Festival, 17-18 October
One of the many UK food events that are having to find innovative ways to take place digitally this year, Llangollen Food Festival is trading its idyllic North Wales setting for the internet. Though you won't be able to sample any of the foodie treats on show (more's the pity!), there will be plenty of virtual stalls, talks, workshops and competitions to inspire your own culinary creations.
21. Soak up the best that Kent has to offer
Canterbury Festival, 17-31 October
Though it will be smaller than previous years, the Canterbury Festival is returning for the last two weeks of October. Limited-capacity musical and comedy performances will cover everything from Beethoven to jazz, theatre to acrobatics, while talks on history and science will quench your thirst for knowledge.
22. Get caught up in the plot
The Scottish International Storytelling Festival, 17-31 October
Taking place at venues across Edinburgh and online, the 32nd annual Scottish International Storytelling Festival will focus on the theme 'In the Flow', with the art of storytelling celebrated through spoken-word performances, music, dance and more. Most events are free but you will need to book your spot in advance.
• Find out how to join the Boundless Reading Room
23. Enjoy some musical therapy
City of Derry International Choir Festival, 21-25 October
Choral singing is a no-no at the moment due to the coronavirus, so this year the City of Derry International Choir Festival is happening online. Settle back and choose from a packed programme of free but ticketed live and archive performances by international musical acts, as well as workshops and podcasts.
24. Become well versed in the latest literary works
Manchester Literature Festival, 23-25 October
The programme for this year's (online) Manchester Literature Festival will be announced on 30 September, but some speakers have already been confirmed for the mix of free and ticketed events. Novelists Tayari Jones (pictured) and Brit Bennett, and poet Kae Tempest, will all be among the literary names discussing their latest work.
25. Have some scary fun
Various Halloween events, 24-31 October
Halloween won't be quite the same this year, but there are still things you can do once you've carved your pumpkin and picked out a suitably scary costume. There are organised walks around Halloween displays in both Bristol and Exeter, while Weston-super-Mare's Grand Pier will also be putting on some frights. For further inspiration on how to celebrate this unique annual festival, click here.
Photos: Getty Images, unless otherwise stated