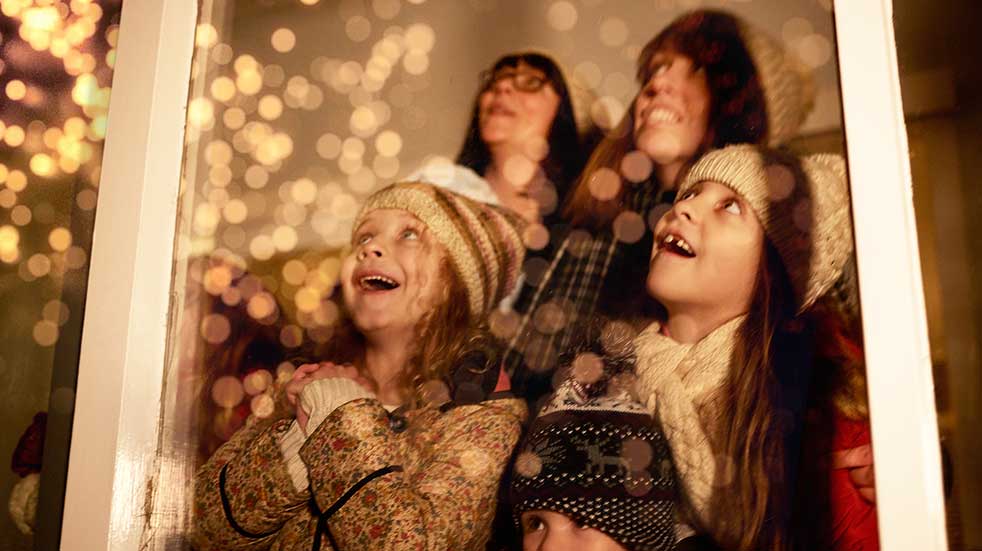 The nights are getting longer and the weather is getting colder – but don't worry, as there's loads going on in November to bring some light into your life.
Whether you get your kicks from watching firework displays, browsing art exhibitions or listening to musical virtuosos in action, you'll find something to do in our list of in-person and online events. And with all of them being free of charge, you needn't delve into your Christmas shopping funds to enjoy them.
Please note: now that the government has announcement a second national lockdown, some of the events mentioned here may not be taking place. Check with individual websites for the most up-to-date information.
1. See a literary genius reimagined
Roald Dahl's Dirty Beasts & Revolting Rhymes, until 4 December
He may have passed away in 1990, but Roald Dahl's stories and poems continue to enchant children and adults alike. Each day for the next month or so, Norwich Puppet Theatre and associated artists will be performing an original mini-show (5-10 minutes) based on Dahl's weird and wonderful words. To stream the shows, visit the group's YouTube channel.
2. Feast on fashion
Dressed to the Nines, until 7 February
If you're a fan of high fashion, then a trip to England's second city should be high on your list of priorities. For the next few months, Birmingham Museum & Art Gallery is putting on Dressed to the Nines, a glitzy exhibition dedicated to gladrags from the 1850s through to the present day. Highlights include an embroidered court uniform worn by Neville Chamberlain, a 1930s beaded evening gown and cocktail dresses designed by Christian Dior and Norman Hartnell.
3. See an explosive representation of warfare
History of Bombs, until 24 May
Taking over the incredible atrium at London's Imperial War Museum, Ai Weiwei's History of Bombs has received rave reviews. This fascinating and poignant exhibition – part of the IWM's Refugees season – sees the politically minded artist exploring how humans attempt to solve political, religious and economic crises through the use of explosives.
4. Sample some Indian culture
Diwali in London, 1 November
After 18 years of increasingly jubilant scenes in Trafalgar Square, Diwali in London – the capital's take on the traditional Indian festival of lights – is heading online this year. The programme for the event has yet to be announced, but expect plenty of music, dancing and decoration – all of it beamed into your nice, warm living room.
• Cook some delicious Indian-inspired recipes from leading restaurant chain Dishoom
5. Attend a classical music concert online
London Philharmonic Orchestra concerts, 1-30 November
As well as its Winter Market (see item number 8), London's Southbank Centre is hosting a number of in-person and online events throughout the month. Among them are three musical events from the London Philharmonic Orchestra. The first and last will link three centuries through some of music's greatest composers, while the second will focus on the revolutionary compositions of Beethoven. A musical feast.
6. Meet some makers and shakers
Belfast Design Week, 2-8 November
Now in its sixth year, Belfast Design Week covers a wide range of sectors, including graphic design, architecture and illustration. This year's event, which is themed around the environment, will be taking place online. Not only will you be able to explore a variety of creations at a Pop-Up Design Museum, you can also listen to podcasts, chat with fellow creatives and attend fringe events.
7. Watch the sky light up
Firework displays, 5 November
The beginning of November is traditionally when many of us wrap up warm and head out to watch a firework display. As you might expect, many organised events have been cancelled this year because of the you-know-what, but there's sure to be people in your neighbourhood having private displays, so stand at the window or on the doorstep and enjoy the spectacle.
8. Do some seasonal shopping
Christmas markets, from 5 November
At the time of writing, there are still Christmas markets scheduled to take place across the UK in the run-up to the festive period. Expect wooden chalets selling high-quality artisan products from local food, craft and jewellery sellers at London's Southbank Centre, Truro, Swansea, Cardiff, Darlington and Wickford. You're sure to tick a few things off your festive shopping list.
9. Attend a history lecture
The Emergence of the English, 6 November
A must for fans of popular TV series Vikings and The Last Kingdom, this online talk will see University of Cambridge archaeologist Suzie Oosthuizen examine the true origins of English people. While the event is free, you'll need to book your spot – and quickly, as it's expected to be very popular.
10. Pay your respects to a pioneer
Nature Live Online: Discovering Dorothea Bate, 6 November
Few stories are more remarkable than that of Dorothea Bate, the very first woman to be employed as a scientist at London's Natural History Museum. This online talk explores how Bate's pioneering role came to be, and the legacy she left behind as one of history's most renowned palaeontologists.
11. Marvel at some colourful floats
Bridgwater Carnival, 7 November
Credit: Geof Sheppard / Wikimedia Commons
Believed to be the oldest event of its kind in the UK, Bridgwater Carnival attracts thousands of people each year. Sadly, it won't be happening this year, but there will be a live stream (starting at 6pm) featuring some of the best floats to have graced the streets of the Somerset town over the past four decades. Make yourself a warming drink and enjoy the procession.
12. Take a trip into space
Solar System Discovery, 7, 8, 14, 15, 21, 22, 28 & 29 November
Every Saturday and Sunday in November, an astronomer from the Royal Observatory Greenwich will take would-be astronauts on an online tour of the stars with Solar System Discovery. Primarily aimed at children (aged 7+), the live planetarium shows will enable viewers to explore the Moon, neighbouring planets and further afield without leaving their living room.
13. Shop for unique gifts
Handmade Chelsea Online, 10-15 November
For the first time ever, the prestigious Handmade Chelsea craft fair will be happening in a virtual space this year. Over the course of six days, you'll get a chance to browse – and buy – works by some of the UK's most esteemed makers, as well as enjoying live demonstrations by some of the exhibitors.
• Get discounts on your Christmas shopping with our ultimate festive gift guide
14. Let Peru take your breath away
Virtual tour of Machu Picchu, 12 November
Even when travelling is easy, hiking up to Machu Picchu in the Peruvian Andes isn't. So why not take the opportunity to explore this stunning 15th-century Inca citadel from your armchair. Through Outdoor Adventures' 30-minute tour, you'll get to admire spectacular 360-degree views while a virtual guide fills you in on the history of this extraordinary site.
15. Uncover the history of humanity
Being Human, 12-22 November
A 'festival of the humanities', Being Human sees a range of in-person and online events being hosted by universities, galleries, libraries and museums across the UK. This year's programme includes an interactive talk on Scotland's role in the Wild West, a writing workshop, plus a series of self-led audio walks around some of the country's hidden historical sites.
16. Eat and drink in a winter wonderland
Miracle on Kingdom Street, 12 November-February
Christmas is coming early to Pergola, a popular hangout in London's Paddington district. From mid-November until February, it will be given an alpine makeover complete with 200 real Christmas trees, eight cosy lodges and roaring log fires. With festive food and tipples on the menu, too, you'll soon be in the seasonal spirit.
17. Lose yourself in music
London Jazz Festival, 13-22 November
From its humble roots in Camden in the 1970s, the London Jazz Festival has grown to become a city-wide event that gives a platform for new artists as well as unique collaborations. Though this year's programme includes a few socially distanced shows, the event is predominantly happening online with a range of free virtual concerts plus workshops and kids' activities.
18. Get a twinkle in your eye
Cambridge Christmas lights switch-on, 15 November
From the smallest villages to the biggest cities, the switching-on of Christmas lights will help to lift spirits at the end of this turbulent year. Though big crowds won't be able to gather for these rituals this time around, you can still get your festive fix by watching an online stream of Cambridge's Christmas lights being activated. We're told there may even be a surprise visit from Santa...
19. Get hooked on the classics
Balliol College Musical Society concert, 15 November
Pianist Pavel Kolesnikov will lead this free, online classical music concert by Oxford University's Balliol College Musical Society. You'll need to book your space in advance but, for your trouble, you'll be treated to a wonderful programme of music from Liszt, Beethoven, Schubert and Scriabin.
20. Listen to two crime writers divulging their secrets
Michael Connelly and Ian Rankin, 16 November
Following the Bloody Scotland crime fiction festival in September, this special online presentation will bring together two of the world's best crime authors in conversation. In an engrossing head-to-head, Michael Connelly and Ian Rankin (pictured) will discuss their latest thrillers, The Law of Innocence and A Song for the Dark Times.
• Don't miss our pick of the best new books to read this autumn
21. Celebrate the written word
Book Week Scotland, 16-22 November
The annual Book Week Scotland event is another that will be largely moving online this year. So far, the programme includes Graeme Macrae Burnet discussing his Booker Prize-shortlisted novel His Bloody Project, a translation of children's classic The Gruffalo in Scots and Gaelic to mark the book's 20thanniversary, and an audience with The Boxer author Nikesh Shukla.
22. Net yourself an objet d'art
Wimbledon Art Fair Online, 19-22 November
Tennis and Wombles aren't the only things that Wimbledon is known for – its Art Fair is also well respected in certain circles. This year, the event is happening online, with over 100 artists and makers being showcased on the Fair's virtual platform. As well as getting the chance to buy affordable arts and crafts, you'll be able to watch Q&As with the creators and take online gallery tours.
23. Make a virtual pilgrimage to 'the town of books'
Hay Festival Winter Weekend, 26-29 November
Best known for its summer literary festival, the tiny Welsh town with dozens of bookshops will be hosting the virtual Hay Festival Winter Weekend on the last weekend of the month. The programme is yet to be announced, but expect a star-studded line-up of speakers and performers.
24. Celebrate some great Scots
Scottish Music Awards, 28 November
Paying homage to the leading lights in the Scottish record industry – and raising funds for the music therapy charity Nordoff Robbins in the process – the Scottish Music Awards will be held online this year. Hosted by broadcaster Edith Bowman, it will feature performances from the likes of Amy Macdonald (pictured), kitti and Luke La Volpe.
25. Take an art tour
North Bristol Art Trail, 28-29 November
With over a hundred artists and crafters displaying their works in galleries, homes, cafes and shops, as well as on windows, North Bristol Art Trail always makes for a fantastic day out. The event is going ahead as usual this year – but you can also admire the art via a virtual tour until 6 December.
Photos: Getty Images, unless otherwise stated