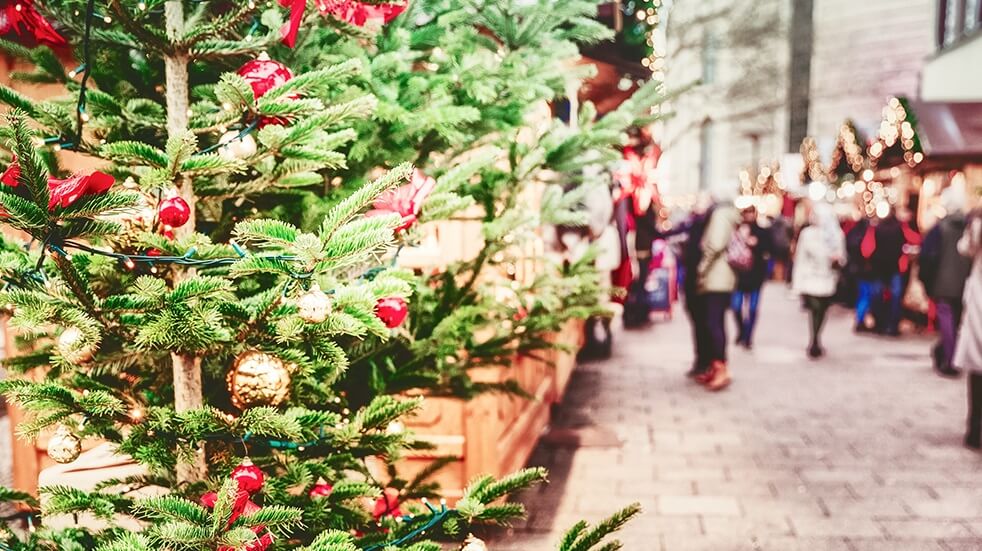 Don't miss our pick of the best ideas for free family December fun, all across the UK.
Nationwide
1. Head to a Christmas fair
Across the country, throughout December
Always offering a more wholesome alternative to the high street, the various Christmas fairs and markets springing up around Britain don't just offer artisan crafts and gifts that make ideal presents, but also delicious hearty food and drink, rides and even a chance to meet Santa. Whether it's the magical St Nicholas Fair in York, the bright lights of Cardiff's Winter Wonderland or the environmentally conscious Green Fair in Kirkaldy make sure you see what's taking place near you.
---
---
2. Enjoy a festive singsong
Across the country, 1 December-24 December
All the Christmas shopping and frolicking can really take its toll, so it's always best to take a step back, grab a hot drink and get back into the true spirit of Christmas with some heartwarming carols in concerts that are free to attend across the country. Check what's happening near you and you could catch a treat like the Christmas Spectacular at Liverpool Cathedral, Trafalgar Square Christmas Carols or the more intimate Carols with Elizabeth Gaskell on 6 and 13 December in Manchester.
---
3. New Year's fireworks
Across the country, 31 December
After Bonfire Night the best time of the year to look to the sky and see it lit up by fireworks. Lots of towns and cities in the UK bring a full-on party, from the seaside fancy-dress festivities at St Ives, the torch-bearing Flambeaux Procession at Comrie in Perthshire and the huge displays on the Thames, Newcastle and elsewhere, make sure you get the best spot for seeing out 2018.
---
London and south-east England

4. Trafalgar Square tree and carols
Trafalgar Square, 6 and 10-21 December (except 15 December)
See the lights switched on the world's most famous festive spruce at the Christmas Tree Lighting Ceremony. A present from the people of Norway every year since 1947 in thanks for Britain's help in World War II, the tree is always a spectacular giant and the annual celebration kicks off the Christmas season with carols and poetry aplenty. Get there early for a good spot. Then from the 10th carol-singing groups will perform each day from 4-8pm on weekdays and 2-6pm on weekends.
---
5. Light up the solstice in Brighton
Brighton, 21 December
A unique opportunity to gather and carry lanterns through Brighton on the winter solstice, to welcome the lengthening days, the Burning Of The Clocks culminates in a spectacular pyrotechnic firework display and bonfire on Brighton beach. Wrap up warm and enjoy the spectacle.
---
6. Take a Boxing Day Dip
Ryde, Isle Of Wight, 26 December
What better to get over the turkey sandwiches of Christmas Day than with a refreshing, albeit chilly swim in the sea? There are plenty of Boxing Day swims going on across the country, with the Ryde Boxing Day Swim raising funds for Ryde Inshore Rescue, who will be on hand to make sure you're safe while you hit the waves.
---
7. Be a part of Dickens' Christmas
Museum of London, 1-9 December
Enjoy hour-long performances of Charles Dickens' classic A Christmas Carol suitable for children aged five-plus. See Scrooge find redemption thanks to a talented cast and the input of the audience. There are performances throughout the day but make sure you get there early as tickets are limited.
---
Midlands & Eastern England

8. Attend the world's best known carol service
Kings College Chapel, Cambridge, 24 December
Kings College Chapel's Festival of Nine Lives and Carols on Christmas Eve has become world renowned, since it was first broadcast by the BBC in 1928. Aired live on BBC Radio 4 at 3pm on 24 December, it is played out on other networks over the following 24 hours. There's only 600 available seats and you'll have to start queueing at 9am if you want to be sure of getting in.
---
9. Make Christmas crafts
RSPB Sandwell Valley, 2 December
Head to the visitor centre to make festive crafts, cards and decorations as part of the RSPB Sandwell Valley Christmas Fayre. There will also be gifts to buy and food to enjoy between bird spotting at the reserve.
---
10. Boxing Day Morris dancing
The Swan Inn, South Wootton, 26 December
Rather than sit around finishing off the Christmas chocolates or getting stuck in the sales, why not get out of the malaise and enjoy Morris Dancing on Boxing Day from the Kings Morris? Set in the lovely South Wootton, you can partake in a walk before heading to the Swan Inn for some entertainment.
---
11. Battle of the Choirs
Merry Hill Centre, Dudley, 3-7 December
Students from 20 schools will do their best to be crowned number one in the Christmas Choir Competition. With the heats throughout the week, the final will be held in the shopping centre on Friday 7 December. It's the perfect break from your shopping.
---
South-west England & Wales

12. Meet a LEGO Santa
Cardiff Bay, 1 December-3 January
After various LEGO animals have been on display this year, now it's time for eight reindeer and a magical man from the North Pole to take centre stage in Cardiff's vibrant Mermaid Quay. Made from 500,000 bricks, Santa's Sleigh & Reindeer at Tacoma Square are an impressive sight, and there's enough room on the sleigh for you to get a photo alongside him.
---
13. Spot a sea monster
Cardigan, Ceredigion, 7 December
Some say it is made from plastic waste and that it will appear at only a few places around the Welsh coast, so make sure you take your opportunity to see Cragen the Sea Monster when it emerges from the surf of Cardigan Bay. The sighting falls on the day of Cardigan's Giant Lantern Parade where you'll be able to make your own amazing lanterns for the festivities.
---
14. Festive stories at the Roman baths
Caerleon, 8 December
Enjoy some popular Christmas Tales at Caerleon Baths, the site of the ancient Roman fortress. With the storyteller getting you into the spirit of the season at 11am, 1pm and 3pm, there's plenty of opportunity to make it a part of your free day at Caerleon.
---
15. Inspiring cathedral music
Bristol Cathedral, 11 & 17 December
Take a little time out of your day with some beautiful music at recitals at Bristol Cathedral. The 45-minute performance kicks off at 1.15pm with individual singers and pianists on 11 December and Olivier Messiaen's classic Christmas organ cycle, La Nativité du Seigneur on 17 December at 7pm.
---
16. Mark the Winter Solstice
Penzance, Cornwall
The Montol Festival celebrates the Winter Solstice in Penzance with costumes, fire-lit processions and much merriment across the town. The burning of the sun effigy is the centrepiece but there is plenty to keep you warm and entertained throughout the day.
---
Northern England
17. A different kind of Christmas lights in Manchester
Salford Quays, 7-16 December
Featuring unique displays that will dazzle and amaze you, Lightwaves will light up Salford Quays for 10 days in December. Previous displays have seen incredible interactive exhibits so make sure you head down to see what the international artists behind the display have come up with in 2018.
---
18. Trees and cathedrals
Chester Cathedral, 1 December-6 January
Back for a sixth year, Chester Cathedral cloisters will be filled with more than 50 majestic trees. The Christmas Tree Festival is the perfect way to prepare for the season. Lose yourself in the tree-lined winter walkways and vote for your favourite.
---
19. Have a barrel of fun
Allendale, 31 December
This annual tradition may stretch back to the Middle Ages, so it's always special to be part of the Allendale Tar Bar'l in Northumberland. Head to the streets as the New Year is summoned in with burning barrels of tar being carried though the town by costumed participants. It makes for a spectacular display.
---
20. Celebrate lives of loved ones
Newcastle, 18 December
The Metro Radio Arena hosts an evening of song, readings and reflection as those no longer with us are remembered at St Oswald's Light up a Life Christmas Celebration. You can make a donation to hang a light on the tree, children can join in a choir on stage and you can pick up some gifts, with all proceeds going to the St Oswald's Hospice.
---
Scotland & Northern Ireland
21. Create some classical music
Glasgow City Halls, 2 December
Whatever instrument you play, from kazoo to bassoon, everyone from seven and up can learn all about Holst's incredible The Planets from professional musicians as part of BBC's Come and Create. Even you don't play an instrument, you can join in the percussion or choir. Tickets are free but limited so make sure you pick up yours in advance.
---
22. Meet William Wallace
The National Wallace Monument, Stirling, 27-31 December
At the sight of his most famous victory you can meet Scotland's National Hero throughout the day, as he regales attendees with the story of his life every 45 minutes from 11am. If there's anything you've ever wanted to know about Braveheart William Wallace, this is your best chance.
---
23. A performance of Remembrance
Irish Linen Centre, Co Antrim, 1 December
Celebrating Armistice: Hoping For Peace sees actors reciting letters sent home from the local soldiers during WWI. Tickets for this special performance of remembrance are free but need to be booked.
---
24. Trees tell the Holy tale
First Presbyterian Church, Armagh, 6-9 December
Telling the story of Jesus through the decorative trees in the Armagh Church, the Christmas Tree Festival will be one of the most original tree displays in the entire country this festive period. Donations to the Newry Hospice will be accepted.
---
25. Have a dance in Dundee
Dundee, 1 December
As well as the familiar Scottish pipes, the Dundee Fusion Festival will see performances of ashram dancers, Chinese harpist Luna Li and Scotland's only professional classical sitarist. You'll also be able to join in with everyone for the final ceilidh dance. Be sure to book your tickets.