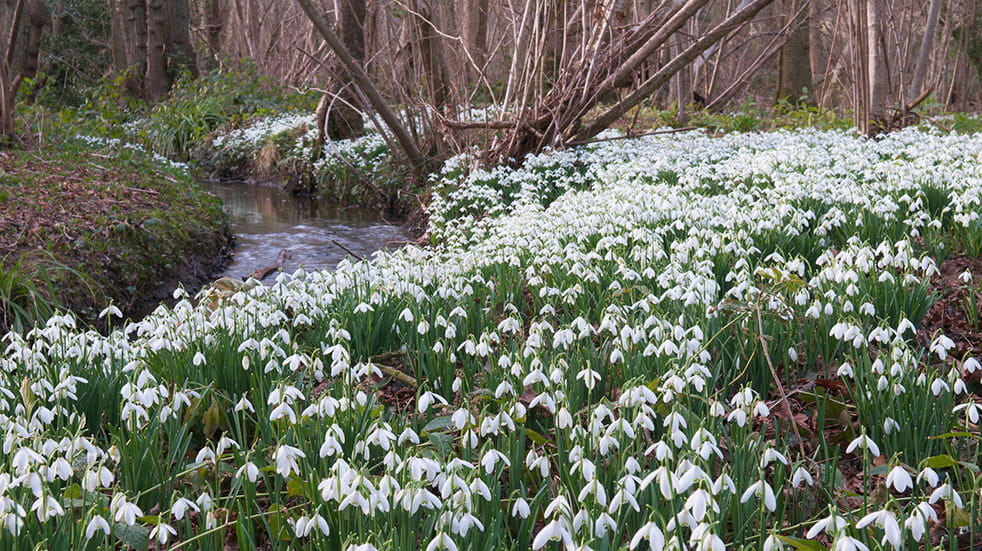 Make the most of your weekends and half-term holidays with our great ideas for free days out and events this month.
---
NATIONWIDE
1. Celebrate Pancake Day
25 February
It's that time of year when you break a few eggs, get flour all over the place and try your hand at flipping some pancakes. Everyone has their own recipe, but here's the pancake recipe used by Paul Hollywood when The Great British Bake-Off had pancake-making as a technical challenge in 2016.
Beyond lemon juice and sugar, you can head to Derbyshire for the most spectacular celebration of Shrove Tuesday and Ash Wednesday: the biggest football game in the world, Ashbourne's Shrovetide. The game is played over two eight-hour days, the goals are three miles apart (and placed across a river) and, with hundreds playing on each side, there are few rules.
Alternatively, check out and take part in some pancake racing in Greenwich, London.
---
2. February half-term activities
17-28 February
The post-Christmas return to school and work is definitely the toughest time of the year, which is why kids and big kids alike are chomping at the bit when February half-term rolls around. As such there are plenty of programmes of activities taking place, with some great free ones too if you know where to look.
Discover artefacts and stories in the Imperial War Museum, let the kids get messy with arts and crafts at Ikon in Birmingham, or look after Hyde Park's birds in Discover Day – Brilliant Birds.
---
3. Snowdrop Festivals
Throughout February and March, your local public gardens
That pretty white flower that carpets the woods in spring, the snowdrop is plentiful throughout February, and there are many Snowdrop Festivals celebrating it as a result. Our advice is to get in your wellies and boots, wrap up warm and go for a nice scenic walk around the park to see them.
While most of the organised walks incur a small charge or are free after you've paid to get into the gardens, there are still some cool free jaunts such as at Greenbank in Glasgow and Barry Mill during the Scottish Snowdrop Festival and snowdrops every Sunday at the Logan Botanic Garden.
---
4. LGBTQ History Month
Throughout February
There are events taking place throughout the country to raise awareness of LGBTQ History Month in February. Some of the highlights include the National Maritime Museum's family events in Rainbow Week, a free LGBTQ talk in Preston and a Queer History Walk from Ceredigion Museum on 8 February.
---
More great ideas for things to do around the UK
Five free things to do in this week
More things to do later this month for free
New attractions, rides and events to see in 2020
---
LONDON AND SOUTH-EAST ENGLAND
5. Young Bomberg and the Old Masters
Until 1 March, National Gallery, London
The Young Bomberg and the Old Masters exhibition displays some of the early works of early 20th-century painter David Bomberg as well as pieces that inspired him.
You can see how the likes of Botticelli and Michelangelo led to the creation of some of Britain's best modernist art.
---
6. Bruce Conner: Breakaway
Until 22 February, Thomas Dane, London
The entire Bruce Conner: Breakaway exhibition is simply the director's short 1966 film Breakaway on repeat. Five minutes of Toni Basil singing and dancing through various costume changes, which runs in reverse halfway through; a few watches will have you questioning which direction it's meant to be running. A weird, wonderful piece of thought-provoking art.
---
7. The Krios of Sierra Leone
Until 27 September, Museum of London Docklands
The Krios of Sierra Leone exhibition is a year-long event that tells the story of the Krios people of west Africa, who are largely descended from freed slaves.
Plenty of artefacts tell their history through fashion and tradition, and ties in the other exhibits from across the Docklands Museum.
---
8. Imagine Children's Festival
12-23 February, Southbank Centre, London
You'll find everything to keep the youngsters entertained over half term with London's Southbank Centre Imagine Children's Festival. Kids can add to a giant chalkboard display, enjoy nursery rhymes, have an edible Pippy Longstockings day and more.
---
SOUTH WEST ENGLAND AND WALES
9. Lentsherd Shrove Tuesday
25 February, Clovelly, Devon
Lentsherd Shrove Tuesday is a Shrove Tuesday custom in the Devon fishing village, where bad spirits are driven into the sea. You usually have to pay to enter the village, but for this special event you can get in for free after 4.30pm and join in the custom.
---
10. St Ives Feast and Hurling the Silver Ball
10 February, St Ives, Cornwall
Everyone loves a bizarre British fair that has its roots in centuries-old tradition, and St Ives Feast & Hurling the Silver Ball is no different.
After a procession to celebrate the parish of St Eia near Porthmeor Beach, townsfolk take part in an every-man-for-himself rugby match to try and present the mayor with a small silver ball, in order to win a silver penny. Pick a good spot on cheer on your favourite.
---
11. Planetarium Show: Planets Around Distant Stars
16 February, Ellan Valley Visitor Centre, Powys
There are four free Planetarium Shows in the Elan Valley visitor centre throughout the day. Astronomers from the University of Aberystwyth turn the Brecon Beacons into outer space, with a journey through the universe.
---
12. Light Up Cheltenham
1-23 February, Cheltenham centre, Gloucestershire
Light Up Cheltenham sees 30 of the town's buildings lit up in spectacular fashion. The launch will see enigmatic street theatre on a procession, while Valentine's Day will see the buildings lit in red.
---
MIDLANDS AND EASTERN ENGLAND
13. Festival of Science and Curiosity
12-19 February, across Nottingham
A week-long journey into science, maths, technology and more, the Festival Of Science & Curiosity has a focus on schools but there's also plenty for kids and adults outside too.
There are evening talks – including the science of beer – and activities in the city's libraries, including making music using fruit and vegetables.
---
14. Norfolk Makers' Festival
8-23 February, The Forum, Norwich
Whether you're a beginner or expert, the Norfolk Makers' Festival is a great way to bring people with similar hobbies together. Whether you're into knitting, yoga, painting, or even want to see some sheep shearing and wool being spun there and then, there's a huge amount on offer in this wonderful, welcoming festival that has something for everyone.
---
15. Royal Philharmonic Society with Nicky Spence and Iain Burnside
7 February, Royal Birmingham Conservatoire
The Royal Philharmonic Society presents this talk from tenor Nicky Spence and pianist Iain Burnside on their favourite music from over the centuries. A different but no less special night at the Royal Birmingham Conservatoire.
---
16. Embarrassing: A Guide to Writing and Editing Queer Love Poetry
25 February, The Barber Institute, University of Birmingham
Have you ever fancied yourself as a romantic poet? Embarrassing: A Guide to Writing and Editing Queer Love Poetry encourages you to show all your romantic sonnets, the cheesier the better, while learning how to make them better.
---
NORTH OF ENGLAND
17. Illuminate Oldham
22 February, Oldham Town Centre
Another town to get lit up during the cold winter nights, Illuminate Oldham has wonderful processions of lanterns at Parliament Square and dazzling lights and performances at Oldham Parish Church and the Old Town Hall. There's also plenty going on at the library and gallery so make sure you get the most out of your evening by checking the brochure.
---
18. Scarborough Coastival
21-23 February, Scarborough
The tenth anniversary of Scarborough's Coastival has many ticketed highlights but there are a huge amount of free events too. Choose from car shows in the Spa Sun Court, acoustic performances in the Rotunda Museum, a play in the Aquarium Top Roundabout, visual arts at St Martin-on-the-Hill, circus performers and much more. See the website for the full programme.
---
19. Free Walking Weekend
1-2 February, starting in Youlegrave, Derbyshire
A weekend of free guided walks in the Peak District led by the outdoor adventure and holiday company Will4Adventure should help you get comfortable in your new hiking gear and give you a feel for this extraordinary national park.
Saturday offers an 11-mile route around the White Peak, while Sunday's less demanding walk still takes in some excellent scenery. It's free but make sure you book your place.
---
20. Wakefield Rhubarb Festival
17-23 February, Wakefield, Yorkshire
Painting the town pink for three days, the Wakefield Rhubarb Festival brings together arts, culture and of course a lot of the sweet British plant. There's a host of events throughout the week leading up to the food market on the weekend.
---
21. Dippy On Tour
From 10 February, Number One Riverside, Rochdale
See Dippy the dinosaur in Rochdale on his UK tour – it's his penultimate stop. See the Natural History Museum's famous Diplodocus skeleton and combine it with a dino exploration of Touchstone Rochdale just down the road.
---
SCOTLAND AND NORTHERN IRELAND
22. Audacious Women Festival
20-23 February, Edinburgh
As part of this festival that includes presentations to celebrate and empower Scottish women are free exhibitions on a century of women challenging politics. The free events include open mic events, as well as tennis and rope access taster sessions.
---
23. Love Your Woodland
12 February, Castlemilk Park, Glasgow
Returning after last year's success, Love Your Woodland invites you to Castlemilk Park to show your passion for nature. You can enjoy woodland activities and even toast some marshmallows on a fire during this half-term afternoon event.
---
24. The Rise and Rise of Women artists in Twentieth Century Britain
21 February, City Art Centre, Edinburgh
The Rise and Rise of Women artists in Twentieth Century Britain is a lecture concerning how much of an impact certain female artists made in the first half of the 1900s. Writer and curator Sacha Llewellyn will be your host for this free event.
---
25. The Strange Visitor' Book Launch
15 February, Scottish Storytelling Centre, Edinburgh
Unsurprisingly there are many book launches at the Scottish Storytelling Centre, with The Strange Visitor book launch the second taking place in February. Renita Boyle's spooky children's book will be read and some fun activities and crafts will be taking place too.