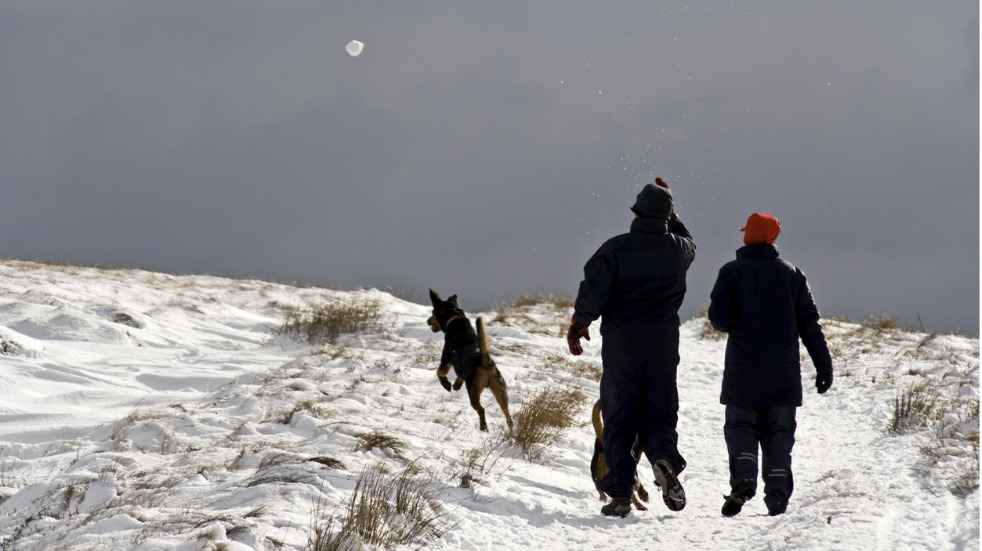 From cats in hats to Burns Night parades and free talks, there's something for everyone in our monthly bumper round-up
Nationwide
1. Try something new
Throughout January
Should your New Year's Resolution be to take up a new hobby, there are plenty of options in January that you can try for free. With many classes offering free taster sessions, such as mindfulness in Edinburgh, boxing and jiu jitsu in Leicester, one of the many Rock Choirs across the country or even Event Management in Truro, this is the perfect time of year to have a go at something new.
2. Have a New Year's Day dip
1 January
Feeling groggy after celebrations the night before? Then you might want to partake in a refreshing New Year's Day swim. With annual events being held as far afield as Barry Island, Scarborough, Gosport and Saundersfoot there's sure to be one close for you to brave the January sea.
3. National Dress Up Your Pet Day
14 January
It's not uncommon to see a dog in a winter coat, but if you've ever fancied putting a bow tie on your pup, a hat on your cat or even dressing your rabbit as a superhero, then you won't be alone on National Dress Up Your Pet Day. There are plenty of great and ludicrous ideas on the website and details of how you can share your own fashion parade online.
4. A family walk in the park
Throughout January
A great way to beat the supposed 'January Blues' is to get out in the fresh air, have a little exercise and take in the magnificent scenery that Britain's national parks have to offer. The websites of the UK's 15 National Parks have a "roster of routes" and suggestions for walkers of all ages and abilities, including this list of 15 Great Walks for Families.
5. Go bird spotting in your garden
26-28 January
The Big Garden Birdwatch is the best way to see how British bird species are doing, with just an hour of your time required to see how many winged wonders land in your garden or within site of your window over the weekend. The RSPB website shows you how you can register, as well as lots of ideas of how to make your garden more welcoming for birds, with baths and what to feed them.
---
---
London and south-east England
6. How the President made the News
Southbank Centre, London, from 7 January
Take a stroll through President Donald Trump's life in the 1980s and 1990s with a walk through the Pre-Presidential Library. Featuring two-metre-tall newspaper front pages that relate to his business and personal life in the period, it's a fascinating look at the how the now most powerful man in the world was covered by the press, years before he took office.
7. Watch the New Year Parade
Central London, 1 January, 12 noon
With marching bands, drummers, dancers, stuntmen and the Batmobile, London New Year's Day Parade is always a spectacular highlight. It runs from Piccadilly, through Trafalgar Square, down Whitehall before finishing in Parliament Square, while a street food festival halfway along at Pall Mall is great way to enjoy the international flavours of the parade in another way.
8. See London lit up
Canary Wharf, London, 15 January-26 January
Winter Lights returns with 30 dazzling lighting up Canary Wharf in January. They're not just an amazing sight to witness; you can also interact with luminous building blocks and watch graffiti artists literally light up the walls. Don't miss this incredible sensory spectrum.
9. Enjoy Classic Motoring
Stanmer Park, Brighton, 6 January
Stanmer House and its grounds make for a splendid day out at the best of times, not least when there's a Classic Car Show to enjoy as well. With 100 vehicles to explore as well as live music, there's fun to be had for everyone.
---
Midlands & Eastern England
10. Celebrate a Straw Bear
Whittlesea, Cambridgeshire, 18-20 January
As part of a weekend of live music, storytelling and dances, this main event of the quirky Straw Bear Festival sees a 'straw bear' dance through the street before being burned on the evening – don't worry, it's just a costume made of straw. This event has ancient origins and is one of the most interesting and jovial events anywhere.
11. Make some mindfulness art
Birmingham Museum and Art Gallery, 19 January
Take some time to relax with this free, adults-only drop-in class where you can spend as long as you want making a collage as part of the Women Power Protest. All the materials for the Mindful Adult Arts Collage are provided, as you while away your time being as creative or comical as you want creating your masterpiece.
12. Attend an art history talk
Gowling Suite, Birmingham Hippodrome, 10 January
As part of the Face Of Suffrage photography exhibition at Birmingham Hippodrome, this free talk from archivists and artists Anaand Chhabra and Geoff Broadway examines the role of the women in the photographs on display and in the archives. It marks part of the celebration of 100 years of women's suffrage.
13. Escape with a bestseller
Waterstones, Nottingham, 24 January
With her previous novels looking at characters living through World War II, The Escape with Clare Harvey sees the author talk about her new book on two women at either end of the Cold War in Germany. Even if you haven't read her previous works it's sure to be a fascinating insight into the history as well as the local-based author.
---
Northern England
14. Get involved in story sharing
Rishton Library, Lancashire, 15 January
Sharing Stories offers a chance for kids and adults alike to read, listen to stories, play word games and more to improve your literacy. It's free but make sure you book your places in advance.
15. Free university lectures
Sheffield University Students' Union, 24 January
With six free talks and an optional tour for those without university qualifications, this is also open to anyone who fancies expanding their knowledge in the University Taster Sessions. Among the subjects are how newspaper cartoons have been used throughout newspaper history to parody serious events, how plants are used for medicine, the psychology of happiness and a very interesting introduction to DNA.
16. Walk the Peak District with a guide
Starting in Castleton, Derbyshire, 12-13 January
A weekend of Free Guided Walks in the Peak District led by the outdoor/adventure holiday company Will4Adventure should help you get comfortable in your new hiking gear and give you a feel for this extraordinary national park. Saturday offers a 15-mile route that takes you up the Peak District's highest hill, Kinder Scout while Sunday's less demanding walk still takes in some excellent scenery. It's free but make sure you book your place.
17. Learn about Manchester's music scene
Saint Ignatius Walk, Salford, Saturday 26 January, 11am-2pm
Did you know that Salford Lads Club is the UK's third most-visited music tourism destination after Abbey Road and The Cavern? What's more it's free to visit every Saturday, so you can learn about the remarkable history and look round the special room dedicated to The Smiths, and even recreate the cover photo from the band's The Queen is Dead album.
---
South-west England & Wales
18. Enjoy a Welsh art exhibition
Academy Crown Lane, Conwy, from 5 January
Royal Cambrian Academy has its roots in the 1880s when the Conwy Valley (on the north fringes of Snowdonia) became home to an artists' colony – which in turn attracted new waves of tourists coming to see all the artists painting in the open air. In that spirit The Open Exhibition 2019 runs from 5 January until 9 February, and features original works from artists across Wales; it's a tantalising glimpse at some of the country's best talent.
19. Discover traditional Welsh tales
St Fagans National Museum of History, Cardiff, 26 January
Set in the museum's recreated medieval court, delve into National Storytelling Week at the St Fagans and enjoy some of the finest tales from Wales' great oral tradition. With tales told in Welsh (11.30-12.30) or in English (1.30-3.30pm) the theme of Year of Discovery should spark everyone's imagination.
20. Take a behind-the-scenes tour
Victoria Art Gallery, Bath, 16 January
Away from the exhibitions upstairs, check out what gems the Victoria Art Gallery has in its stores on a free private tour. Make sure you book a spot and make the tour part of an afternoon exploring the masterpieces on display in this stunning Victorian building.
21. Outdoor cinema
Millennium Square, Bristol, 3 January
As part of the final day of the Winter Fair, you can bring along a blanket and get comfortable to watch classic film Home Alone on the big screen. The screening starts at 2pm but you make sure you turn up early to get a good spot.
---
Scotland and Northern Ireland
22. Enjoy a lantern procession
Dumfries, 24 January, from 5pm
As part of Scotland's Burns Night celebrations across the country, the poet's final home of Dumfries sees a traditional lantern procession, featuring thousands of homemade lanterns, as well as live music and street performers. You can even take part by making your lanterns for free at Moat Brae on 16 January with materials supplied. The procession is part of the Big Burns Supper, which features the likes of KT Tunstall, Frank Turner and Ed Byrne, as well as a free makers market and mini highland games.
23. Listen to Celtic music
Glasgow, 17 January – 3 February
Glasgow stages its 26th Celtic Connections Festival from 17 January to 3 February, with over 2,500 international folk musicians performing in events across the city. Among the free events taking place are the assortment of acts participating in Danny Kyle's Open Stage throughout the festival, and the Celtic Connections on Campus event on 21 January.
24. Attend a science lecture
University of Strathclyde, 9 and 23 January
As part of the Royal Philosophical Society of Glasgow Lecture Series you can hear free talks from Cardiff University's Mike Bruford and Michael O'Donovan on the importance of genetic biodiversity and how we can we can find a cure for future mental illness in our genes. If you're looking to expand your horizons in 2019 this is a great place to start.
25. See Dippy the dinosaur
Kelvingrove Art Gallery & Museum, Glasgow, from 22 January
The Kelvingrove Art Gallery & Museum is already a fantastic free day out, and with the arrival of Dippy on Tour it's sure to be an even more fascinating experience. See the Natural History Museum's famous Diplodocus skeleton and combine it with free tours and talks as you explore.