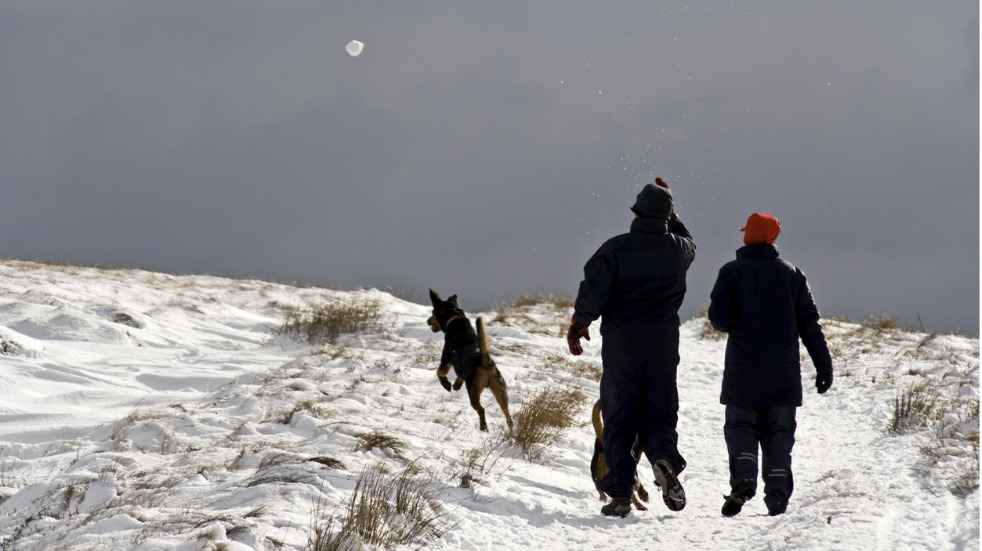 Welcome the new year and discover something different to do; we have something for everyone in our bumper monthly round-up of free days out around Britain.
Nationwide
1. Try a new hobby
January, across the country
Should your New Year's Resolution be to take up a new hobby, there are plenty of options in January that you can try for free. With many classes offering free taster sessions, such as woodturning in Martock, Somerset, boxing and jiu jitsu in Leicester, joining one of the many Rock Choirs across the country or even trying an electric bike in Wigan, this is the perfect time of year to have a go at something new.
2. New Year's Day swimming
1 January, across the country

Feeling groggy after celebrations the night before? Then you might want to partake in a refreshing New Year's Day swim. With annual events being held as far afield as a Barry Island New Years Day Dip 2020, New Year's Day swim in Gosport and a New Year's Day swim in Saundersfoot there's sure to be one close by for you to brave the January sea.
3. National Dress Up Your Pet Day
14 January, nationwide

It's not uncommon to see a dog in a winter coat, but if you've ever fancied putting a bow tie on your pup, a hat on your cat or even dressing your rabbit as a superhero, then you won't be alone on National Dress Up Your Pet Day. There are plenty of great and ludicrous ideas online and details of how you can share your own fashion parade.
4. Chinese New Year
26 January, nationwide

There are Chinese New Year celebrations taking place across the country to welcome in the Year of the Rat. London's Chinese New year events are the biggest outside Asia, centred around Trafalgar Square, the West End and of course Chinatown, while there are also festivities for Chinese New Year in Birmingham and Chinese New Year in Manchester to name a few.
5. Go bird spotting with the Big Garden Birdwatch
Your garden, 25-27 January
The RSPB's Big Garden Birdwatch is the best way to see how British bird species are doing, with just an hour of your time required to see how many winged wonders land in your garden or within sight of your window over the weekend. The RSPB website shows you how you can register, as well as lots of ideas of how to make your garden more welcoming for birds, with baths and what to feed them.
---
More great ideas for things to do around the UK
Five free things to do in this week
More things to do later this month for free
---
London and south-east England
6. New Year's Day Ceilidh
1 January, Southbank Centre, London
Welcome in 2020 with a New Year's Day Ceilidh has London-based musicians invite you and all the family along for a fun hoedown. Head to the Royal Festival Hall for a thigh-slapping good time accompanied by fun folk music.
7. London New Year's Day Parade
1 January, central London
With marching bands, drummers, dancers, stuntmen and the Batmobile, London New Year's Day Parade is always a spectacular highlight. It runs from Piccadilly, through Trafalgar Square, down Whitehall before finishing in Parliament Square, while a street food festival halfway along at Pall Mall is a great way to enjoy the international flavours of the parade in another way.
8. Canary Wharf Winter Lights
16 January-25 January, Canary Wharf, London
Canary Wharf's Winter Lights returns with 25 dazzling displays lighting up Canary Wharf in January. They're not just an amazing sight to witness; you can also interact with many of the installations. Don't miss this incredible sensory spectrum.
9. Condo London 2020
Across London, 11 January-8 February
Condo London 2020 sees 36 galleries from across the world take over 17 spaces in London. At Union Pacific you can see the work from US and Polish artists, while Hollybush Gardens features German pieces, with a preview weekend taking place from 11 January.
---
Midlands & Eastern England
10. Straw Bear Festival
Whittlesea, Cambridgeshire, 17-20 January
As part of a weekend of live music, storytelling and dances, the main event of the quirky Straw Bear Festival sees a 'straw bear' dance through the street before being burned on the evening – don't worry, it's just a costume made of straw. This event has ancient origins and is one of the most interesting and jovial events anywhere.
11. Birmingham Revolutions exhibition
Until 4 September, Birmingham Museum and Art Gallery
A new exhibition at Birmingham Museum and Art Gallery, Birmingham Revolutions: Power To The People looks at the city's history of protest and activism. If you want to learn more about the 1791 Priestley Riots, protests through the 1980s and more recent movements, there's a host of information to explore.
12. Crafting Circle: Crafting for a Better Future
9 & 23 January, Midlands Arts Centre, Birmingham
As part of the Crafting for a Better Future project, Crafting Circle invites people along for a range of craft activities to help battle homelessness. Whether you're an expert crafter or fancy trying something new, pop along, have some fun and see how you can make a difference.
13. Open 30: The People's Exhibition
Until 24 January, New Walk Museum & Art Gallery, Leicester
Open 30: The People's Exhibition marks 30 years of artists from across the East Midlands being given a platform to show off their work at Leicester's New Walk Museum & Art Gallery. Pop along to have a look at pieces by everyone from professionals to school children and see if any of it inspires you enough to hang it on your wall.
---
Northern England
14. Cluny Cheese Festival
3-5 January, The Cluny, Newcastle Upon Tyne
Now in its third year, the Newcastle's Cluny Cheese Festival is a lot more than just a chance to try some of the best cheese from the area and other recipes. There's pairing with beers and ciders, music, and even the cheese Olympics where you can see how far you can toss a truckle.
15. Sheffield University Taster Sessions
30 January, Sheffield University Students' Union
With six free talks and an optional tour for those without university qualifications, the Sheffield University Taster Sessions are also open to anyone who fancies expanding their knowledge. Among the subjects are how newspaper cartoons have been used throughout newspaper history to parody serious events, how social media has changed the study of sociology and a very interesting introduction to DNA.
16. The Big Bang: Royal Armouries Museum
10 January, Royal Armouries Museum, Leeds
The Royal Armouries Museum has a lot of things that go bang, so it's the best place for the free afternoon lecture, 'The Big Bang'. Looking at the development of the biggest artillery guns in history from the 19th century onwards, it's the first in several free lectures at the museum over the next few months.
17. Dabble Day – Mindfulness in Nature
18 January, RSPB Bempton Cliffs, East Riding of Yorkshire
There are few places more relaxing than nature reserves, so if you're looking to take a quiet hour out of your day then the RSPB's Dabble Day – Mindfulness in Nature is ideal. Step away from the rest of the world and chill out as you listen, smell and look at the surroundings of the reserve.
---
South-west England & Wales
18. Bristol Festival of Ideas: Night of Ideas
30 January, Waterstones, Bristol
The Bristol Festival of Ideas: Night of Ideas is a worldwide comprised of two lectures: one in French and one in English. The former looks at artificial intelligence and the latter ethics and robotics, both highlighting their importance in the current international issues. It's free but make sure you register beforehand.
19. One More Day Less exhibition
18 January-11 April, Ceredigion Museum, Aberystwyth
From local artist Beth Marsden, the new exhibition One More Day Less looks at both construction and destruction in the modern world and throughout earth's long history. It fits in well with the museum's collection that stretches back thousands of years, as well as featuring exhibits relating to recent decades.
20. Amazing Astronomy Afternoon
18 January, National Waterfront Museum, Swansea
One of the advantages of the longer nights is the amount of time you can spend looking at the night sky, so it's a good time to introduce the youngsters to stargazing with Swansea's Amazing Astronomy Afternoon. This space-themed event features films, a rocket show and even some fun crafts too.
21. Bedminster Winter Lantern Parade
11 January, Bedminster, Bristol
The ninth annual Bedminster Winter Lantern Parade will light up Bristol this January. The parade sees hundreds of homemade lanterns being flanked by marching bands as they make their way through the streets. A firework display rounds out the festivities in style.
---
Scotland and Northern Ireland
22. Dumfries' Big Burns Supper
23 January-2 February, venues across Dumfries
As part of Scotland's Burns Night celebrations, the Dumfries Big Burns Supper features some big names including headliners Morcheeba and a Moulin Rouge experience. There's also plenty of free events for everyone, and other shows that are free for students and children.
23. Celtic Connections Festival
16 January-2 February, venues across Glasgow
Glasgow stages its 27th Celtic Connections Festival from 17 January to 3 February, with over 2,500 international folk musicians performing in events across the city. Among the free events taking place are folk rockers Manran and lessons on how to sing Gaelic music.
24. Royal Philosophical Society of Glasgow Lecture Series
8 and 22 January, University of Strathclyde
As part of the Royal Philosophical Society of Glasgow Lecture Series you can hear free talks on The Next Influenza Pandemic from Prof Wendy Barclay and The Poverty of Robert Burns by Russell Wardrop. If you're looking to expand your horizons in 2020 this is a great place to start
25. University of Edinburgh Embroidery Workshop
30 January, University of Edinburgh
It doesn't matter if you've never done any hand-sewing before, as you can enjoy this free two-hour embroidery workshop. Not only will you be shown how to create your own artistic piece, but drinks and biscuits will also be provided.