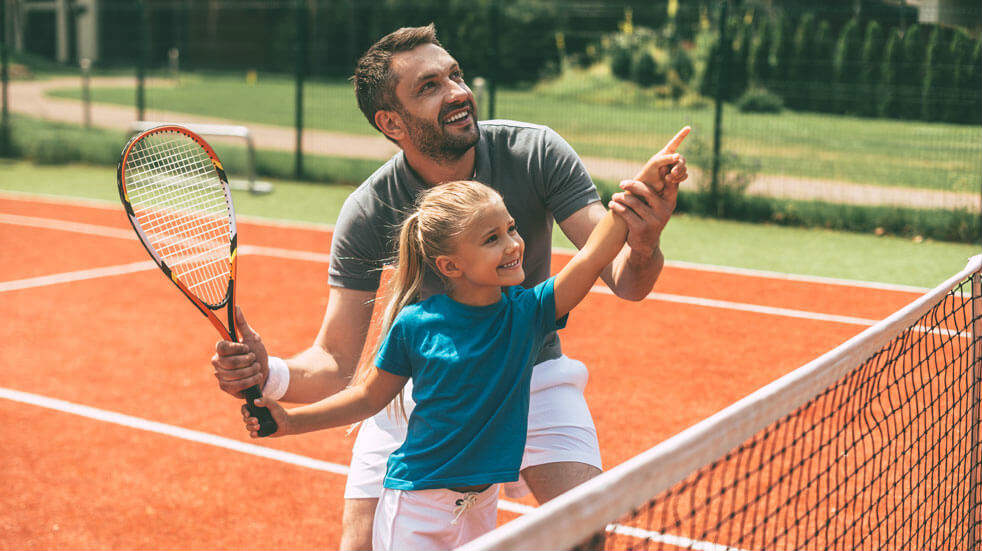 Our pick of the best days out in July include lots of summer food festivals, various ways to play and watch the tennis… And even snail racing championships!
National events
1. National Table Tennis Day
Nationwide, 18 July
Regardless of what you're wearing, your fitness levels or even your hand-eye coordination, table tennis is perhaps the easiest Olympic sports to get into. Plus it has a variety of physical and mental health benefits too, as National Table Tennis Day shows. Table Tennis England is again taking the game to the people with bats and balls popping up in various events around the country for you to have a go.
2. Watch Wimbledon on the Big Screen
Nationwide, 1 – 14 July
Not everyone can get tickets for Centre Court or fancies watching play from Murray Mound. If you want to get a bit of a better atmosphere than your living room, you can head to one of many big screens across London, Newcastle, Bristol and elsewhere. You can even enjoy some strawberries and cream while you're at it.
3. Summer food festivals
Nationwide, multiple dates
Pretty much every village and town has a fete or fair over the summer to entertain the locals. Many are increasingly focusing on food and drink from local producers, with free samples and some of the best meals you'll have all year. Some cost money to attend, but among the free highlights this month include Cardiff Bay's big celebration that borders on the gluttonous, Halesowen, Belper in Derbyshire, the Dorset Seafood Festival, Otley in West Yorkshire and many more. Keep your eyes out for the nearest to you.
4. National Whale and Dolphin Watch
Nationwide, 27 July – 4 August
Did you know that you can see 29 species of whales and dolphins in British waters? The purpose (or porpoise) of this week-long event is to encourage people near the coast to see if they can spot any of these amazing creatures during the week, in order to get a snapshot of how many are out there. If you live near the coast or are planning a trip that week see what you can do at the National Whale and Dolphin Watch schedule.
---
Find more great ideas for days out this summer
---
London and the South East

5. Summer by the River
London Bridge City, until 1 September
Between Tower and London bridges, Summer By The River will have big screen film screenings of blockbuster films such as Aquaman, live Shakespearean performances and a host of musical talent on display. And you don't have to pay for a second of it.
6. Lambeth Country Show
Brockwell Park, Brixton, 20/21 July
Lambeth Country Show is an amazing weekend event that brings traditional country fair attractions – flower shows, giant vegetables, sheep-shearing, horse-riding, jousting displays – to London, with live music stages, kids' activities, a funfair and more. The inner-London borough celebrates the best of city and country.
7. Bexhill Great Gatsby Fair
De La Warr Pavilion, Bexhill-on-Sea, 19 – 21 July
Bexhill-on-Sea's Great Gatsby Fair turns back the clock to the Roaring Twenties, with classic cars, mass Charleston lessons, live music, marching bands, children's entertainers, a vintage fair and much more. You don't have to dress up but, if you do fancy putting on your fancy frock, you won't be alone, with a Charleston theme on the Saturday and Peaky Blinders on the Sunday.
8. Sticks 'n' Stones Festival
The Belvedere Lawn, Chatham, 13 July
Sticks 'n' Stones is a free festival of well-being, with storytelling, music, activities, workshops and even street football, all aimed at improving teenagers and young adults' skills in handling their mental well-being, communication and mindfulness.
Midlands and Eastern England

9. Tewkesbury Medieval Fair
13/14 July
Different to the usual summer festival, the Tewkesbury Medieval Fair is centred around the 1471 Battle of Tewkesbury and has a re-enactment as the main event, with plenty of costumed entertainers, storytelling, archery you can try for yourself, kids' activities, a parade on the Sunday and live music too. The only price is for parking, but it's not far to walk.
10. World Snail Racing Championships
Cricket Field, Congham, Norfolk, 20 July
You can guarantee there's probably a world cup for everything, and Congham in Norfolk is home to one of the slowest of the lot with the World Snail Racing Championships. Over 200 snails compete in various races, plus there's other entertainment as part of the Congham Fete – as the competition is a bit slow going.
11. Alice in Wonderland Day
Story Museum, Oxford, 6 July
Alice in Wonderland Day is a day of storytelling, walks, talks, performance and exhibitions to commemorate the Oxford boat trip in July 1882 during which Lewis Carroll first entertained young Alice Liddell with his tales of Wonderland. Some of the activities have a cost but most are great, free fun.
12. Cambridge Big Weekend
Parker's Piece, Cambridge, 5 – 7 July
Cambridge Big Weekend is three days of diverse free entertainments that includes face painting, a sport zone, a silent disco and a firework display on the opening night. The main event is the music stage with artists such as Kid Creole and the Coconuts, House Gospel Choir and DJs including Craig Charles.
13. Stratford-upon-Avon River Festival
Stratford-upon-Avon, 6/7 July
The Stratford-upon-Avon River Festival is a packed weekend of fun and activities on the banks of the Avon, with two music stages, children's activities, food and drinks stalls and a firework display on the Saturday night. You can even take a look at the narrowboats brought up along the riverbank.
South-west England and Wales
14. Bodmin Riding and Heritage Weekend
Bodmin, Cornwall, 5 – 7 July
As well as the usual festive tropes, Bodmin Riding and Heritage Weekend is a unique take on the town's history. The Sunday sees sports such as wrestling and horse racing, the Friday's feast day includes the traditional 'hanging of the Mayor', while the Saturday itself includes lots of dressing up and even hunting the mysterious Beast of Bodmin.
15. Wales Airshow
Swansea Bay, 6/7 July
Crowds of over a quarter of a million people turned out across the weekend to see last year's Wales Airshow. The 2019 show lets you see aircraft on the ground as well as in the air, as the Red Arrows top a bill that again includes a host of rare and extraordinary aircraft, hot-air balloons at night and more.
16. St Paul's Carnival
St Paul's, Bristol, 6 July
The sounds, sights and smells of Africa and the Caribbean are once again brought to the streets of Bristol, over 50 years after St Paul's Carnival first started. As well as food and live music the highlight remains the carnival parade, which includes over 1000 participants and many more onlookers enjoying the spectacle.
17. Bristol Harbour Festival
Bristol, 19 – 21 July
As well as some big name musical acts, the Bristol Harbour Festival includes some special ships docking in the harbour, with a competition for the best-dressed vessel. There's a huge choice of events and activities across a variety of stages that should suit everyone's tastes.
North of England
18. Dippy on Tour
Great North Museum, Newcastle, until 6 October
The National History Museum's most famous resident continues on the Dippy the Dinosaur tour of Britain, joining the life-size model of a T-Rex that is housed in the museum. It's a great excuse to visit this excellent attraction that has plenty for those looking to discover more about history and science.
20. Festa Italiana
Cathedral Gardens, Manchester, 26 – 28 July
A celebration of all things Italian, Festa Italiana is inspired by traditional festivals across Italy, with food, drink, live music, cooking demonstrations from big-name chefs including Gennaro Contaldo, children's activities and more. Bellissima!
20. Writing Through The Ages
Castleford Museum, 25 – 27 July
Aimed at teaching kids the wonder of books and stories, Writing Through the Ages lets them learn while trying to use quills and Roman wax tablets. They can even try a bit of calligraphy too!
21. Manchester International Festival
Across Manchester, 4 – 21 July
Given the Manchester International Festival only takes place every two years, there's always plenty of excitement when the variety of exhibitions and performances arrive in Manchester. There are plenty of free events included, such as Yoko Ono calling for peace, art exhibition Parliament Of Ghosts and performances based on the city's famous Peterloo Massacre. There's sure to be something that piques your interest.
Scotland and Northern Ireland
22. All-Ireland Pipe Band Championship
Ballymena Academy Playing Fields, Co Antrim, 6 July
With 70 pipe bands and 45 drum masters from across the world competing for the prize, there's sure to be some great music on show, at the All-Ireland Pipe Band Championship. A final march involving all the musicians before the prize-giving promises to be a highlight.
23. Edinburgh Jazz Festival Carnival
Princes Street/Princes Street Gardens, Edinburgh, 13/14 July
Over 800 performers bring music, dance, circus, acrobats and puppetry from all over the world to the streets of Edinburgh to mark the start of the Edinburgh Jazz Festival. There are also free events as part of the festival that runs until 21 July.
24. Glasgow Summer Festivals
Alexander Park and Platform Glasgow, Glasgow, 20 and 28 July
These two big family events, the Glasgow Summer Festivals take place over consecutive weekends in Glasgow. The Alexander Park Festival Day on 20 July includes lots of stuff for the kids, marching bands and even a wrestling show. The Family Festival Day on 28 July includes musical attractions, a swimming pool party and sports you can try out.
25. Game Of Thrones Tapestry
Ulster Museum, until 28 July
The biggest series in history may be over but you can still see the places where it was filmed in Northern Ireland. To celebrate the country's involvement, this cool project based on the Bayeux Tapestry tells the story of the heroes and villains of Westeros with a Game of Thrones Tapestry. Not only is it an incredible undertaking, but fans will appreciate looking back at their favourite storylines. Well worth a night's watch.