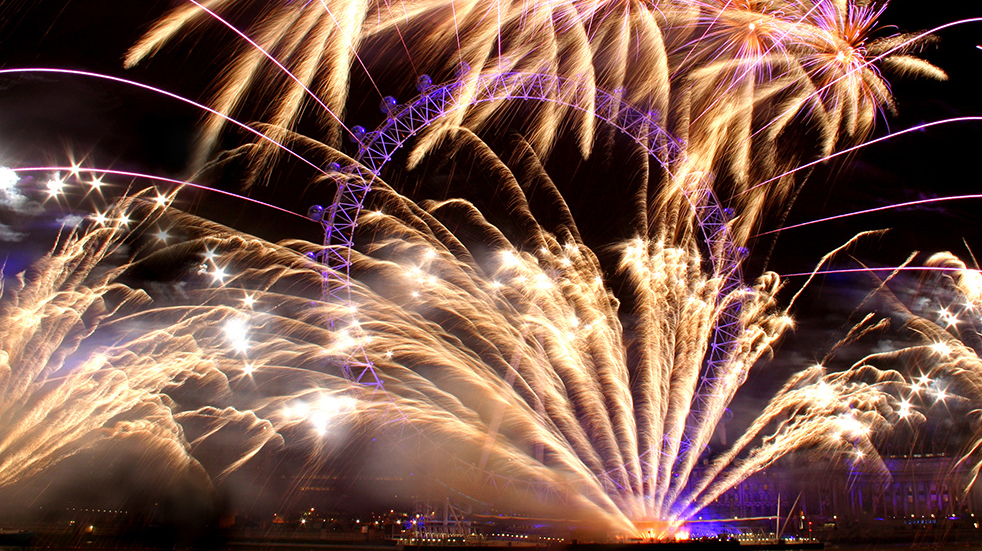 Welcome winterval and discover something different to do; we have something for everyone in our bumper monthly round-up of free days out around Britain.
NATIONAL
1. Fireworks!
Across the country, 2-5 November
The beginning of November means one thing to most people: wrapping up warm and watching some incredible fireworks displays. Many of the events throughout the country are free, including grand spectacles at Caerphilly Castle, Llandudno, Nottingham, Salford, Leeds, Strathclyde and Paisley to name but a few. The show at Gunwharf Quays in Portsmouth is one of the very best.
---
---
2. Guy Fawkes carnivals
Across the country
Bonfire night celebrations don't necessarily have to revolve around fireworks, with some towns and cities enjoying wonderful fiery processions and carnivals to mark the occasion; you can watch and feel the warmth of the flames for free! Bridgwater regularly attracts crowds of 150,000, there's the burning of a Wicker Man in Amroth, West Wales, while people flock en masse to Lewes, known as the bonfire capital of the world, to witness the incredible spectacle of burning banners and barrels. With these busiest events make sure you aim to get to a good spot early.
---
3. Switching on the Christmas lights
Across the country
From the smallest villages to the biggest cities, you won't be far away from somewhere making the flicking of a switch into a major event. Understandably places like London's Oxford Street, Bristol, Belfast and Leeds boast live music and a celebrity or two to turn on the lights. All the events are free, but tickets for Glasgow's celebration, for example, are given out by a ballot. Make sure you check what's happening in your area.
---
LONDON AND SOUTH-EAST ENGLAND
4. Lord Mayor's Show
Throughout London, 10 November
Pick your spot on the capital's streets as the three-mile long procession rolls through town. Be part of 800 years of history as the elegant splendour of the Lord Mayor's carriage mingles with eccentric entertainment as performers do their best to keep the mood jovial. The Lord Mayor's Show is Britain's biggest free event, and not to be missed.
---
5. Be part of motoring history
London and Brighton, 4 November
The longest-running motoring event in the world began in 1896 when the speed limit was upped to a whopping 14mph! The cars on show at the London to Brighton Veteran Car Run were all built before 1905, and travel the 60-mile route from Hyde Park in London to Brighton, which is free to view the whole way. Have a look at the route and some of the amazing vehicles you can expect to see.
---
6. Pick up a herring
Hastings, 17-18 November
One of the most understated but versatile fish for your plate, the Hastings Herring Fair celebrates the humble herring over a weekend of cooking demonstrations, stalls and kids' activities. There's also ample entertainment too in the form of music and beverages to wash down your fish supper.
---
7. Encounter a one-of-a-kind exhibition
St-Martin-in-the-Fields, London, until 19 November
This incredible Encounters Exhibition from artist Nicola Green features portraits and figures of some of the world's most prominent religious leaders from different faiths, highlighting the work being done to encourage inter-faith harmony. Having met and earned the trust of the likes of Desmond Tutu, the Dali Lama and Jonathan Sacks, these pieces are faithful and powerful works from a well-travelled and talented artist.
---
MIDLANDS AND EASTERN ENGLAND
8. Get a taste of Bach
Royal Birmingham Conservatoire, 29 November
Before a full-on brass and woodwind performance of the famous German composer's work, you can enjoy a free experience of some beautiful music simply titled Bite-Sized Bach. It costs nothing but you need to book your tickets for this classical treat in advance.
---
9. Enjoy a German Christmas
Birmingham, 15 November onwards
Germany and Austria know how to do an extravagant Christmas, with all the baubles and whistles, so it's only natural Birmingham's Christmas Market takes on a Frankfurt theme. Along with the authentic decorations, pretzels and steins of beer, there are 120 stalls of other products and great craft-ideas for Christmas presents, with entertainment to boot.
---
10. Decorate a tree for Christmas
Stowmarket, Suffolk, 24 November
For some people it's never too early to put up the Christmas tree and that's true of the town of Stowmarket, who erect and decorate hundreds of them for the annual Christmas Tree Festival for the 14th year. You can even try your hand at decorating one yourself. Last year there were 30,000 attendees so expect it again to be busy on the weekends and the lead up to Christmas.
---
11. Make yourself a masterpiece
Birmingham Museum, 2 November
As part of the Body Image and the Self exhibition at the Birmingham Museum, you can create your own piece of art that will be included and displayed. Using craft materials and pictures of your own body the Body Parts Mash-Up is looking for the weirdest and most wonderful interpretation of yourself you can come up with. Drop in and see what you can create.
---
SOUTH WEST ENGLAND AND WALES
12. Head to a Christmas market
Bath, 22 November-9 December
There will be Christmas markets popping up around the country in the run up to the festive period, with the historic surroundings of Bath boasting one of the most attractive. Circling the impressive Abbey, the wooden chalets of Bath Christmas Market sell high-quality artisan products from food to jewellery and ideal gifts mean the Georgian city is always busy with market-goers.
---
13. Learn about WWI at sea
Ceredigion Museum, 5-21 November
While many of the World War I commemorations will focus on the horrors of the trenches, the U-Boat Project 1914-18 exhibition in Aberystwyth looks at life beneath the waves. Showing you what sailors on the new U-boats experienced, there stories from sailors and interactive highlights to bring the war that ended 100 years ago to life. The project is free but donations are welcomed.
---
14. Celebrate Cornish food and drink
Royal Cornwall Events Centre, Wadebridge, 17 November
The advantage of the Cornish Winter Fair is that it's undercover so it'll be great no matter what the weather. Get up close with farm animals, while you can even learn about agriculture and even how to milk a cow. On top of that you can enjoy the best of the county's food and drink and chat to the people behind them.
---
15. Take part in a lantern procession
Machynlleth, 2 November
With some amazing highlights of recent years featuring all sorts of people and beasts, the Lantern Festival at Machynlleth is a unique experience and the must-attend event of the year for the local community. You can either create your own lantern or simply stand back and enjoy the parade of incredible figurines as they pass through the historic town towards the awaiting firework display.
---
16. Get your hands on some chemistry
National Museum, Cardiff, 24 November
As part of National Chemistry Week you can learn all about the amazing effects of day-to-day lives, from baking bread to the simple act of breathing! There are a lot of experiments and activities you can give a go. Keep an eye out for other Chemistry Week events happening near you.
---
17. Be barrelled over by tar
Ottery St Mary, 5 November
Fire obviously features heavily around Guy Fawkes Night, but few flaming spectacles are as odd as the practice of carrying lit barrels of tar through the streets of a small Devonshire town. Continuing a tradition that has continued for centuries, witness this torchlight procession with a difference first-hand, but make sure you keep a bit of distance.
---
18. Join in some shanty singing
Various locations across St Ives, 23-24 November
With 20 groups performing at some of St Ives' finest drinking establishments, the St Ives Shanty Shout Weekend promises to be a weekend of merry entertainment. With some dressed as sailors and pirates, the performers' odes to life at sea encourage crowd participation so make sure you bring your singing voice with you, while the excellent local seafood fare is not to be missed.
---
NORTHERN ENGLAND
19. Discover WWI trenches
Discovery Museum, Newcastle, 2 November
Rather than being covered in mud, the Life on the Frontline exhibition instead shows objects and presents activities to help explain what soldiers went through during World War I, 100 years on from its end. You can make doves and poppies, the symbols of peace and remembrance, while trench cake will also be served to willing volunteers. A puppet-making activity is £1 but everything else is free!
---
20. Where reality meets magic
Ouseburn Valley, Newcastle, 18 November
Wavering Boundaries is an hour-long walk through the city's cultural quarter as part of Newcastle University's Being Human Festival. Suitable for the whole family, it explores the "frontier between rationalism and superstition and the wavering boundary between the two" as told by the city's Seven Stories' storyteller.
---
21. See a fire-breathing feast
Oldham Edge, 6 November
Oldham's Bonfire is more than just your average bonfire night. There are performers twirling and juggling flames, swallowing them and even a fire-breathing dragon and bat doing battle on stage, before the fireworks are set off. There's also a host of rides and food stalls to help you enjoy the night.
---
22. Indulge in some art
Sachas Hotel, Manchester, 24-25 November
Europe's largest independent art fair is now in its 23rd incarnation, and provides a platform for some incredible artists to display their creations for the public. The Parallax Art Fair features over 7,000 paintings, sculptures, jewellery and crafts, with some pieces going for as little as £20 – you could even pick up a great investment. Get everything you need to know including a look at some of the pieces that'll be on show.
---
SCOTLAND AND NORTHERN IRELAND
23. Shine a light
18 November, Edinburgh
The Scottish capital knows how to put on a party. Far more than just a regular switch-on of the city's Christmas decorations, Edinburgh's Light Night includes two stages on George Street with a host of musical talent to help you enjoy the evening. Make sure you get there early as the streets are bound to be busy.
---
24. Celebrate the City of Merchants
Newry, Co Down, 2-3 November
After last year's inaugural success, the City of Merchants festival returns to celebrate the city's heritage of seafaring, trade and industry. There are walking tours, free exhibitions, street theatre, and of course lots of local food to keep you warm while you watch the spectacular Friday night fireworks. See a full itinerary on the website.
---
25. Enjoy a free symphony
City Hall, Glasgow, 17 November
With a full orchestra led by a renowned conductor, you can experience the world premiere of composer Gloria Coates's Symphony 11 as well as the first British performances of two more of her pieces. Tickets are free and limited to two per person so you need to book in advance.