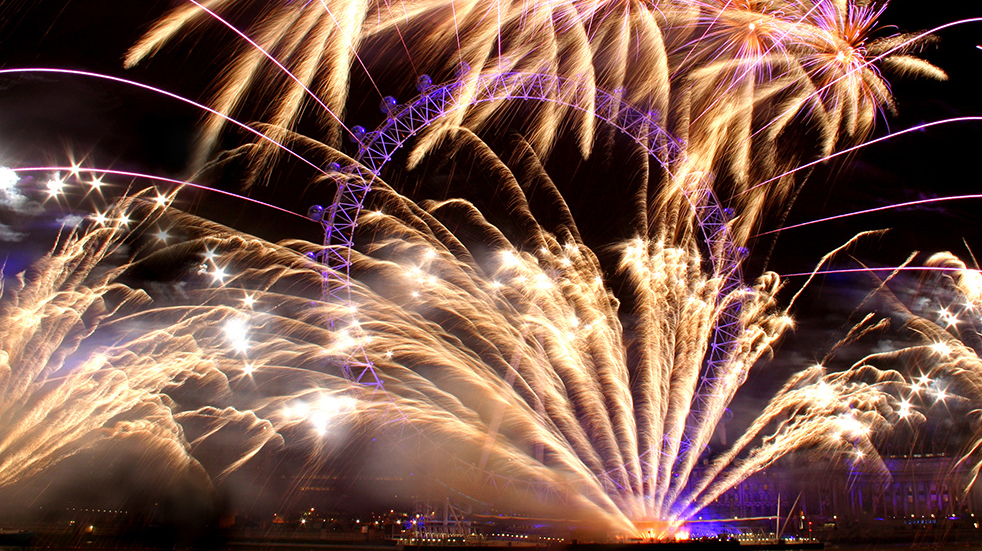 Welcome winter and discover something different to do; we have something for everyone in our bumper monthly round-up of free days out around Britain.
National events
1. Fireworks!
1 – 5 November, across the country
The beginning of November means one thing to most people: wrapping up warm and watching some incredible fireworks displays. Many of the events throughout the country are free, including a grand fireworks spectacle at Caerphilly Castle, a fireworks display in Llandudno, fireworks in Nottingham, Salford's bonfire night event, fireworks in Strathclyde, and Oldham's bonfire celebrations, to name but a few.
---
2. Guy Fawkes carnivals
2 – 5 November, across the country
Bonfire night celebrations don't necessarily have to revolve around fireworks; some towns and cities enjoy wonderful fiery processions and carnivals to mark the occasion, which you can watch and feel the warmth of the flames for free!
Bridgwater's carnival regularly attracts crowds of 150,000, tar barrels are carried through the streets in Ottery St Mary in Devon while people flock en masse to the bonfire celebration in Lewes, known as the bonfire capital of the world, to witness the incredible spectacle of streets filled with fiery parades and bonfires. With the busiest events make sure you aim to get to a good spot early.
---
3. Christmas markets
From 7 November, nationwide
There will be Christmas markets popping up around the country in the run up to the festive period, with the historic surroundings of Bath's Christmas market boasting one of the most attractive around its medieval abbey.
Birmingham's Frankfurt market is the biggest of its kind outside Germany and Austria, Glasgow's Christmas markets are held at two locations across the city, while you can eat bratwurst while you do your Christmas shopping at Leeds' Christkindelmarkt.
---
4. Christmas light switch-ons
From mid-November, across the country
From the smallest villages to the biggest cities, you won't be far away from somewhere making the flicking of a switch into a major event. Free events are held all over the country, including London's Christmas lights, Bristol's festive lights at Cabot Circus, Belfast's Christmas lights, and Leeds lights switch-on where you'll enjoy live music and a celebrity or two turning on the lights.
Tickets to Glasgow's Christmas Lights Celebration are allocated by ballot. Make sure you check what's happening in your area.
---
5. Being Human Festival
14 – 23 November, nationwide
The Being Human Festival sees events taking place across the country that brings together universities, galleries, libraries and museums.
This year's programme includes an exhibition at Swansea University about the history of the city, the original Slave Book on show in Brunel University, a display on the history of Ladybird Books in Loughborough and a hands-on robots workshop in the University of Lincoln.
---
Discover more of the best free things to see and do around the UK
---
London and south-east England
6. Violet Nights Podcasting Course
28 – 29 November, Royal Festival Hall, Southbank Centre, London
The Violet Nights Podcasting Course is ideal for any youngsters who loves podcasts and wants to know how to make their own. Attendees can help put the Violet Nights show together in front of a live crowd and get first-hand experience of creating podcasts with others.
---
7. Southbank's Winter Pop-Up Cinema
From 11 November, Southbank Centre, London
Get your free tickets for showings every day at Southbank's Winter Pop-Up Cinema. To celebrate the release of Frozen II the original is on at various times, as well as Disney classics Up, The Lion King, The Little Mermaid and more. Stock up on popcorn and enjoy a good old singalong.
---
8. London to Brighton Veteran Car Run
3 November
The London to Brighton Veteran Car Run is the longest-running motoring event in the world, beginning in 1896 when the speed limit was upped to a whopping 14mph!
The cars on show this year were all built before 1905 and travel the 60-mile route from Hyde Park in London to Brighton, which is free to view the whole way. Have a look at the route and some of the amazing vehicles you can expect to see.
---
9. The Winter Forest
From 6 November, Broadgate Circle, London
Step into a snow-covered Scandinavian woodland in the middle of London by exploring the Winter Forest at Broadgate Circle. Stroll through 300 pine trees, chill out in cabins, and enjoy food and drink accompanied by some music.
There's also a programme of events such as workshops and film screenings, some of which are free too.
---
Wales and south-west England
10. The Cornish Winter Fair
16 November, Royal Cornwall Events Centre, Wadebridge
The advantage of the Cornish Winter Fair is that it's under cover so it'll be great no matter what the weather. Get up close with farm animals, while you can even learn about agriculture and even how to milk a cow.
On top of that you can enjoy the best of the county's food and drink and chat to the producers.
---
11. St Ives Shanty Shout
22 – 23 November, St Ives, Cornwall
With over a dozen groups performing at some of the town's finest drinking establishments, the St Ives Shanty Shout promises to be a weekend of merry entertainment.
With some dressed as sailors and pirates, the performers' odes to life at sea encourage crowd participation so make sure you bring your singing voice with you, while the excellent local seafood fare is not to be missed.
---
12. Made in Bristol Gift Fair
23 – 24 November, Colston Hall, Bristol
While you shop for locally-made crafts from 70 different sellers at Made in Bristol Gift Fair, the little ones can make Christmas crafts and dress up as a tree as part of a fun, creative workshop.
If you can't make those dates there are two more fairs at the end of November and early December.
---
13. Remembrance Sunday: Pop Up Poppy Field
10 November, Waterfront Museum, Swansea
As well as the commemorations taking place across every community in the country on Remembrance Day, the Pop Up Poppy Field offers a different way to participate.
The National Waterfront Museum is inviting everyone to contribute to a poppy field, as well as learning about the importance of the poppy and why we spend Armistice Day remembering.
---
Midlands and eastern England
14. Christmas Tree Festival
From 23 November, St Peter and Mary's Church, Stowmarket, Suffolk
For some people it's never too early to put up the Christmas tree and that's true of the town of Stowmarket, hundreds of them are put up and decorated for the annual Stowmarket Christmas Tree Festival.
This is the 15th year of the event, and last year there were 360 trees in the church, with one made entirely of buttons. Pop along and you can even try your hand at decorating one yourself.
---
15. Lunchtime Recital with the Birmingham Conservatoire
15 November, Birmingham Museum and Art Gallery
Students from the Birmingham Conservatoire offer a free lunchtime recital at Birmingham Museum and Art Gallery. Take time out of your day to relax with some beautiful string music in opulent surroundings.
---
16. Madeleine Carroll: Commemorative Event
20 November, The University of Birmingham
The Commemorative Event for Birmingham University graduate Madeleine Carroll will see her finally have a blue plaque unveiled.
Known for her work in films including The 39 Steps – which will be shown on the night – Carroll was also notable for volunteering as a nurse in London during the Blitz, and setting up World Children's Day, which is also celebrated on this day.
---
Northern England
17. Oxton Art Fair
30 November - 1 December, Williamson Art Gallery and Museum, Birkenhead
The Oxton Art Fair features offerings from the worlds of photography, sculpture, pottery, illustration, jewellery and more, with the 22 artists on hand to show off their creations. There are even activities for the kids too, so head along and see if any pieces pique your interest.
---
18. The Science of a World Heritage Site
30 November – 1 December, Jodrell Bank Discovery Centre, Macclesfield
The Science of a World Heritage Site explores the history of Jodrell Bank and how it attained its international status this year, through free 30-minute free shows every day.
While not strictly free, this event (and admission to the whole Discovery Centre) is free to National Lottery Players all week, as part of the Thanks to You project.
---
19. River of Light
1 – 9 November, Waterfront, Liverpool
River of Light is a Guy Fawkes celebration with a difference. Yes, there are fireworks on 3 November, but the River Mersey will also host bespoke installations from renowned artists that are illuminated from 5pm-10pm each night. You can explore them all up close and there are some fun family activities taking place too.
---
20. Grand Lantern Parade
23 November, The Alnwick Garden, Northumberland
Alnwick Garden's Grand Lantern Parade takes place from 6pm, winding its way through the beautiful gardens into the town centre, combing music, performance and, of course, lanterns. See luminous drummers and huge puppets, with food traders on hand to keep you fed and warm.
---
Scotland and Northern Ireland
21. Edinburgh's Light Night
17 November, Edinburgh
The Scottish capital knows how to put on a party with Edinburgh's Light Night being far more than just a regular switch-on of the city's Christmas decorations. It also includes two stages on George Street with a host of musical talent to help you enjoy the evening.
Make sure you get there early as the streets are bound to be busy, with the Royal Mile expected to attract over 20,000 attendees.
---
22. Craigmillar Book Festival
6 – 16 November, Craigmillar Library, Edinburgh
The Craigmillar Book Festival combines free talks from authors and workshops and activities for young readers. Whether it's crafts for toddlers in the library or helping those a bit older to write and draw comics, there's something for all.
---
23. No Boundaries: A Celebration of the 100th anniversary of Hamish Henderson
11 November, Spittal of Glenshee, Perth and Kinross
No Boundaries: A Celebration of the 100th anniversary of Hamish Henderson is an outdoor art event in tribute to the famous Scottish poet. There will be two light displays and a giant portrait of the poet made out of jute on the mountainside. It should be an impressive sight.
---
24. The 51st (Highland) Division talk
2 November, Kelvin Hall, Glasgow
The author of new book The 51st (Highland) Division in the Great War: Engine of Destruction presents this illustrated talk about one of Britain's most famous military units.
Colin Campbell will take you through the trenches of the First World War, where the division made its name, up to its role in WWII. Book yourself a space in advance.
---
25. Taste the Island at Twilight Market
12 – 13 November, St George's Market, Belfast
Taking place from 4pm-11pm, Taste the Island at Twilight Market features 100 traders who will be supplying food from near and far, as well as crafts and gifts. Now in its fifth year, tens of thousands are expected in the market to enjoy all that's on offer, as well as cooking demos and plenty of live music too.