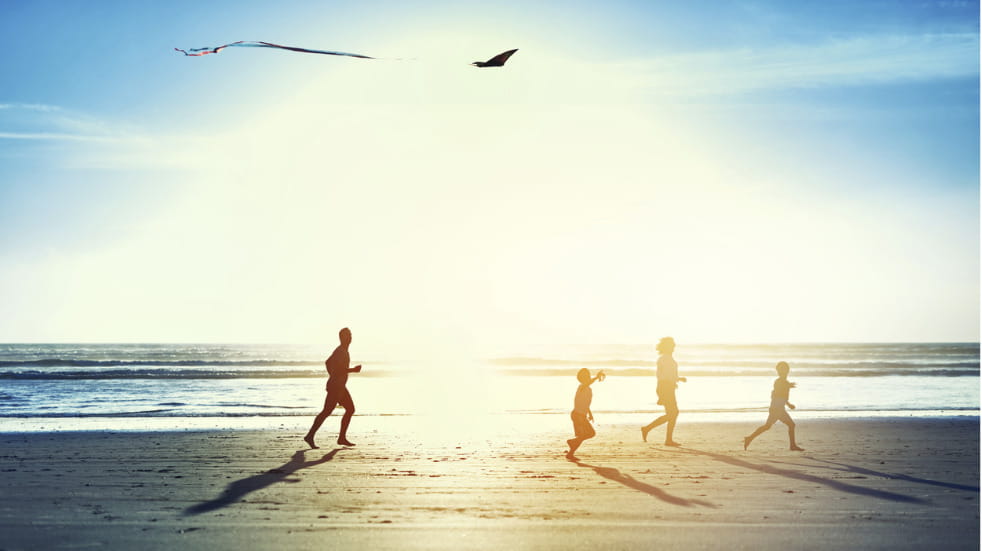 A new year is a great time to change your routine and increase your fitness. If doing more exercise is one of your New Year's resolutions, here's some inspiration for getting your family active
1. Step up
Increase your weekly steps by planning a weekend family walk or run: head to the beach; explore the footpaths of your nearest woodland; or really shake up your Sundays by joining your local parkrun. You'll soon start to feel the benefits of family exercise.
---
2. Train for gain
Get in training for a charity challenge – whichever cause motivates you, there's a fundraising activity to suit your family. Try the Three Peaks (probably not in 24 hours), abseil down a building or take part in an organised fun run. Set up a fundraising web page and share how you are preparing for your family challenge to encourage sponsorship from friends.
---
3. Get green-fingered
Spending more time sprucing up your garden is an easy way to get fit. Create a vegetable patch or sow seeds in pots that the kids are responsible for looking after. Make a rota for mowing the lawn, trimming the hedges or clearing leaves. If you have young children, build a mud kitchen to keep them entertained while you fill a garden recycling sack.
---
4. Scale new heights
Make a New Year's fitness resolution to start indoor climbing – it's a great way to work up a sweat, whatever the weather. Some climbing centres cater for all ages with instructor-led sessions for young kids, as well as adventurous teens and fearless mums and dads.
---
5. Go off road
Hire or buy some bikes and hit the cycling trails of your closest country park or bike path. Start with a short pedal and go a bit further as your family members improve their stamina. Toddlers and kids who are novice cyclists can ride tag-along bikes or hop in a trailer so they can still be part of the action.
---
6. Get virtually active
Computer games don't have to be inactive. Fire up the console, clear some space and challenge your kids to a motion-tracking computer game. Battling your way to the top of the leader board in dancing or tennis will encourage healthy competition and get you fit when outdoor play is rained off by the great British weather.
---
7. Make a splash
Join your local leisure centre and go for a swim after work or school a couple of nights a week. At the weekends, see what activities the local pool puts on for kids, like inflatables sessions – after all, a watery work out should also be fun. When the weather improves, visit the beach for a dip or try wild swimming in rivers or lakes.
---
8. Go on a treasure hunt
Who doesn't love a treasure hunt? Depending on the age of your kids, there are lots of different outdoor challenges from which to choose. Nature reserves and country parks have wildlife and sculpture trails, while geocaching and pebble art hunts allow you to hide your own treasures for other people to find. It's a fun way to get active as a family and burn calories without even realising it.
---