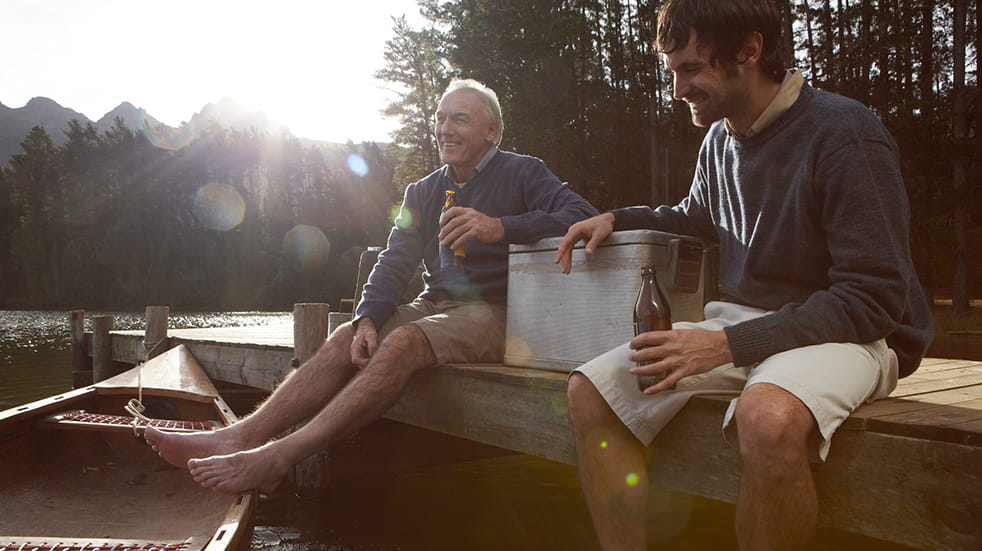 Treat Dad this year – and save on your purchases with Boundless discounts and SVM shopping cards.
As a member of Boundless you can save up to 49% on great days out and attractions including Warwick Castle, Sea Life Centres and the London Eye.
You can also save 20% on Virgin Experience Days, so you could treat Dad to a day cooking with a professional chef, driving a tank or a supercar – or something more unusual such as exploring woodlands by Segway. A number of attractions around the UK have 'Dad goes free' offers on Father's Day weekend – see 25 free things to do in June for ideas from theme parks to restaurants.
The latest gadgets likely to appeal to dads include GPS sports watches from Garmin and Fitbit, with all manner of monitoring and tracking gizmos, including a Satnav. Your 15% discount at Runners Need could come in handy…
Best gift for… hearty (and newbie) exercisers: Fitbit Inspire HR
From £89.99 at Argos
For dads caught in the perpetual struggle against inertia, the Fitbit Inspire HR is the gadget that might just help them win the war. The latest Inspire adds a heart-rate monitor to the traditional step counter. This added bit of data provides a much more accurate picture of the number of calories burnt while exercising, and it can help novices avoid overexertion signalled by high heart rates.
---
Best gift for… the man who has everything: Ikea Hektar
£50
If your dad's the kind of man with a gadget for every occasion, the Ikea Hektar lamp might just be the bit of tech he's missing. The base of this rather modest looking lamp actually houses a wireless charging station beneath the plus symbol. The latest iPhones (the 8 and X) and most recent Android phones offer induction charging, or you can upgrade an old phone with a wireless charging case from IKEA or the likes of Mophie.
---
Best gift for… memory makers: DJI Osmo Mobile 2
£129.99 at Argos
This smartphone gimbal will revolutionise your home videos by making them more cinematic. The DJI Osmo Mobile 2 clasps on to your handset and uses a gyroscope and motors to keep your footage level, steady and smooth. Add the companion app to your phone, and you can use Osmo's software to lock onto a subject – a pet, a toddler or a car, for example – to create breathtaking tracking shots, moving time lapses and enormous panoramas.
---
Best gift for… dads who like music, wherever they are: Minirig 3
£139.96
There are hundreds of Bluetooth speakers to choose from, but this British over-achiever is one of our favourites. Though the Minirig speaker is not much bigger than a Coke can, it pipes out enough sound to fill a room without ever compromising on sound quality, and it'll run for 100 hours between charges. Its unfussy design also means it looks as good in the shed as it does in the kitchen.
---
Best gift for… tech-friendly personal grooming: Oral-B Genius 9000
From £119.99 at Argos
The pinnacle of toothbrush technology, the Oral-B Genius 9000 uses motion sensors to tell you how well (or badly) you're brushing your teeth via a smartphone app, creating a 'brushing record' in the process. With black, white, rose gold and orchid purple versions available, each comes with a different head, but these are interchangeable. There are nearly a dozen, from floss action to whitening, to suit your needs.
---
Best gift for… nostalgic gamers: SNES Classic Mini
£79.99 at Argos
Firing up the SNES Classic Mini – a shrunken Super Nintendo – is the closest you can get to jumping into a time machine and travelling 20 or so years into the past. It comes with a pair of controllers, HDMI cable for connecting it to a flatscreen and (here's the fun bit) 21 classic games loaded onto the console. It even comes with Starfox 2 installed, a previously unreleased game that Nintendo fans have pined over for decades. As the marketing blurb proclaims, the golden age of 16-bit gaming returns.
---
Best gift for… breathing new life into old screens: Chromecast
£30 at Argos
If you know your parents have an old TV knocking around, the Chromecast can give it a new lease of life. This inexpensive dongle plugs into your tv's HDMI socket and is controlled via a smartphone. It's easy to set up and once it's up and running you can use it to beam video to your TV from your smartphone or watch streaming services like Netflix, YouTube and iPlayer. The new Chromecast Ultra (£69) will stream 4K content as well.
---
Best gift for… radio-loving petrolheads: Pure DAB Highway 200
From around £35
Long drives are infinitely better with a DAB radio on board. The Pure DAB Highway 200 is one of the quickest and simplest DAB systems to fit – you won't need any tools. Not one. DAB not only provides more radio stations, it will also give you clearer and more consistent sound quality. For an extra £40, the Highway 400 offers Bluetooth connectivity and a 'Go' button, which identifies songs you like on the radio and adds them to a playlist.
---
Save on gadgets and gifts with SVM discount shopping cards
Make big savings on your shopping at Argos, Debenhams, Halfords and many more shops, with a discount card from Boundless. Read our Five Minute Guide to Discount Shopping Cards.