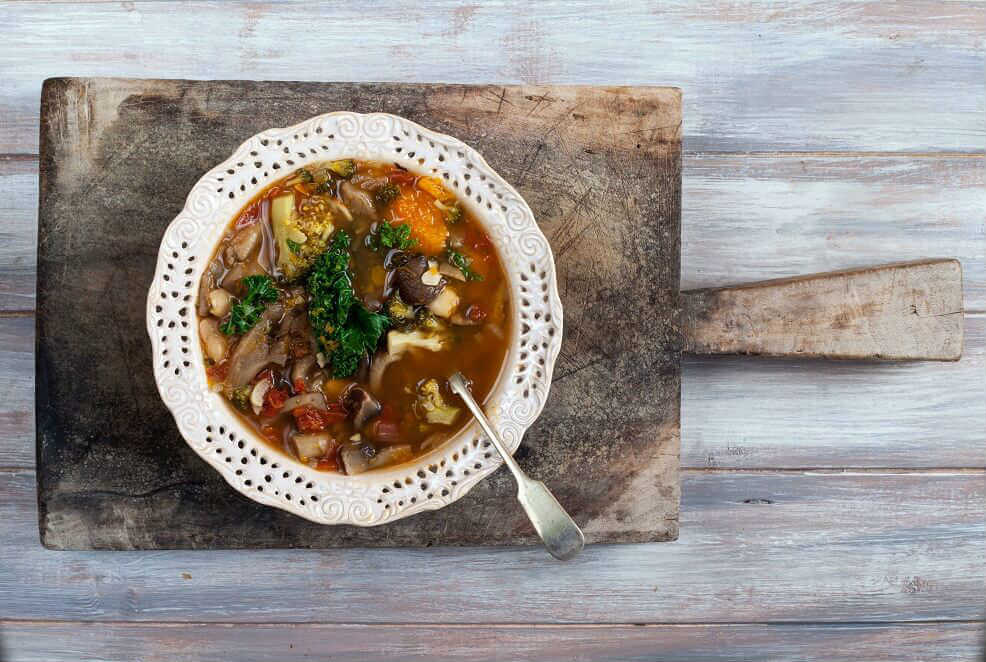 You can't get better central heating than home-made soup. Sarah Banbery shares three of her favourites
Celeriac Soup with Truffle Oil
Serves: 4
Prep: 30 mins
Cooking: 25 mins
INGREDIENTS
75g unsalted butter
1 tsp groundnut oil
1 clove garlic, peeled and crushed
1 leek and 1 onion, trimmed and thinly sliced
4 sage leaves
700g celeriac, peeled and cubed
1 litre chicken stock
250ml double cream
Truffle oil and parsnip crisps to garnish
Heat a wide sauté pan and add 25g butter plus the oil – fry the garlic, leek and onion with the sage for 3 – 4 minutes until the vegetables are soft. Add the celeriac and stock, bring up to a simmer and cook for 10 – 15 minutes until the celeriac is tender.
In batches, blend everything together and return to the heat in a clean saucepan. Reheat gently, add the cream, whisk in the remaining 50g of butter and season with salt and white pepper.
When it's piping hot, divide the soup between four bowls, top with a few parsnip crisps, drizzle over a little truffle oil and serve.
If you don't like the flavour of truffle, then garnish with a drizzle of cream or some sautéed mushroom slices.

---

Roast Pumpkin and Chilli Soup
Serves: 4
Prep: 25 mins
Cooking: 70 mins
INGREDIENTS
1.5kg pumpkin or butternut squash, peeled, seeded and cut into wedges
2 red onions, peeled and halved
3 tbsp olive oil
1 tsp dried chilli flakes
1 litre hot vegetable stock
40g pumpkin seeds, 1 tsp walnut oil and ¼ tsp ground cinnamon
Crème fraîche
Preheat the oven to 170°C/Gas 5. Place the pumpkin, onion and chilli onto two large baking trays and drizzle over the olive oil – roast for 1 hour until soft.
In batches, blend the pumpkin and onion with the stock until smooth – return to a clean pan and reheat, seasoning to taste.
Meanwhile, stir together the pumpkin seeds, oil and cinnamon in a bowl, spread the seeds in a single layer on a baking sheet and roast for 8 – 10 minutes until golden.
Serve the soup with a sprinkling of the seeds, a spoon of crème fraîche and a drizzle of chilli oil.

---

Etruscan Bean Soup with Garlic Croûtes
Serves: 4
Prep: 20 mins
Cooking: 25 mins
INGREDIENTS
1 tbsp olive oil
8 slices pancetta, chopped
1 large onion, peeled and thinly sliced
2 cloves garlic, peeled and crushed
1 large sprig rosemary
2 ribs celery, trimmed and finely chopped
2 x 425g cans cannellini beans
1 litre chicken stock
8 thin slices from a baguette
1 tbsp olive oil
2 garlic cloves, peeled and halved
Chopped parsley to serve
Heat the oil in a large pan and cook the pancetta until golden brown but not crisp. Remove with a slotted spoon and reserve.

Add the onion, garlic, rosemary and celery to the pan and fry for 3 – 4 minutes until translucent. Add the beans with the liquid from the tin along with the stock and pancetta and simmer gently for 10 – 15 minutes.

Meanwhile heat the oven to 200ºC/Gas 6, brush the bread with the oil and bake for 5 mins until golden. Rub each slice with the garlic and reserve.

In batches, purée the bean mixture in a blender and return to a clean pan – gently reheat and adjust the seasoning as necessary, adding a little more stock if the soup is too thick.

Serve the soup with 2 croûtons per bowl with a scattering of parsley and a drizzle of good olive oil.