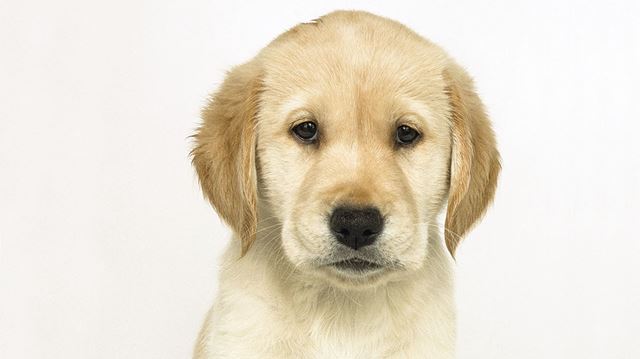 Training the very special Guide Dogs takes two years and up to £55,000 – so we're lending a hand through the Boundless Foundation.
This autumn, join thousands of amazing Guide Dogs volunteers during Guide Dogs Week – 6-14 October. By donating just an hour, you can help to raise vital funds that support people living with sight loss. Register your interest online for more information on the Move it for Money events and to receive a fundraising pack in the post or to download.
You could also collect money at one of the national events at Homebase stores; visit the Guide Dogs website to find a nearby location.
There are over 360,000 people in the UK registered blind or partially sighted, and according to the RNIB, almost half of them feel 'moderately' or 'completely' cut off from people and things around them. Guide Dogs – a remarkable charity dating back to 1931 – provides life-changing help and companionship to around 5,000 of them, from children to people in their nineties. But supporting a guide dog is expensive (some £55,000 from birth to retirement), and Guide Dogs, who is responsible for around 8,000 dogs, relies wholly on donations.
As one of the charities in the Boundless Foundation, we support Guide Dogs all year round, and sponsor a puppy in training – one-year-old Grace. Grace isn't your average puppy. A sweet-natured Labrador-retriever cross, she's as playful and adorable as any other bundle of fur. But Grace is already on one of the world's most advanced animal training programmes, a two-year process that will equip her to become a guide dog.
Grace has successfully completed her puppy walking stage and is now starting to learn the basics of guiding techniques. This early training stage takes around 12-16 weeks, when her Guide Dog trainers will introduce Grace to the harness, encourage her to ignore distractions and teach some guiding skills, including leading a person in a straight line without pulling, stopping and sitting at changes in the ground level such as kerbs and steps, and avoiding street obstacles.
Grace was born at the Guide Dogs' National Breeding Centre, and transferred at seven weeks to a new home with Jane, a volunteer puppy walker. For the next year or so, Jane will take Grace through the early stages of socialisation and education, all under the watchful eye of Jay Taylor, Grace's puppy training supervisor. So how's she getting on? "She's settled in to her new home and takes everything in her stride," says Jay happily. "Her first free run in the park went really well. As a puppy, we want her to learn to play, but even from seven weeks old we were thinking about her future role, so her early training was a bit different to most puppies."
---
Puppy prep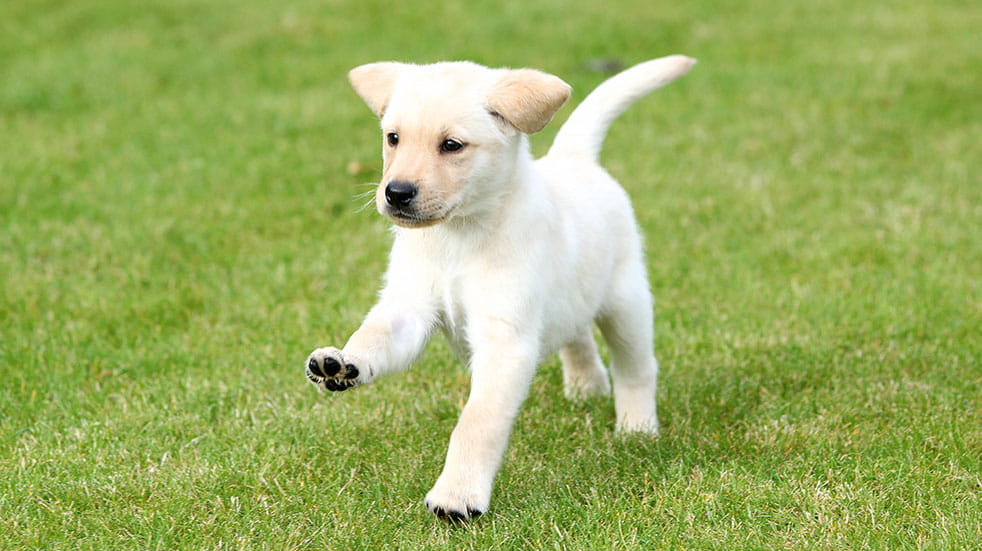 First up is toilet training, which Grace has already mastered, "though a couple of weeks ago she did have an incident in a well-known building society!", confides Jane. Grace is already learning to interact calmly with people (perhaps not difficult for a pup Jay describes as naturally "chilled"). And Jane is getting her used to lots of different sights, sounds and environments, from travelling in cars and buses to negotiating the shopping trolleys in supermarkets.
Grace is living alongside Jane's pet dog Yozi, so she gets used to mixing well with other dogs too. When out, Grace is being taught to walk on the left, in preparation for a future owner who's likely to use their dominant right hand to hold a cane, and to ignore her impulses to stop and sniff when she comes across an intriguing smell. A guide dog who's constantly exploring or stopping to wee at lamp posts isn't going to be much help for their eventual human partner. So when Grace wants to investigate something while on a walk, she's given healthy treats to encourage her to find her walker more interesting than the smells on the street.
In between the training, Grace has a big collection of toys to play with (her favourites are toy bones filled with a little bit of something tasty) and playing games with Yozi – chasing her tail is a particular joy.
---
Making a match
All in all, she's shaping up as a confident, relaxed pup and is likely to progress well in the months to come. There will be various assessments along the way, which will monitor everything from her sleeping routine to her temperament, which will be valuable when matching her with a sight-impaired partner later on. Not all puppies become guide dogs – the success rate is around 70%. Next year, when she moves on to the next stage of training, Grace will move in with another volunteer who will take her to training school every day for four months. There, she'll learn more advanced skills such as stopping at a kerb and skirting around obstacles – but, again, she'll have plenty of time to unwind and play.
When she's mastered this stage, Grace will move on to training with a mobility instructor for roughly ten weeks, and at this stage she'll be matched with a person with sight loss. Making the right match is crucial and depends on all kinds of factors from the owner's lifestyle to their height and walking speed. Just as each owner is unique, so is every dog.
Once a match is made, Grace will spend three or four weeks with the guide dog owner and mobility instructor, learning to work with her new partner. Guide Dogs continue to visit newly qualified owners to check how they're getting on, and provide support if needed, and the partnership is likely to last six to seven years, before Grace will retire. She may remain with her owner, but if that's not possible Guide Dogs will rehome her with a new owner, where she'll be able to enjoy a well-earned retirement. But that's a long way off yet. First, Grace still has a few basics to pick up – like learning to stay still while she's being groomed…
---
Me & my Guide Dog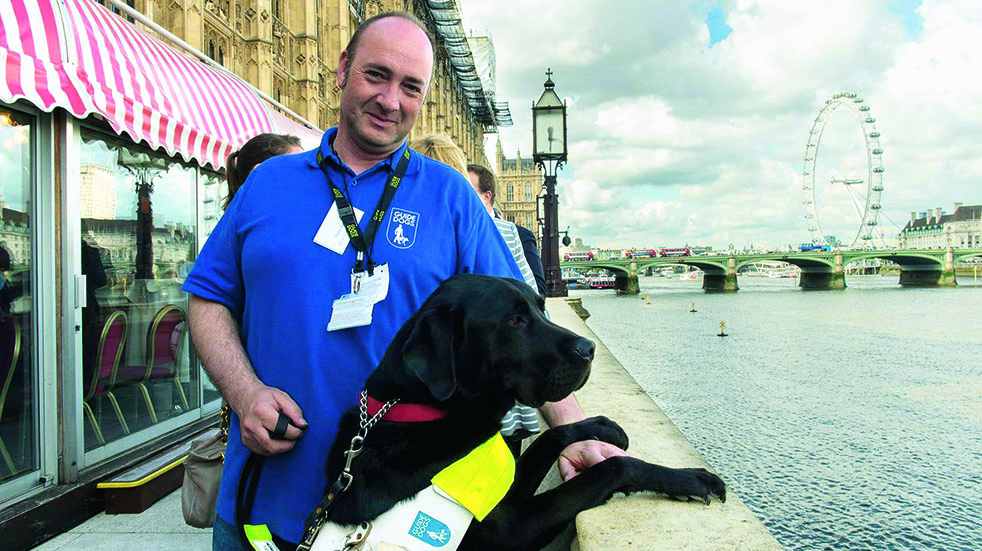 When Grace is ready, she could transform someone's life, as Thomas did for Pete Bungay

"I've had Thomas for over four years and the relationship has evolved. He's trained in a specific way, but the dog and owner also get used to each other – it develops into a symbiotic relationship where the two of you work together to get to a goal. I can pick up how he's feeling through the harness, if he's a bit nervous or uncomfortable about a situation.
There were two distinct times when I knew the relationship with Thomas was going to work. The first was when we did a night walk with one of the guide dog trainers. It was the most terrifying experience I've had – I'm quite blind at night and hadn't been out on my own for many years – and the most exhilarating.
The second was back home in Christchurch, when the trainer told me to practise a route I knew over the weekend. It was terrifying because I hadn't been out on my own with Thomas and it felt like a test of the relationship. It was really difficult to put my trust into a dog but it worked perfectly and at that point I realised this was going to change my life completely – and it was fabulous."
---
From puppy to Guide Dog in two years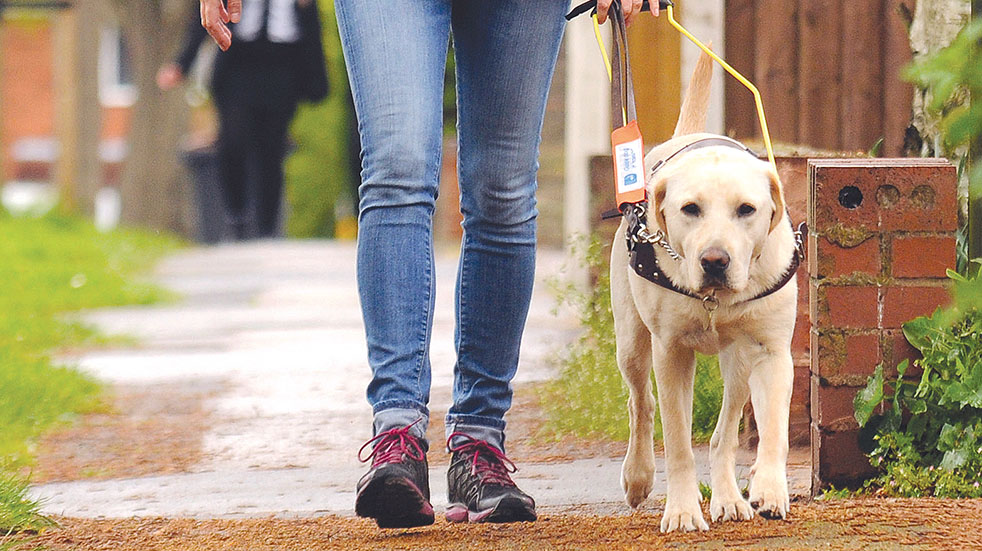 Follow Grace's training timeline:
Birth-7 weeks
With mum and siblings in a Guide Dogs volunteer's home
7 weeks
Moves in with puppy walker
7 weeks-4 months
Learning basic obedience commands and how to walk on the lead
4-14 months
Getting used to different people, environments and other dogs
14 months
Moves on to live with another volunteer; starts Guide Dog Training School
14-17 months
Begins wearing a brown training harness and learning guiding skills
17-20 months
Works with a Guide Dog Mobility Instructor to pull training together and find a sight-impaired match
20-22 months
Partnership training with blind or partially sighted person
22-24 months
Settled in new home and practising regular routes
---
Boundless, Guide Dogs and you
Boundless has sponsored Grace's training through Guide Dogs' Name a Puppy Scheme. Receiving little government funding, Guide Dogs depends on public donations to transform the lives of more than 5,000 blind or partially sighted people – that's why we chose them as one of our charity partners. In addition to donations, the service relies on hundreds of volunteers to help with driving, walking and boarding guide dog puppies, fundraising and as sighted guide assistants.
For more information, visit guidedogs.org.uk or the Boundless Foundation.