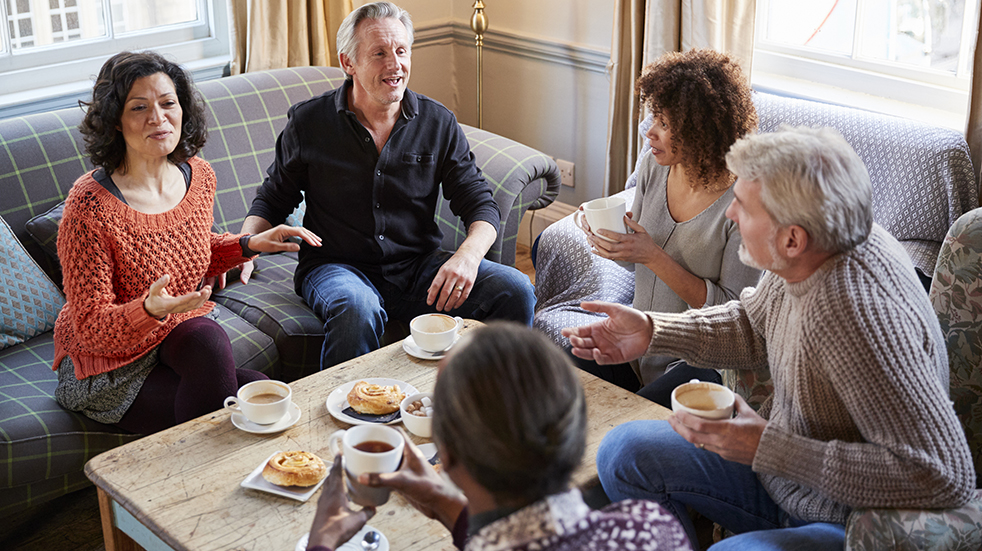 It's best to think about your funeral and prepare for the future, however uncomfortable that may seem.
Did you know that there is a Dying Matters Awareness Week (it's 13 – 19 May 2019)? Or that 'death cafés' are rising in popularity, to encourage people to discuss their future plans? The 'death positivity' movement is growing, and the UK government has backed a campaign to encourage people to talk about dying.
This idea of getting us to talk about our own death, and about dying in general, is gaining momentum. It may sound morbid, but experience shows that talking about death is enlightening and can actually help people to get on with their life. After all, no-one's going to avoid dying, so it makes sense to get your head around the idea.
Part of this process involves thinking about your own funeral, and there are many benefits to pre-planning this, giving thought to everything from what songs or hymns you would like to the words you would like on your tombstone. Or whether you want a tombstone at all.
Age Co can't help you decide which songs you would like to be played, but it can take the worry out of one of the most important aspects of your funeral: covering the costs.
Doing this in advance will not only provide the peace of mind that comes with knowing that it's taken care of, but is a thoughtful way to protect your family from the ever-growing expense of funerals. The question is, what's the best way to do this?
Which funeral payment option will suit you?
Essentially, there are three options. You can simply leave some savings to pay for your funeral, take out life insurance, or set up a funeral plan.
Use your savings
This is straightforward: you simply set aside some savings and the executor of your estate will use it to pay for your funeral. However, you may not be able to rely on your savings: although putting money aside often feels like a safe way to plan ahead, the rising cost of funerals and small amount of interest could mean that, by the time you die, your savings may not cover the full amount needed.
Use an over-50s life insurance plan
This usually involves a series of monthly payments – either for the rest of your life or until the age of 90 – in return for a fixed sum payable on your death. As this sum has been set out from the start, it offers the advantage that it won't decrease. However, as inflation, and the cost of funerals, increase, this could erode the value of that sum so that it falls short of covering all your funeral costs when it is needed.
A life-insurance plan may also mean that if you enjoy a long life and continue making monthly payments, you could end up paying more than you need for your funeral.
Use a funeral plan
A funeral plan enables you to choose the aspects of your funeral you pay for in advance (different plan providers offer different options, so this depends on which you select) and most importantly, locks in the cost of providing those at today's prices.
Age Co believes that funeral plans are the one of the best ways to pay for a funeral. Here's why:
You effectively freeze rising costs because a funeral plan guarantees to cover the costs of the funeral services set out in your plan, even if the costs have risen since you bought it.
Funeral plans have a fixed cost that you can either pay upfront or in instalments, so you can choose whether to make the most of your savings now or spread the cost.
It's possible to cancel a funeral plan and get a refund, whereas you could lose everything that you've paid into a life insurance policy if you cancel it.
You don't run the risk of paying in more than you get out, as you potentially could with a life insurance policy.
Funeral plans provide help and support for your loved ones during the process.
Finally, but perhaps most importantly, you can beat rising costs. Funeral costs are rising every year, so now is the best time to protect yourself against future inflation. In 2011 the average cost of a funeral in the UK was £3091. It has now risen to £4271 and in six years' time it is forecast to rise to £5120‡.
See a table comparing the benefits of the three options.
Save up to £265 on an Age Co Funeral Plan*
This saving make it one of the most competitive funeral plans on the market – and if you buy one before 20 December 2018 you could win £10,000.
You'll also benefit from:
No unexpected bills
A 100% money-back guarantee – unique to Age Co. No other provider will give the customer all their money back with no admin or penalty fee. This applies at any time, so if you need your money, you'll be able to get it whether it's six months, five years or 20+ years after purchase.
Trust – all money paid towards your funeral plan is kept safe and secure in a Trust Fund.
Flexible payment options. Pay in lump sum or by instalments (with no APR on instalments over 12 months).
Find out more and compare Age Co plans.
Age Co is the new name for Age UK products and services. Age Co Funeral Plans are provided by Advance Planning Limited, a subsidiary of Dignity plc.
Donations to Age UK's charitable work from Age Co sales are expected to reach £3 million each year.
‡ Source The SunLife Cost of Dying Report 2018.
* £265 saving applies to Rowan Plan. Other savings are £250 on Holly Plan, £225 on Ivy Plan and £225 on Basic Plan. Savings valid to 30 April 2019. Full plan details available.
~ Prize Draw is open to Plan Owners who purchase between 17 Sept 2018 and 20 Dec 2018. One prize of £10,000 shall be awarded. Open to residents in England, Scotland and Wales only. Full terms and conditions.

Age UK Enterprises Limited trades under the trading name Age Co. Age UK Enterprises Limited (registered in England and Wales no. 3156159) is a trading subsidiary company of Age UK (registered charity, no. 1128267) and donates its net profits to Age UK. The Age Co Funeral Plan is provided by Advance Planning Limited, a company incorporated in England and a subsidiary of Dignity plc. Registered office: Advance Planning Limited, 4 King Edwards Court, King Edwards Square, Sutton Coldfield, West Midlands B73 6AP. Registered in England, no. 3292336. Details correct at time of print.