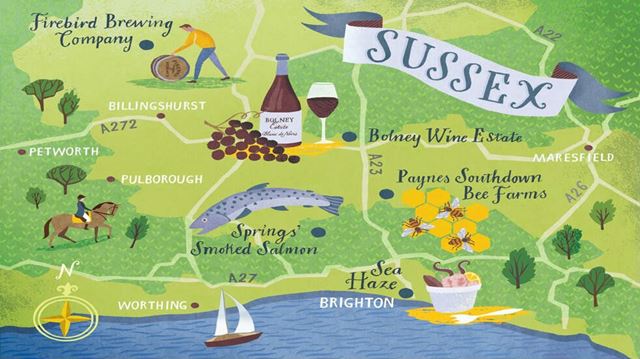 Owned by Boundless, the 17th-century Sussex country house Ghyll Manor boasts original features, beautiful grounds and an AA-rosette-awarded restaurant.
"They're separating the curds from the whey on the Brighton Blue," Mark Hardy announces when I arrive at High Weald Dairy. Cheesemaker Chris is up to his elbows in whey, stirring a huge tray of buttery liquid. Every cheese is handcrafted like this, but Brighton Blue requires a particularly delicate process – only experts like Mark and Chris know just when the curds are ready for the maturing 'cave'. Moments later, I'm tasting the finished product. Rich, creamy and beautifully veined, it's no wonder Brighton Blue won Super Gold at this year's World Cheese Awards.
Mark began making cheese in the 1980s from his sheep in Ashdown Forest. Sussex halloumi was one of his earliest creations and, today, he makes 15 different cheeses on his family farm in Horsted Keynes. He's even named a goat cheese after his wife Sarah that, alongside Brighton Blue, you can buy from the dairy or produce stores and markets in Sussex.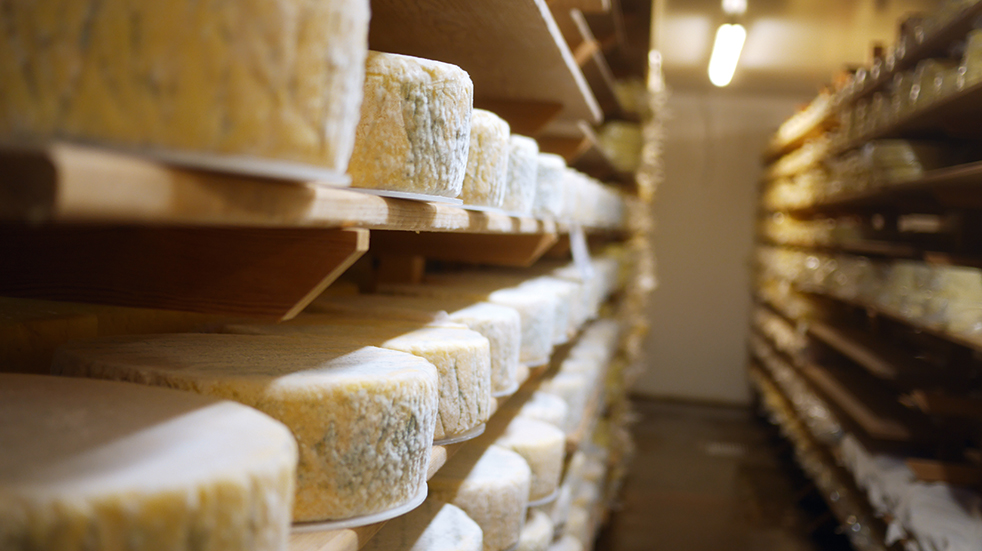 With its rolling chalk hills, wooded Weald and gently curving coastline, Sussex is blessed with abundant local produce and some of the UK's finest food and drink makers. It is home to Southdown lamb, Selsey crab and Horsham gingerbread, as well as Brighton gin, Sussex sparkling wine and Montezuma's chilli chocolate. There's so much to taste, sip and discover, and some of the region's best independent producers lie within easy reach of Ghyll Manor Hotel in Rusper, near Horsham.
With gnarled oak beams, historic tapestries and views across the lawns and lake, the Ghyll Manor restaurant is a stunning place for a breakfast of Sussex free-range eggs, lunch on the terrace, or a three-course evening meal. Specialising in seasonal and sustainable British produce, its locally sourced meats come highly recommended, especially the steaks, which have that little extra in terms of breed, hang and flavour. This level of care, quality and traceability is notable in every aspect of the restaurant – even the afternoon teas come from Brighton-based Hoogly Tea, which blends its leaves in the South East.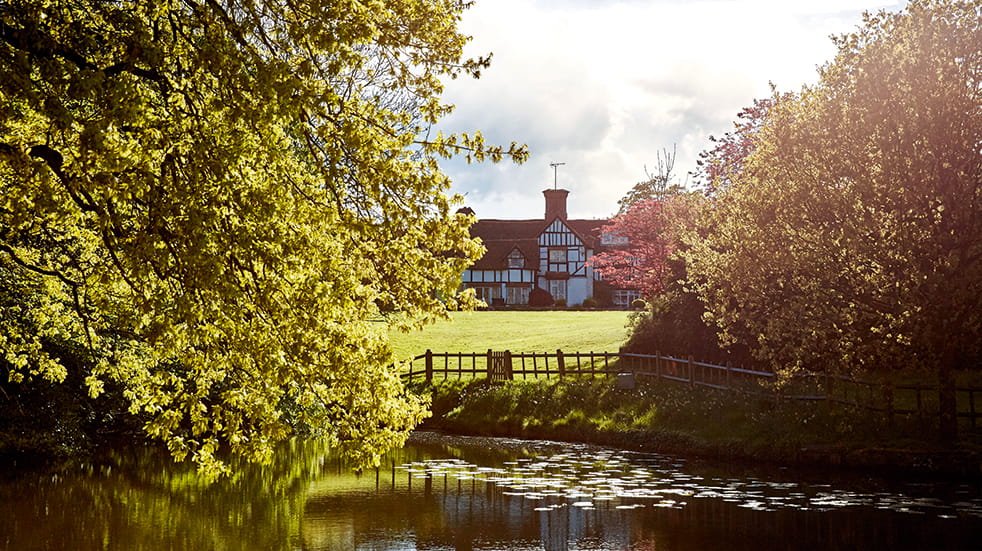 Fruitful Sussex landscapes
Driving through Sussex is a delight. The hills and woods of the High Weald undulate across the north-east border, while the steep escarpments of the South Downs National Park ripple across the region. Tree-lined roads weave between the hills and plains, passing flint cottages, timbered houses and idyllic villages with picture-perfect cricket grounds.
Southdown sheep have grazed these landscapes for centuries and their white flocks flecked across hills and historic estates is a quintessential Sussex sight. With their deep red coats, Sussex cattle are another classic local breed that's reared and sold in butchers, farm shops and grand estates like Goodwood. While some Sussex farmers stay true to tradition, others are known for their niche produce. East of Ghyll Manor, Tablehurst Farm specialises in biodynamic produce (try the Farmer's Breakfast in its on-site café), while Trenchmore Farm in Cowford sells Sussex Wagyu beef from their herd of Akaushi-Sussex crosses.
Tucked between these farms, within the folds of the Sussex countryside, hides a wealth of smaller-scale artisans like Springs' Smokery. Established in the 1960s, it smokes fish and chicken traditionally – outside, using whole Sussex oak logs. As you drive towards its on-site shop and café, beneath Fulking escarpment and Devil's Dyke beauty spot, you'll know that Springs' master smokers are at work if you see plumes of smoke curling into the air.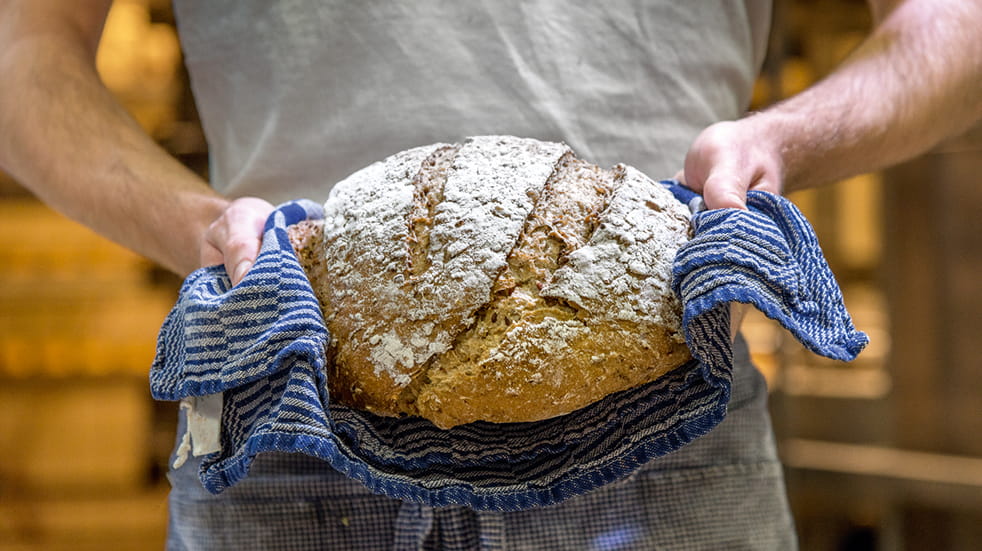 Skilled food artisans
As you wend your way through the Downs, past higgledy piggledy villages, you'll stumble across other Sussex gems, from Flint Owl Bakery in Lewes – which has been making naturally leavened loaves using local spring water since 2010 – to Fellows Bakery in Ardingly, which first fired up its ovens in the 1800s. Now owned by Mr Bunn the baker, it still has its original Victorian ovens in the basement.
On the outskirts of Hassocks is Paynes Bee Farm. Set up by Fred Payne in 1922, this family business has over 1,000 hives clustered in groups of 12 or 15 to ensure there's enough local nectar to go around. The flavour of the honey varies slightly each season, depending on what's been growing. This year, bees have been pollinating lots of hawthorn blossom, which you can smell when you're near a hive. Fred's grandson Roger can explain more when you visit its cottage shop, stacked with honey, beeswax and apiary equipment. If you see him dressed in full bee-keeping attire, he'll be on his way out to 'take the crop' from the local hives.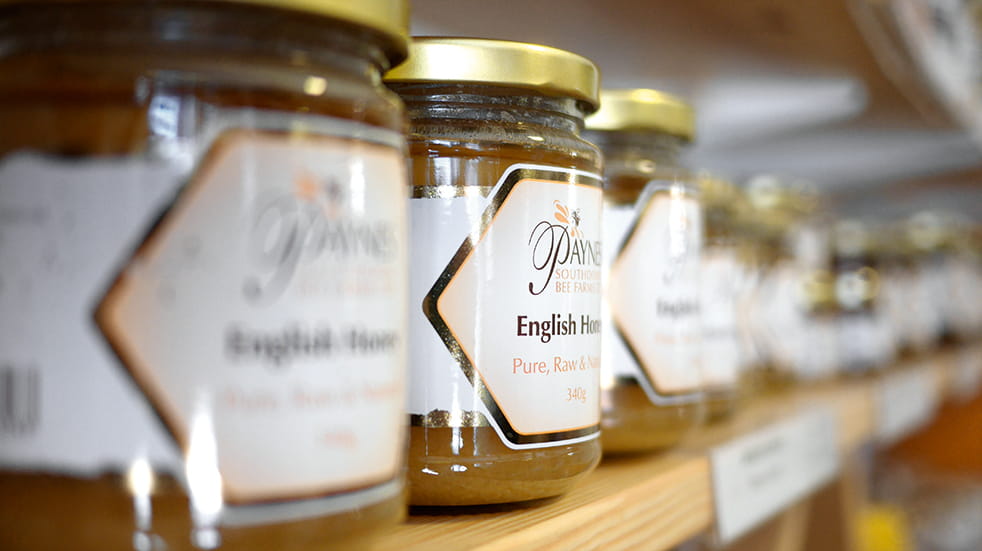 As with the South Downs and the High Weald, Sussex wouldn't be Sussex without the sea – wherever you are in the region, the English Channel is never far away. Fresh fish is landed daily along the coast, from Chichester in the west, to Hastings in the east. Between the two is Brighton beach, where you'll meet Neil Messenger and his family at Sea Haze fishmongers, in Brighton's old fishing quarter.
Neil's family has been fishing here since the 1500s. Today, Neil does the fishing while his son Jack runs the shop, and Jack's nan works on their shellfish hut opposite. They mostly catch plaice, cod and Dover sole, and source local shellfish like crabs, cockles and whelks. Much of the shelling and preparation is still done by hand – it takes Neil an hour to hand-pick a 30kg sack of whelks.
Sipping and sampling local food
Wine is a more recent addition to the Sussex gastronomy scene. From the award-winning bottles at Bolney, to the famous Sussex fizz at Ridgeview, you could fill a full weekend exploring the Sussex estates that have put English wine on the map.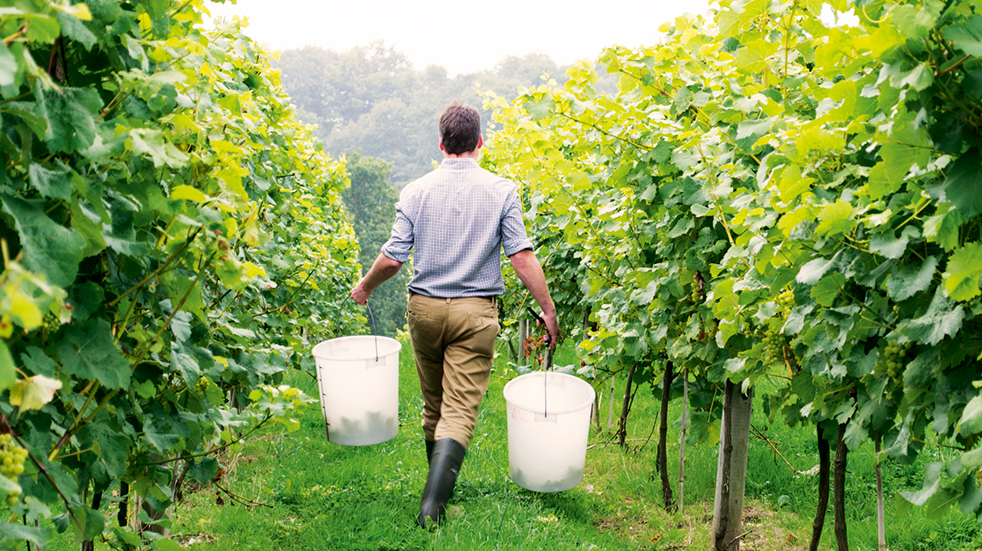 Touring between the coast and countryside, sipping and sampling along the way, you run a gauntlet of other vintners, distillers, brewers and juicers. One mile from Bolney Wine Estate, father and son Glyn and Tom Stephens make cider and apple juice at Wobblegate Farm. Everything is grown, pressed, bottled and sold on-site, and its new 'Whistle & Dixie' taproom and diner pairs ciders and juices with the apple's best friend – cheese. Further east in Lewes, Harveys has been brewing beer since the 1800s, while the recent trend in craft ales has seen an explosion of independent microbreweries like The Three Legs in Brede, and Langham Brewery near Petworth.
On-site taprooms are increasingly popular and one of the best belongs to Firebird Brewing Company, owned by friends Bill and Richard. Housed in a converted brickworks, their taproom sits on a mezzanine above the brewery, so you can sup everything from Heritage Ale to blueberry-infused 'sour' while they're being brewed below.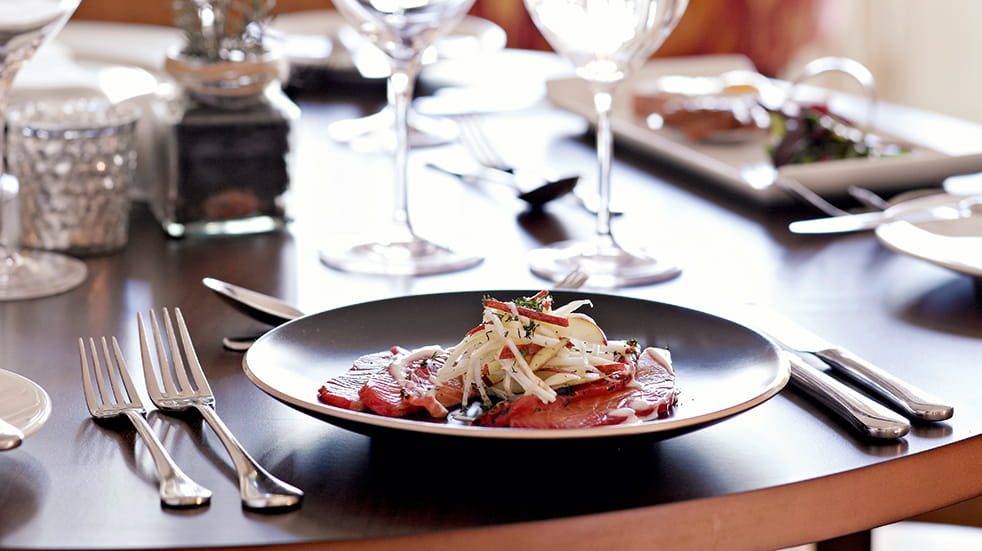 Enjoy Ghyll Manor'a AA-rosette-awarded restaurant.
Back at Ghyll Manor, the bar offers a wider array of Sussex tipples, like Blackdown Silver Birch Vodka, handcrafted in the South Downs and finished with locally tapped silver birch sap. Head chef Ryan Cain is a big fan of the local produce and loves creating dishes with goods from a range of local suppliers – mouth-watering steaks are a favourite. He also loves the vibrant colours of summer berries and plating stunning deserts at the pass with these juicy fruits.
Sussex is a true champion of local food and drink and, with its ancient woodlands, rolling hills, glorious coastline and stunning settings like Ghyll Manor, nothing beats experiencing it first hand.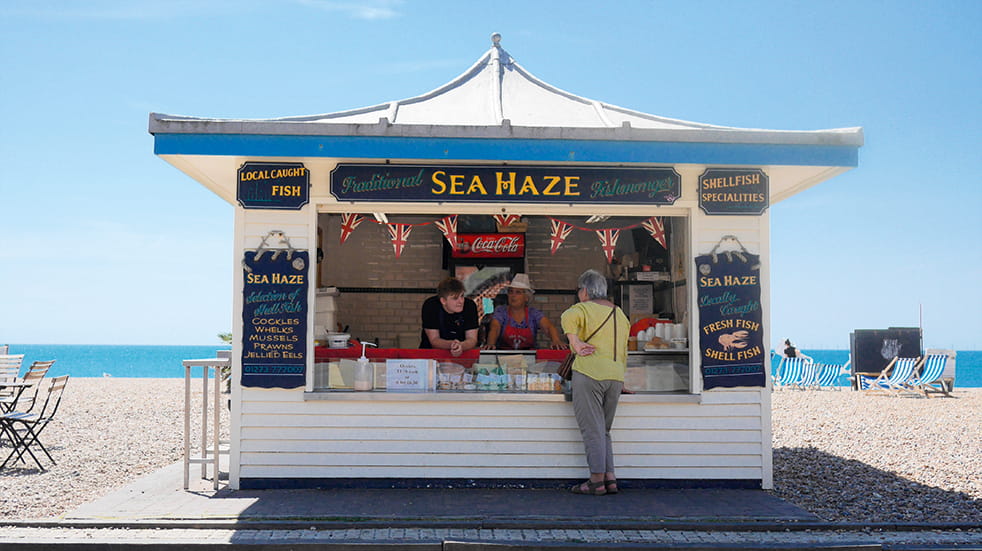 Five local Sussex treats
The honey is sold in farm shops and produce stores across the region, but its shop is an experience in itself. Located down a cobbled track, it's stocked with honey, pure beeswax and everything a beekeeper could need, from hives to honey sumps.
Springs' Smokery is tucked away in the South Downs National Park. It uses whole oak logs to smoke its fish and chicken. See the smokers out back as you peruse the shop and recently opened café.
Bolney boasts a wealth of world-class vineyards and is a great experience for passers-by. Turn up to explore the wine trail and sample its white, red and rosé wines, or have lunch and coffee in the café, which has gorgeous vineyard views over from the outdoor terrace.
Sea Haze fishmongers is perfectly positioned on Brighton beach. This family run fish shop and seafood hut sells the daily catch along with hand-picked whelks, cockles and more. Next door is the excellent Brighton Fishing Museum (with free entry).
Firebird Brewing Co was opened in 2013 by old brewing pals Richard and Bill. This independent brewery, shop and taproom is open to the public. Popular brews include its Heritage Ale and Paleface IPA, and they're always concocting something new.
Stay at Ghyll Manor
Enjoy Ghyll Manor with one of our Dinner, Bed and Breakfast breaks. Book before 19 October to save up to 40% on your Ghyll Manor stay.