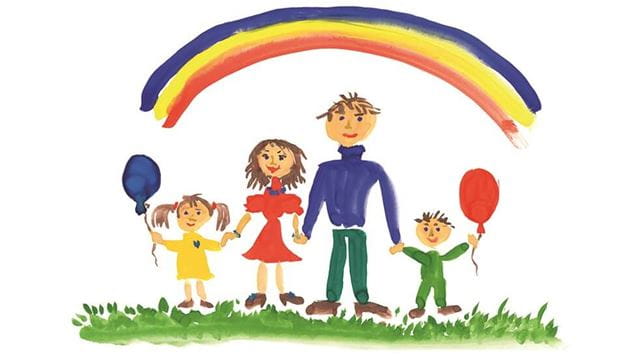 ---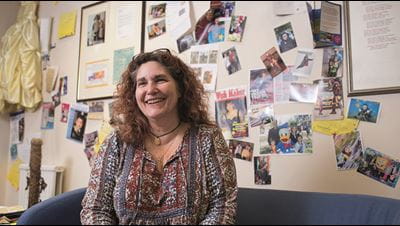 '
I started working as a wishgranter for Make-A-Wish four years ago
, having volunteered for the charity and been bowled over by what they do. I love my job and usually notch up about 100 granted wishes a year,' says Dawn Ellis, who works at the busy Make-A-Wish head office in Camberley, Surrey.
'I'm part of a team of 13 wishgranters, and we all help each other out with ideas and contacts. It would be great to have a magic wand sometimes, though. No two days are the same, as I never know what kind of request is going to land on my desk. Children come up with some pretty imaginative wishes, so I have to be inventive, researching and thinking outside the box to work out how to bring wishes to life. It makes my job varied and challenging, but incredibly rewarding.
'I currently have a list of about 50 wishes on the go, which have all been handed to me by our referral team. It's their job to ensure the child meets our criteria. A large part of my working day is spent on the phone, sourcing an eclectic and sometimes eccentric list of services, skills and favours.
'We rely on people's goodwill, suppliers that are happy to help and the generosity of corporate and individual charity supporters. We stick to tight budgets and need our money to go a long way – it's quite an art approaching businesses and suppliers for contributions. Fortunately, I have the gift of the gab – or so my equally persuasive colleagues say! – and I am very tenacious.
'Some wishes are complicated and take months to set up. We have to fit around the children, their health concerns and their often-demanding schedules of medical care, which can mean wishes sometimes have to be put on hold after they've been set up. We may have to take medical equipment into account, too, but we always find a way to do this. Other wishes may be more straightforward: for example, supplying an iPad to a child who isn't able to attend school, so that they can stay in touch with friends, which can make a world of difference. Or setting up a tea party with a fictional TV or film character.
'I also spend a lot of my working week talking to families on the phone, as well as the children, to ensure I get a real insight into what's at the heart of their wish to make it as magical as possible. I really love this aspect of the job, and it's nice to be able to talk to parents about something fun and special for all the family when they spend so much time dealing with health professionals and others involved in their child's care.
---

Dreams coming true – photos, from left: Ben, who wanted to meet the England cricket team, with captain Alastair Cook; Florrie, who wanted to be a princess for the day; Louis, who wanted a football pitch in his garden; Grace, who wanted to see her own book published.
---
'Our aim is to make each wish a magical and memorable experience, for the child and the whole family, and to make it stress-free for them all. I send the family an itinerary so that they know every last detail has been sorted and they can just enjoy themselves.
'Of course it's about the child doing something that they have always dreamt of doing, but it is also about the whole family having a special experience and making wonderful memories. I am currently working on setting up a trip for a young person who wants to see a hit musical in London. She uses an electric wheelchair and will need to travel some distance with her carer and family and stay in a hotel overnight. What at first sounds like quite a straightforward trip can be logistically tricky.
'I've also had a request from a young boy who wants to experience some "adventure travel", so I am working on a trip that will involve travelling on a train and in a helicopter and aeroplane. One of the trickiest wishes I have ever set up was for a girl who used a wheelchair and wanted to be part of a circus, performing as a trapeze artist with able-bodied young people. That was quite an organisational feat and took months to arrange. After much phone pounding, it came together, thanks to an organisation that provided a special supportive sling, a very cooperative circus, and lots of help and goodwill from people who were determined to make it the best experience possible. Her mum was also wonderfully helpful and the girl had a fantastic day.
'As a wishgranter, I don't get to go on the experiences – that would be far too time-consuming and expensive for the charity. We have an amazing pool of Make-A-Wish volunteers – around 2000 – without whom we could not manage. They do everything from fundraising and helping check out locations, to dressing up as various children's cartoon characters for "wish" tea parties.
'They may also train as Wish Visitors so that they can meet the children and their families and act as our eyes and ears, exploring what their wishes are; they may attend experiences, too. We might also put out a plea to our volunteers on the website to lend a hand. I did this last year when I needed people to help transform a back garden into a football pitch for a nine-year-old boy with a brain tumour. We got an amazing response. It makes me well up just thinking about it.
'I am working on an unusual wish for a young girl at the moment: she wants to hug a sloth – a few notches up from one of our more common requests, to be a zoo keeper for a day. I tried to organise this for last autumn, but then discovered that it was the sloth mating season – you learn something new every day in this job! We are now waiting until May, which is when the breeding season is over and the adorable animals are more huggable – I hope!
'My heart is always in my mouth on the day of a wish, hoping that it all goes to plan. When I get wonderful phone calls and letters from the family afterwards, and see all the photographs, it is the best feeling ever, knowing that I have had a part to play in making the magic happen.
'We receive letters from families years after a child's wish has been granted, telling us how strong the memories are and how the child will talk about their experience, even when they are going through the most gruelling treatment.'
---
Make A Wish UK grants magical wishes to enrich the lives of children and young people fighting life-threatening conditions. Whether it's meeting their hero, or having a life-changing bedroom makeover, it's a magical experience and a positive focus during ongoing medial treatment. Anyone can refer a child (aged 3-17): a healthcare professional, a parent, carer or the child themselves.
Director of Fundraising Alice Collins, says: 'We are extremely grateful to organisations like Boundless, which raises significant amounts of money for Make-A-Wish, advocates the work we do and raises awareness of the magical impact a longed-for experience can have. Each year, more and more children are turning to us to have their wishes granted. This year, we hope to realise 1000 wishes, so the support of Boundless members is invaluable."
---
The Boundless Foundation has donated £1000 to Make-A-Wish, helping to grant wishes such as Milo Drakeley's, which was to visit Disneyland Paris. Milo [left, with Pluto] has a chromosome deletion, as well as cerebral palsy and epilepsy. He visited Disneyland Paris with his younger sister, Esme, and parents Claire and Paul.
'There hasn't been a single day since that we haven't talked about our wonderful visit,' says Claire. 'We think about it and share memories about our time there constantly. Shortly after we returned, Milo was very ill and we spent several weeks at Alder Hey Children's Hospital, which was incredibly stressful. I honestly think that our time together as a family at Disneyland Paris is one of the reasons we got through it. Make-a-Wish helped make a small boy's potentially short life well lived and we are eternally grateful.'
The Boundless Foundation helps Make-A-Wish, Mind, Guide Dogs and Independent Age raise vital funds, which can make a real difference to people's lives. If you have any fundraiser ideas, email us at foundation@boundless.co.uk or donate today at boundless.co.uk/boundless-foundation