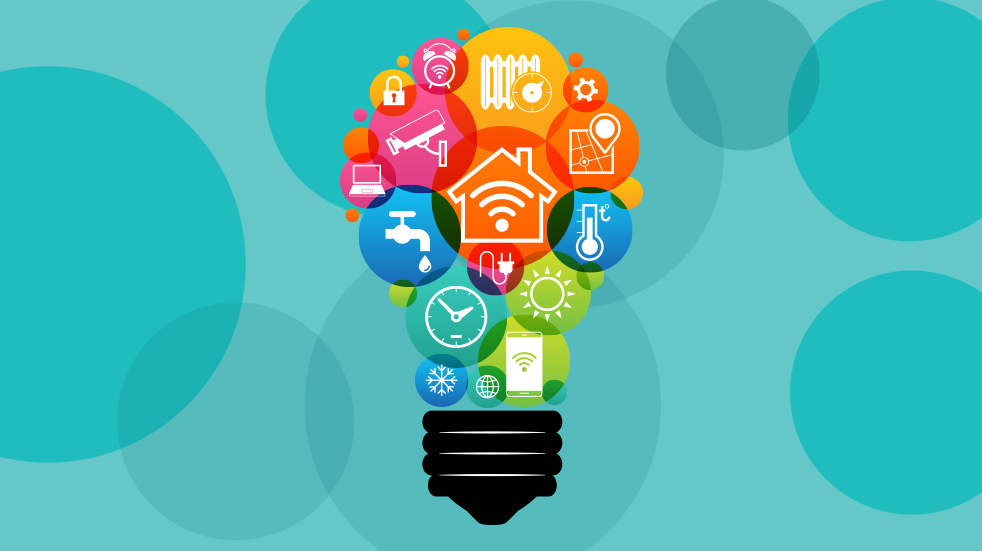 Black Friday deals give great discounts on the latest intelligent technology, and with your Boundless discount shopping card you can save even more.
Smart homes get a bad rep. Science fiction from the latter half of the 20th century had us believing we'd be tended to by robot butlers while gliding through the home on a floating armchair. In reality, I've seen tech companies try to sell an array of home tech that no one has ever asked for, including: intelligent egg trays, Bluetooth salt shakers and fridges with their own email accounts. So far, so disappointing. But, change is afoot.
The popularity of digital assistants like Amazon's Alexa and Google Home is driving huge growth in the quantity and quality of internet-connected gadgets out there. So, is it finally time to start building your own smart home?
If, like me, your ultimate goal is to unshackle yourself from the burden of housework, the answer is a resounding 'yes'. Robot vacuum cleaners have been trundling around hoovering up mess for just over two decades, and they've got pretty good at it. Dyson and iRobot make some of the best options, with apps that schedule cleaning routines. And if you can afford to pay away the housework, there are remarkably good robot lawnmowers, mops and window cleaners that'll spare you elbow grease.
First steps to a smart home
If you want to take a more simple route to automation than amassing a task force of robot cleaners, then the options are less simple. Take the poster child of overhyped, connected tech, the 'smart' light bulb, as an example. It might let you choose one of 255 shades of puce to bathe your living room in, but ultimately it's unlikely to save you a significant amount of time or money.
Instead, if you really want to fiddle with your light switches, you could hook a lamp up to something like the inexpensive TP-Link Wi-Fi Smart Plug. It'll let you control the power going to a lamp, or any other electrical device, from your phone and tell you how much you're spending on electricity powering that device. Best of all, it'll plug into anything that's needs electricity, like hair straighteners, a slow cooker or a TV.
The value of technology
As a rule, asking 'does it save time or money?' is a good, if boring, metric for buying smart home tech. For example, an internet-connected coffee machine that prepares a brew before you wake might sound dreamy – at least it did to me. But in reality, the sound of it grinding fresh beans and boiling water before your alarm goes off will have your significant other questioning your sanity at 6am.
That said, there are plenty of risk-free ways to upgrade your home. It lacks glamour, but the Tado smart thermostat and radiator kits have saved me hundreds of pounds in bills and hours of hassle. The Tado app lets me heat just the rooms I'm using, keeps track of my spending and turns the heating off when it sees my phone leave the house. Most energy companies have their own systems with similar capabilities. You won't regret the initial cost.
Or if you want to start small, Amazon Prime subscribers can take advantage of Dash Buttons. Each button is linked to a frequently bought product – tea bags for instance – and when pressed it sends an order to Amazon that will be delivered the next day.
The future of home technology
If this all feels a little small scale, then how about automating your energy flow? Nissan Energy Solar is a new system – it should go on sale later this year – and marries an electric car, solar panels and a giant wall battery to shrink your energy bills and pay for your motoring. Some smart software watches all three and, when you have more energy than you need, sells it back to the grid for a profit. You don't even need to buy solar panels, you can just charge your batteries at off-peak hours and sell your extra capacity back at peak time. The initial investment won't be cheap, but Nissan says it could cut your energy bills by 66%.
In reality, it seems like you won't have much of a choice as to whether your new gadgets will be 'smart'. Samsung has said all of its products will be 'intelligent' (read connected) by 2020 and you can expect competitors like LG and Sony to follow suit. The smart home, it seems, is coming whether you like it or not.
Five gadgets to try that are worth the investment
Alexa is unquestionably the champion of digital assistants. It has a huge range of compatible products and is the best at understanding speech. This makes it the ideal hub from which to control all your smart home devices. If you want more control or to start automating – like turning on the outside lights when you order through the Dominoes app – then try out the IFTTT (if this, then that) app.
---
This kit includes a Wi-Fi plug, a couple of sensors and a wireless hub. It means you can set up automated sequences for yourself. For example, you could put a motion sensor by the front door that turns a lamp on in the entrance when you get home. Handy, I think you'll agree. If that whets your appetite, you can then buy extra plugs to start making your old gadgets smart.
---
Sky's TV system is the smartest on offer, letting you record several channels at once, move between rooms and devices seamlessly and it gathers all terrestrial on-demand services neatly in one place. Sky customers also get access to one of the best soundbars going. The Soundbox scans your room and adjusts the audio to dramatic effect.
---
With night vision, a 4K still-image sensor, motion and sound alerts, snapshot history, 1,080p live views and close-up tracking, this security system has a lot to offer. Which is just as well, since it's pretty expensive, too. If you add a subscription you can add facial recognition and full playback, so you can look through the whole day or just at faces the system doesn't recognise. Now that's smart.
---
Another strong contender from the Nest camp, and it's worth investing in a fire alarm that works well. With an array of sensors, the Nest Protect spots more kinds of fires earlier than traditional systems and it even detects carbon monoxide. Every month it automatically does a system health check and alerts you if anything's wrong, and in the case of a fire, it will use voice commands to direct you safely out of the house.
---
Save up to 7% on the latest technology with Boundless
Our discount shopping card gives you up to 7% off at retailers including Debenhams, Currys PC World and Argos, so you can bring your home up to date with all the latest gadgets for less.