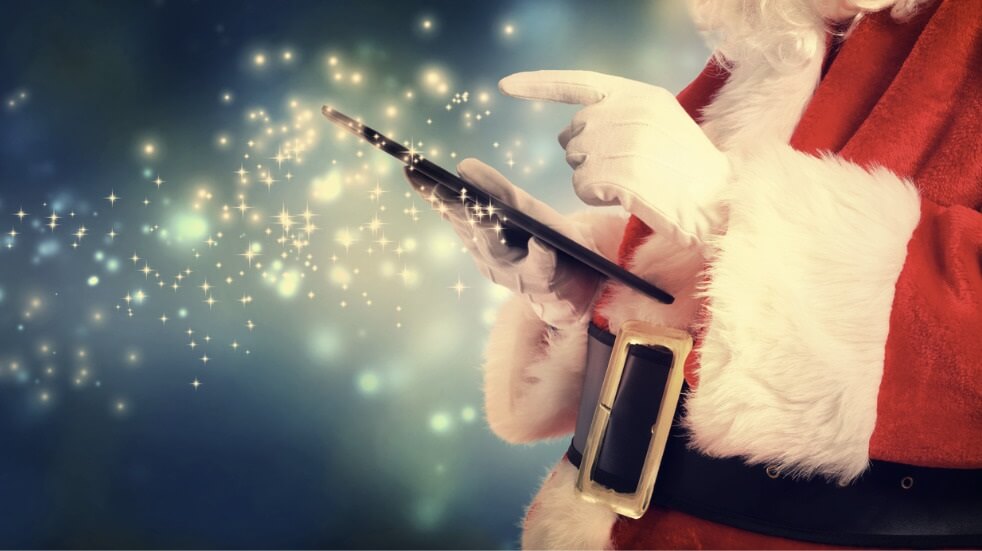 From life-enhancing new technology to updated classics, look no further for the best Christmas present ideas for the gadget lover in your life
1. Amazon Echo Dot (from £49.99)
A cut-down version of the Amazon Echo, this voice-controlled hockey puck of a gadget provides the same functionality as its cylinder-shaped big brother, for half the price. Amazon's Alexa voice assistant, its ghost in the machine, responds to your commands to remotely control connected devices in the home, including music players, lighting and temperature controls, as well as to dictate information and take orders. It slips neatly into a stocking as well.
Available from:
Argos, Currys PC World, John Lewis
---
2. AUDIO-TECHNICA AT-LP60 USB TURNTABLE (from £98.99)
Retro is all the rage, of course (check out the instant camera and old-school phone below), but this well-priced stereo turntable features a USB output to connect directly with your computer and digitise your classic LPs. It also has a built-in phono preamp so you can connect to a stereo system with a line-level input, including wireless speaker systems.
Available from:
Currys PC World, John Lewis
---
3. FUJIFILM INSTAX MINI 9 (from £69.99)
There's something magical about instant photos, in your hands and on your walls. This produces bright credit card-sized prints while you wait. It comes with a selfie mirror and a close-up lens, and its pastel colour scheme will appeal to teenagers. The Fujifilm Instax Mini remains the best value instant camera on the market.
Available from:
Argos, Currys PC World, John Lewis
---
4. GOJI GO ACTIVITY TRACKER (from £29.99)
This good value activity tracker boasts most of the functionality of much higher-priced devices at a fraction of the cost. It tracks steps, distance and calories, and even monitors sleep, with results and analysis available in the Goji GO app.
Available from: Currys PC World
---
5. LEGO BOOST (from £149.99)
A robotics kit, from the king of toy-makers, that allows little kids and big kids to bring their LEGO inventions to life. The pack includes 840 pieces, a motor, sensors, and instructions for five robot models that can be controlled with a smartphone, including an interactive cat, a shooting mechanism, and a musical instrument. These starter-modules teach the principles of robotics, so you can mechanise switches, hinges and levers in your mad-cap LEGO inventions.
Available from: Argos, John Lewis, Toys R US
---
6. Nokia 3310 (from £49.95)
Another nostalgia ticket, but one with a month's battery life, which is unheard of in 2017. This new version of the classic Nokia 3310 has a bigger screen and slimmer profile, but promises the same indestructability. That said, it's not very smart – calls, texts, and football scores, and that's about your lot. Oh, and Snake. But as a Christmas present for technophobes, digital refuseniks and retro-slaves, it's perfect.
Available from: Argos, John Lewis
---
7. Parrot Mambo Minidrone (from £79.99)
An inexpensive mini-drone (compared with most half-decent drones) that is more than just a re-worked remote control helicopter. This lightweight model has an interchangeable grabber and a mini-cannon, allowing for all manner of high jinks, especially when a number of them are brought together. The range is a bit limited, the wind resistance isn't great, and the grabber only carries 4g, but for first-timers, with a penchant for air-bound grabbing and shooting games in the garden, this is tremendous fun.
Available from: Argos, Currys, PC World
---
8. TP-Link HS100 Smart Plug (from £24.99)
This Wi-Fi socket cover turns any standard plug into a smart power outlet, allowing you to control home lighting and electronic devices from anywhere in the world. Cheaper than a smart lighting system, its companion app from iOS and Android devices means you can schedule your electronics to turn on and off as needed, or simply flick a switch without even getting out of bed. It also pairs with Amazon's Alexa (see Echo Dot above) and Google's Home device so you can control everything with a simple voice command.
Available from: Argos, Currys PC World
---
9. Tile Mate Bluetooth Tracker (from £19.99)
Keeping losing your keys, or your phone, or your car? This little Bluetooth tracker can save you time searching for mislaid items, and even help recover them in the event of loss or theft. Simply attach the device to whatever you want to track, and ring it from the smartphone app. If it is in range, the tracker will ring out. If it is out of range, the app will show where it was last in range – whether it was in range of your tracker, or someone else's. Invaluable.
Available from: Argos, Currys PC World, John Lewis
---
10. Ultimate Ears WONDERBOOM (from £84.99)
Small package, big noise; this portable Bluetooth speaker produces a remarkably clear and crisp sound, with surprisingly impressive bass. Waterproof and drop-proof (to five feet), and with 10 hours' battery life, the WONDERBOOM makes for a hard-wearing, high-performance audio player for road trips and the great outdoors.
Available from: Argos, Currys PC World, John Lewis
---
Get discounts on these gift ideas and more with SVM shopping cards through Boundless