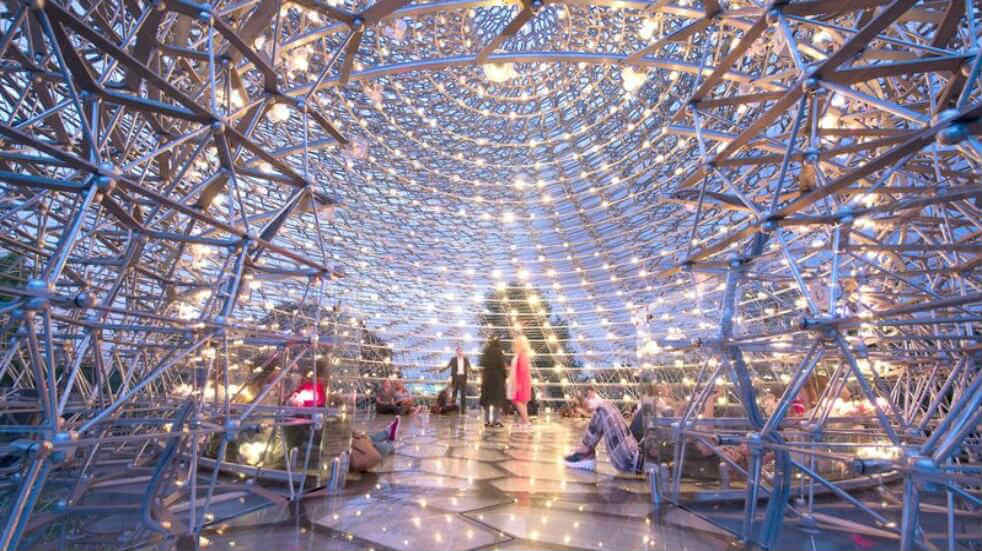 Explore tree canopies from up high, play in choreographed and illuminated fountains, and trot along to pony rides at a vibrant city farm
1. Granary Square, King's Cross
See the 1,080 individually controlled and lit fountains outside Central Saint Martins, popular for playing in on a hot day – it's even possible to download an app that allows you to control the fountains, Granary Squirt, between 4–5pm. Take a picnic, or sample the square's restaurants, or the KERB street food market. You can grab a take out coffee from the espresso truck, Benugo van. There are also free table tennis tables to be found in the Crossing at the Granary Building. If the rain starts, pop to House of Illustration at number two Granary Square, about all forms of illustration and including a space dedicated to illustrator and children's author, Quentin Blake. Learn more about Granary Square.
2. Kew Gardens
There are more than just gardens at Kew. Climb to the top of Treehouse Towers; go on a mighty adventure finding the monkey puzzle, huge redwoods and the Corsican pine apparently hit by lightning – and a small plane. Wander along the Treetop Walkway with views across the gardens and the city and hatch plans in the child-sized Badger Sett. Not forgetting Palm House, with its bananas, coconuts, cocoa and coffee, and until November 2017 The Hive, a multi-sensory experience standing 17 metres tall and set in a wildflower meadow. It has 1,000 LED lights and sounds that respond to the activity of real bees and was inspired by scientific research into honeybee health, representing their role in feeding the planet and the challenges they face.
3. Kentish Town City Farm
Situated alongside railway lines – providing plenty of passing train-watching possibilities – on a four-acre site, Kentish Town City Farm has over 50 animals, including sheep, ducks, goats, chickens, geese, a pig, cow and horses. There's a wildlife pond, community gardens, a riding area and pasture areas. The farm is a local charity, open everyday from 9am–5pm, with free entry (donations welcome). During school holidays, tours of the farm, as well as the opportunity for groups of children to ride, are available. Regular pony rides for children over the age of four take place every Saturday and Sunday, weather permitting, at 1:30pm, £2 a ride.
4. Coram's Fields
With adventure play areas, sand and water play, a small animal area, paddling pool, three football pitches and a café, Coram Fields is a seven-acre gem, found in the heart of London's Bloomsbury. Between the Edwardian mansions and garden squares, the site was originally the London Foundling Hospital for 'the maintenance and education of exposed and deserted young children,' started by philanthropist Captain Thomas Coram (1668–1751). The hospital was relocated in the 1920s, leaving the land, which, following a campaign by local people and thousands of donors, was turned into London's first public children's playground. The park re-opened in 1936 under the name Coram's Fields and still thrives.
5. Go Ape, Alexandra Palace
Recently opened this summer, Alexandra Palace is now home to Go Ape, the adventure chain inviting explorers to enjoy forest canopies via a treetop rope course. In the one-hour Tree Top Junior course, children who are at least one metre tall can walk along the treetops, through tunnels, under bridges and work out a range of ladders, finishing with a 43-metre zip wire finale. Due to open shortly is the Tree Top Adventure course. Providing up to three hours of crossings and obstacles, including the QuickJump, Go Ape's first free fall activity.
6. Diana Princess of Wales' Memorial Playground
Next to Kensington Palace and set against a backdrop of trees, the playground has a Peter Pan theme with a huge pirate ship as its centrepiece. The aim of the space is to encourage imagination, physical, creative, social and educational development. Children are encouraged to create their own daring and magical tales of adventure. The park's design is specially suited for children of all physical abilities and includes a sensory trail, teepees, a beach around the pirate ship, toys and play sculptures. Entry is free, but expect queues during busy times.
7. London Zoo
The world's oldest scientific zoo first opened its doors in 1847. Managed by the Zoological Society of London (ZSL) it is a world leader in wildlife conservation, education and science. From Penguin Beach, Tiger Territory and B.U.G.S, to the African Bird Safari and Attenborough Komodo Dragon House, "London Zoo" [zsl.org/zsl-london-zoo] is an experience that will bring stories to life and give you stories to tell. Land of the Lions is the zoo's newest exhibit, covering 2,500 square metres and immersing visitors in both the wilderness and bustling high street and colourful temple of India's Sasan Gir. Look out for the rickshaws, ranger huts and life-sized truck shipped from India, emphasising how closely the people live next to the lions in their native habitat. Boundless members can save on family tickets for London Zoo.