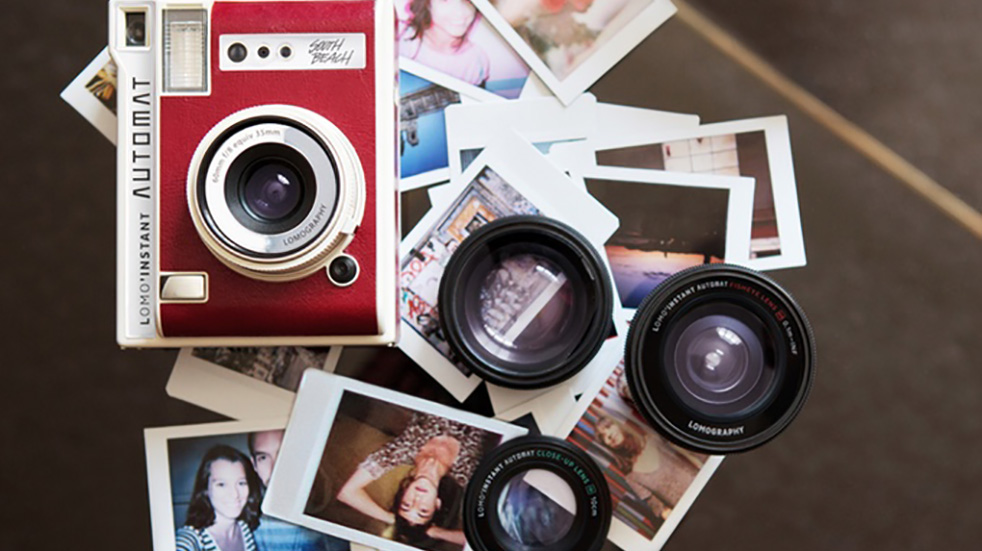 Lomo'Instant Automat
F
rom £150
If you're tempted by the instant camera revival, then this is the one to go for.
This is most advanced snapper on the market, with a unique multi-coated glass lens to reduce reflections, and the widest focal length on the market. Its f/4.5 aperture is the largest of any instant camera, offering decent low-light performance.
As with all these retro crazes for the physical artefact rather than the abstract digital file, there is a cost of course. With vinyl, charity shops are now employing expert valuers and charging 20 notes for scratched chart toppers from the 1970s. With Polaroid-style photos, you have to pay for the film – and often for the camera batteries, as well. It's retro, right?
This takes Fujifilm Instax film, which comes in 10-sheet packs, at about 75p a pop. Fortunately, the results are good. The basic model starts at £150, but it's worth paying the extra £20 or £30 for a Glass Megellan or a South Beach model with additional lenses and filter gels.
shop.lomography.com/en/cameras/lomo-instant-automat
---
Mio Slice
£110
The Mio Slice takes a different approach to fitness tracking, by monitoring your heart rate, rather than your steps.
So instead of a nominal target of 10,000 steps per days, the standard fitness tracker target, this measures your pulse, and gives you a score, accordingly – which it dubs your personal activity intelligence (PAI).
Mio, which specialises in heart rate trackers, wants you to attain 100 PAI points per week. That's the measure, and it makes a lot of sense – you get more for a 10-minute jog than a 60-minute stroll, even if your steps are equal.
It counts steps, as well – and distance, calories burned, and sleep besides. But, as its price suggests, this is a casual sort of a tracker, designed as an alternative to your average Fitbit step counter, and not a high-end piece of kit for serious athletes. As such, it works as a decent starter, even if it lacks something of the style of more established names.
mioglobal.com/en-uk/Mio-SLICE-heart-rate-fitness-tracker-UK/Product.aspx
---
Here One
£250
The gimmick here – and, in tech terms, it is a ground-breaking, earth-shaking, futuristic one – is that, with these elegant-looking little ear-buds, you can tune ambient noise in and out. Which means you can turn down the noisy builders outside, or the kids in the park, or the mad hubbub in the bar, and tune into what you are focused on – even if it's not music or a call, but the person sitting across the table from you.
It achieves this because each ear-bud contains three mini microphones that pick up surrounding noise and replay it, with zero latency, directly into your ear – which is, incidentally, completely sealed by the buds, themselves.
They are also wireless, of course – audio is transmitted via Bluetooth, which means the sound, otherwise tremendous, is occasionally patchy. It's a minor grumble, but a grumble nonetheless. The question is not like one of need; it is about how badly do you want these oh-so-covetable little dainties in your life? They're not cheap, certainly, but they are cutting edge.
hereplus.me/products/here-one-gbp
---
Nintendo Switch
£280
Nintendo likes to try things out; sometimes it gets things wrong as a result. Not here.
The Japanese gaming giant brings great flexibility to its hybrid Switch console, allowing you to change seamlessly between handheld and console game play.
In all, it comes with various parts and accessories to be used in three modes: as a handheld device, where you attach two controller portions ('Joy-Cons') to the sides of the screen; in table top mode, where the wing attachments are instead arranged as gamepad combo and the screen is propped up on a kickstand; and console mode, where the main unit is inserted into a dock, linked to a TV, and the Joy-Cons are used in combination as a single controllers, or separately for multi-player set-ups.
Ultimately, the Switch is the first device to get this combination right. The benefits of its portability outrun any loss in gaming power. This was always to be the challenge. How can the experience offered by a handheld ever compete with a dedicated console? It can't, of course. But this gets a close enough, providing a very decent TV-sized entertainment, and also allows you also to take the game on the road – on the bus or train, or into the kitchen, or even the bathroom – for the most incredible handheld gameplay available anywhere.
nintendo.co.uk/Nintendo-Switch/Nintendo-Switch-1148779.html
---
TomTom Adventurer
£270
The TomTom Adventurer is pretty garish, but it has a style all of its own – and given it's almost half the price of the latest in the fabled Garmin Fenix line, and almost as feature-packed, it's hard to argue with the it, especially if you take your outdoor pursuits seriously. I
It is a 'sportswatch', which means it packs in a bunch of dedicated tracking and training modes – for everything from hiking and trail-running, to cycling, skiing and snowboarding – as well as some handy adventure tools, such as a compass and navigation.
The watch is fairly easy to navigate – by its blocky four-way button beneath its screen – and includes a heart-rate monitor on its back-side, which presses up against your wrist, instead of your chest, as tends to be the way. But it's the addition of GPX mapping, which can be uploaded via the desktop app prior to your wilderness rambles, that most sets it apart, and will be pique the interest of off-trail adventurers.