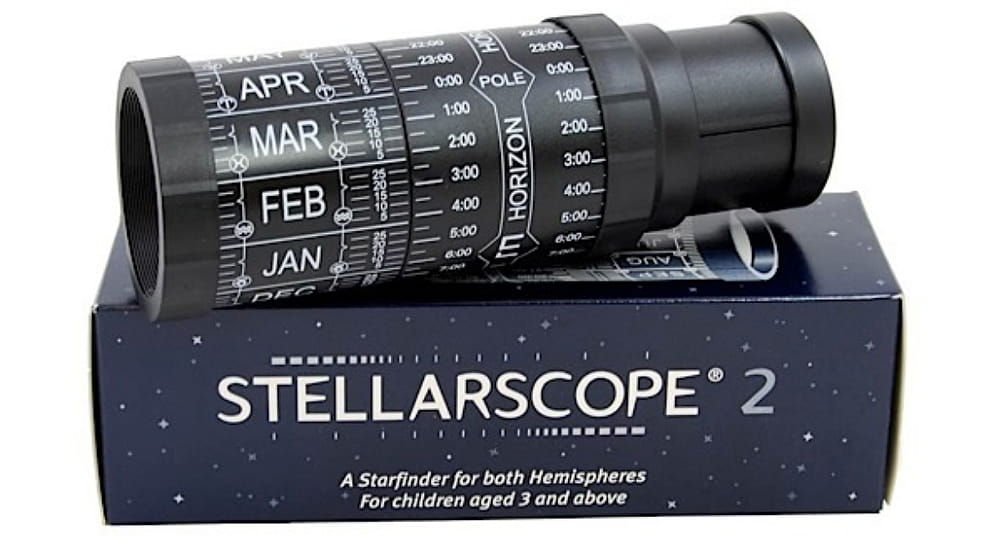 ---

1. Stellarscope Star Finder (pictured above, £30)
A sure-fire winner with young space-heads and aspiring Patrick Moores, the Star Finder allows you to locate and identify more than 1,500 stars visible to the naked eye. It's a sturdy piece of kit – it's not a plastic toy – which operates like a cross between a telescope and a kaleidoscope.
The dial around the outside of its barrel can be set to the hour and date to show a map of the stars and constellations on a computer-generated disc within. There are apps these days that perform a similar function, but this is a lovely item to own and use.
---
2. Amazon Kindle 2016 (£60)
Amazon has trimmed down its entry-level Kindle, making it marginally thinner and lighter than previous versions. They've also rounded its edges, and are making it available in white. These are marginal gains on paper, but the 30-odd grams Amazon has knocked off the weight is good news – it tells when you've got a real page-turner, which you just can't put down – and it makes it the second lightest Kindle available after the top-of-the-line Kindle Oasis.
With the tweaking of its heft and style, its portability and minimalist simplicity works a treat – and this is its ultimate appeal. Measuring just six inches across, diagonally, it slips easily into a wide inside jacket pocket. Its (touch) screen is less crisp than its pricier family members (at 167ppi, versus 300ppi), but it reads like the printed page, with minimal glare, and has great battery life (a week on a single charge) and plenty of storage (4GB for "thousands of books"). T
The one complaint is it doesn't have a built-in light. That's the real deal-breaker – it's an extra £40 for the next model up, the Kindle Paperwhite. Otherwise, this is priced well, and does the job handsomely.
---
3. Kano Computer Kit (£110)
The idea for this came after a six-year-old told its makers he wanted a computer-building kit that was as fun as Lego – so no one had to teach him. Kano is the result, a DIY computer kit based on the Raspberry Pi platform. It is aimed at everyone, but its sweet-spot is 6-12 year-olds. And it represents a genuine and exciting alternative to Lego – for kids and parents, and a chance to spend time together.
The tech specs are unimportant – it's a plug-and-play kit. The entry-model will run games, music and video, and you can upgrade and expand its parts as you develop. You don't even need a monitor – you can attach the system to a TV via an HDMI cable.
The real genius is its instant playability. Once you've slotted the brightly-coloured parts together (like a Lego set) – the motherboard, the speaker, the ports and panels – you're introduced to a desktop coding arena where you drag and drop blocks of Javascript and Python code to beat challenges.
There's nothing 'teacherly' about it – it's fun. The learning just happens, as it does in any decent classroom. "Blocks connect to classic games, like Minecraft and Pong, giving you the chance not just to play with them, but to make them anew," says its London-based maker. "It's like a magic jigsaw that generates real code."
For any parent, who worries about their kids' incessant screen time, and impulse to connect, this is a productive way to have them to engage in their digital age, and a wonderful toy in its own right.
---
4. Menkind Air-Powered Engine Car Build-It-yourself kit (£18)
Another DIY kit – this time, a model car, powered by compressed air. It's a clever concept, which doesn't require batteries, motors or chargers. The final construct goes well enough.
The challenge – and the fun, in theory – is in the building itself; it's fiddly, with lots of small parts, and instructions that should be read through a couple of times. But the build-quality is excellent – this isn't a cheap stocking-filler from a novelty shop. It will likely need adult supervision. But the educational value is good, the ride is gratifying, and the vehicle itself looks great.
menkind.co.uk
---
5. Star Wars Smart R2-D2 (£100)
Forget last year's BB8 hype, 2016 goes back to familiar droid territory, with this app-controlled R2-D2, linked to the latest Star Wars franchise. It's a fairly familiar premise.
The toy turns its head and 'bleeps' and 'blops' in response to certain sounds and movements – voice greetings, hand claps, music. You can also put it on 'guard' mode (to watch your room?), so it rings an alarm when it detects sound and movement, and control it from an app console on your handset or tablet.
More engagingly, you can use the app to "send it on missions" – fix spaceships, dodge asteroid fields, recover plans for the Death Star – and programme it to do new things, ultimately. This is the fully interactive version, which is probably worth the stretch if it's not to end up gathering dust atop a shelf, or forgotten under wizard outfits in the dressing-up box.