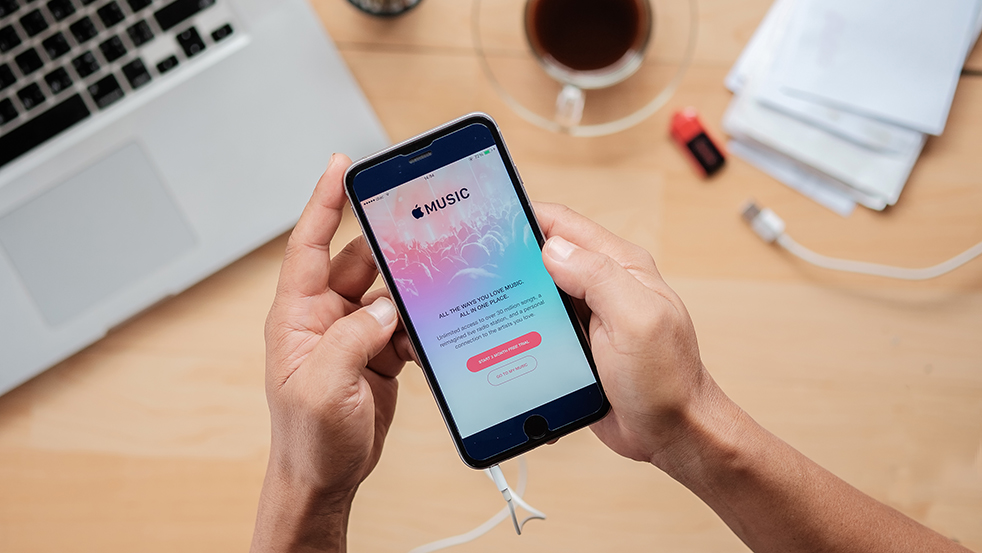 From Apple to Spotify and beyond – who offers the best sound, the biggest selection and the best value?
---

APPLE MUSIC
Users: No figures available yet.
Library: 30m
Sound: 256kbps AAC
Platforms: iOS, Mac, PC
Price: Free three-month trial, £9.99pm per user, £14.99pm family membership
What is it?
Apple Music, the new streaming service from the king of tech, only launched in June, which makes it a challenger brand of sorts. Even so, longer-established streaming sites will be looking over their shoulders. This is Apple, after all – a brand that tends to popularise rather than to pioneer, but always ends up on top. To this end it has pulled out the stops, combining a music-streaming service with a 24-hour radio station and a new way for fans and artists to connect.
What's it like?
Apple Music looks great and has some neat features: its Connect tool provides access to exclusive content from the artists themselves; its new Beats 1 radio station is fronted by big-name DJs. But much of its functionality – curated 'radio' playlists, reams of recommended listening material, picked by experts – comes as fairly standard. What sets it apart is the fact it's an Apple service. It sits within iTunes and works seamlessly. In the end, it delivers the ultimate trick of convenience. For millions, it will be a new way into music streaming. For millions of others, it all feels very familiar.
What does it cost?
Apple is offering a free three-month trial, after which it costs £9.99 per month and £14.99 for a family account allowing up to six devices.
---
DEEZER
Users: 16m
Library: 35m
Sound: 320kbps MP3, 1411kbps FLAC
Platforms: Android, iOS, BlackBerry, web player
Price: Free ad-funded service, £9.99pm premium service
What is it?
Paris-based Deezer claims to offer the widest audio catalogue of any streaming service with over 35 million songs and 30,000 radio channels. Its acquisition of radio and podcast app Stitcher late last year has seen it augment this with news and entertainment programming, with over 20,000 podcasts and radio shows now available from content providers such as Financial Times, Monocle 24 and Slate.
What's it like?
Excellent. Deezer's audio library is extensive, and looks more complete than ever with its recent additions. Its design and functionality are good; its navigation is elegant and content can be accessed from any connected device. Importantly, it incorporates decent curation and discovery tools: the Flow radio service learns your musical tastes and curates playlists according to them, based on whether you play or skip the tracks it selects; its Explore function allows you to discover new music by region and genre, as recommended by Deezer editors.
What does it cost?
Deezer is available as a free ad-supported service, allowing high-quality MP3 (320kbps) streaming interspersed with ads. Its Premium+ version removes the ads, and certain other restrictions, and is available as a 30-day trial and £9.99 per month thereafter.
---
QOBUZ
Users: 110,000
Library: 28m
Sound: 320kbps MP3, 1411kbps FLAC
Platforms: Android, iOS, Windows Phone, web player
Price: £4.99pm web-only service, £9.99pm premium service, £19.99 HiFi service
What is it?
French firm Qobuz offers a high-quality music-streaming service for purists, with tracks available to stream as either high-quality MP3 (320kbps) files or 16-bit lossless FLAC (44.1kHz, or 1,411kbps) files in CD quality. Along with Tidal, it's the only service to offer CD-quality streaming from any device. Qobuz goes further, too, offering premium users 24-bit files for download in the same quality they were recorded in the studio. To add to its rarefied air, it eschews the black art of computer algorithms and relies instead on its own experts to recommend new music. It's a distinctive offering, which is newly available in the UK.
What's it like?
Absolutely wonderful, particularly if you're interested in classical music – its song library is stronger than those from higher-profile services when it comes to genres outside of mainstream music. Labels like Chandos, Decca, Delphian and Naxos are well represented. It also does a good line in jazz, folk, blues and country, with recommend releases and playlists and a wealth of exclusive information and editorial content.
What does it cost?
Qobuz's pricing model is long-winded. The Basic service gets you unlimited MP3 (320kbps) streaming for £4.99 per month, but restricts access to its web app; the Premium service provides access via its mobile apps and costs £9.99 per month. The HiFi Classical package allows 16-bit CD-quality streaming of its classical music catalogue for £14.99; access to its full FLAC catalogue is £19.99. For a £219.99 annual fee, you also get to download tracks in 24-bit high resolution.
---
SPOTIFY
Users: 75m
Library: 30m
Sound: 160kbps OGG, 320kbps OGG
Platforms: Android, iOS, BlackBerry, Windows Phone, PS4/PS3 app, web player
Price: Free ad-funded service, £9.99pm standard service
What is it?
The big daddy of the music-streaming world, claiming more than 75 million users and more than 25 billion listening hours since its launch in 2008. Its core proposition is its free, ad-funded service, which allows full access to its music library and radio stations, splicing playback with occasional ads. A premium version offers an ad-free experience, higher-quality audio playback, plus additional controls and features.
What's it like?
Spotify remains the benchmark service for music streaming. It works well, and integrates easily with multiple devices and platforms. Social integration is strong, too; you can see what friends are listening to and share playlists. In the face of intense competition, it's also getting better – video clips and audio shows have been added to the mix for the first time, its new-start page makes recommendations based on your musical tastes and the time of day, and its new running feature uses your phone's accelerometer to select songs based on your running tempo. Apart from its sound quality, it's hard to beat.
What does it cost?
Spotify is available for free with adverts and sound quality pegged at 160kbps. A premium version that does away with the ads, bumps the sound up to 320kbps and provides certain other privileges is available as a 30-day trial and £9.99 per month thereafter.
---
TIDAL
Users: 75m
Library: 30m
Sound: 320kbps AAC, 1411kbps FLAC
Platforms: Android, iOS, web player
Price: Free 1-month trial, £9.99pm standard service, £19.99pm premium service, family membership discounts
What is it?
Owned by rapper Jay-Z, Tidal is one to watch. It offers high-quality music and video streaming, along with original editorial content, and claims to offer the artists the best remuneration package in the business. Taylor Swift, who pulled her back catalogue from Spotify in dispute over royalties, has stuck with Tidal. The forthcoming Prince album will be released exclusively via its platform. Beyoncé, Chris Martin, Jack White, Kanye West, Madonna and Rihanna all have stakes in it.
What's it like?
Good, getting better, but expensive – like Qobuz, but for mainstream music. Its catalogue has rapidly expanded to 30 million high-fidelity tracks and 75,000 high-definition videos, and it boasts a quickening flow of exclusive content. Above all, its sound and image quality are superb – on a par with Qobuz for the quality of its streamed audio, and better than Spotify and Apple Music. Tidal has some other nice touches too, not least the fact it offers a platform for unsigned artists to showcase their stuff.
What does it cost?
Tidal is available for £9.99 for its Premium service, offering standard MP3 sound and high-definition video, and £19.99 per month for its Hi-Fi service, offering lossless high-fidelity sound and high-definition video; a 30-day free trial is available before fees kick in.