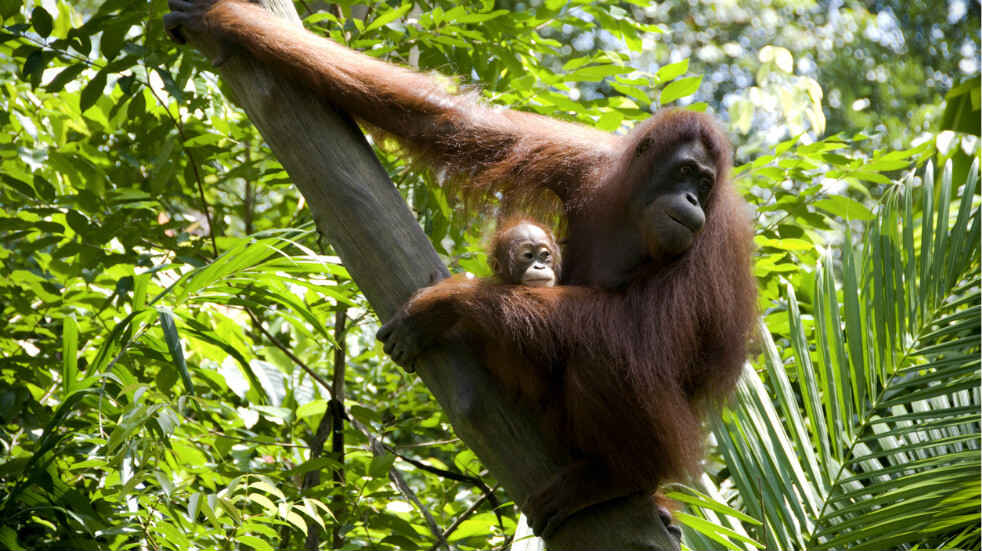 Discover the 10 best things to do close to the award-winning south coast beach resort of Bournemouth.
1. Go Ape at Moors Valley Country Park
Go Ape, located in Moors Valley Country Park, has high-ropes courses suitable for your family's little monkeys and big apes. There are 1000m of crossings, a unique double Tarzan swing and a gulp-inducing 166m-long zip wire.
There are now three treetop climbing trails, starting with Tree Top Adventure; this is suitable for kids of any age as long as they're over 1m tall. The next is Tree Top Adventure +, with a minimum age of six years and height of 1.2m. And, for children aged 10 or over, as well as adults, you can take on the Tree Top Challenge – this includes a zip wire and the twin Tarzan swing for two people.
To add to this active day out, families with children over seven stone can glide around the forest on segways. Add in the woodland playgrounds and miniature steam-train ride within the country park, this is a full outdoor adventure day.
---
Discover more to see and do on England's south coast
Find out more about the Boundless Breaks West Cliff hotel
10 of the best family days out near Brighton
The best things to see and do in Lewes
---
2. Brownsea Island
Credit: Brownsea Island © National Trust Images, Arnhel de Serra
This National Trust haven for the endangered red squirrel and the site of the first-ever scout camp is an ideal destination for wildlife-loving families. There are about 200 native British squirrels living on the island, safe from their competitive grey cousins.
Brownsea Island is also a great place for bird-spotting, offering woodland, heath and wetland habitats. Other activities to do with kids during your visit include seeing the site of Lord Baden-Powell's first scout camp in 1907 – plus you can find out about the island's military defences at the visitor centre.
The wildlife is visible all year round from the famous yellow Brownsea Island ferries that run from Poole Quay.
---
3. Farmer Palmer's Farm Park
Whatever the weather, families with young children will enjoy a day out at Farmer Palmer's Farm Park. On sunny days they can cool off in the splash zone and build castles to their heart's content in the sand playground.
Come rain or shine, there are fluffy animals to cuddle, tractor rides, pedal go-karts, bouncy castles, a play barn and pig races. And don't miss meeting the farm's herd of deer, who love eating food from your hand.
When your own tummies start to rumble, the Hen House restaurant is set up for diners of all ages: from microwaves for warming baby food and milk, through to home-cooked meals with smaller portions for kids.
---
4. Splashdown
This active day out is perfect for thrill-seeking kids over the age of six. Splashdown has 13 indoor and outdoor flumes ranging from gentle slides for beginners though to high-speed shoots, tyre rides with whirlpools and black holes. If you're more in the mood for chilling out, try the Captain's Cove jacuzzi and outdoor sun terraces.
Children must be over 1m tall to go on the flumes and cannot ride with a parent. If you do visit with toddlers, there are three splash zones suitable for under-fives. And you can buy a combined attraction ticket; if you go to Splashdown before 10.30 you can have two hours of swimming and then spend the rest of the day in the neighbouring Lemur Landings Soft Play Centre.
---
5. Sandbanks Beach
Dorset is home to many family-friendly beaches but, if you're looking for golden sand and shallow shorelines away from the town, then Sandbanks is a stunning spot for a day at the seaside. It's been awarded a Blue Flag for cleanliness and safety every year for more than three decades.
This lovely strip of soft sand runs along a spit from Bournemouth towards the mouth of Poole Harbour and is renowned for its beautiful views. Dogs are welcome on the western end of the beach.
As well as the sea and sand, there's crazy golf, a children's play area and a café for that all-important ice cream. You can also use the volleyball nets or play table tennis, and the latest addition is a slacklining area. Similar to tightrope walking, slacklining is a great way to improve your core strength and balance.
---
6. Wimborne Model Town
Feel like a giant during a visit to Wimborne's Model Town and award-winning gardens, as you walk through a 1:10 scale model of the Dorset market town of Wimborne Minster as it would have looked in the 1950s. Buildings from the town centre have been lovingly recreated, right down to the miniature goods in the shop windows. There's also an intricate model railway, and a collection of dolls' houses lovingly restored by Beryl Dade.
Pick up a fun sheet for the kids so they can search for clues among the tiny lanes and streets, test your golfing skills on the putting lawn or be dwarfed by the giant game of chess.
The model town is set among award-winning gardens, including a sensory garden and its own miniature river.
---
7. Monkey World
Sally and the boys. Credit: Monkey World
250 primates from 20 different species – gibbons, monkeys, orang-utans and chimpanzees – live at Monkey World, the rescue and rehabilitation centre, which has been working with smuggled and abused monkeys for over 30 years. There are half-hourly talks by the primate care staff, who introduce the characters they work with, or you can book onto a tour for a more in-depth look around.
You may recognise Monkey World from the Channel 5/Sky TV series Monkey Life. As well as meeting the monkeys, kids can display their own primate skills in the Great Ape Play Area – the largest adventure playground in the south.
---
8. Beaulieu Motor Museum and Estate
From the mini-motor play area to the World of Top Gear Test Track Challenge, there's plenty to keep the whole family entertained at Beaulieu Motor Museum.
Start with the National Motor Museum, where over 250 cars and motorbikes are on display, plus a special exhibition celebrating the 50th anniversary of Chitty Chitty Bang Bang.
Then take a ride on the monorail, spot cars from classic films including the James Bond and Harry Potter series, and get behind the wheel of mini cars and karts.
But Beaulieu isn't just about automobiles. Explore an exhibition about the estate's role as a top-secret Second World War training establishment and tour the grand Victorian country home and gardens. Palace House is a 'Treasure House of England', making it one of the top 10 most impressive stately homes open to the public in the country.
---
9. Bournemouth Aviation Museum
Get hands-on at Bournemouth Aviation Museum, where many of the aircraft cockpits are open to visitors. There are 18 planes and helicopters at this outdoor attraction, including new arrival a Jet Provost, plus a free flight simulator, airfield vehicles and aircraft engines to look around.
The museum is located right next door to Bournemouth Airport, so you can see commercial flights taking off while you're looking around the exhibits.
---
10. Swanage Railway
Credit: Andrew PM Wright
It's hard to find a more beautiful section of train line than the old Southern Railway route between Swanage and Norden. Swanage Railway passes through six miles of countryside and within sight of the magnificent ruins of Corfe Castle (where you can disembark if you fancy a walk around the hillside, or to explore the Corfe Castle model village). At the end of the line, you can walk down to the blue flag beach at Swanage.
Make the most of the views during your trip by sitting in the observation car for a £1 supplement. This special carriage from the 1940s was used around Dorset as well as in Scotland, and even in the USA with the Flying Scotsman – check the timetable for the days it runs.
For an extra-special treat you can also have a go at driving a steam or diesel train under the supervision of the experienced footplate team. Check the Swanage Railway website for details.
Do more with Boundless
A new addition to the Boundless Breaks collection is the Bournemouth West Cliff Hotel, just a few minutes from the town centre and famous sandy beach. With two swimming pools and a spa, a gym and stylish brasserie, there's plenty to enjoy during your stay. And as a Boundless member you'll save up to 20% on public prices.