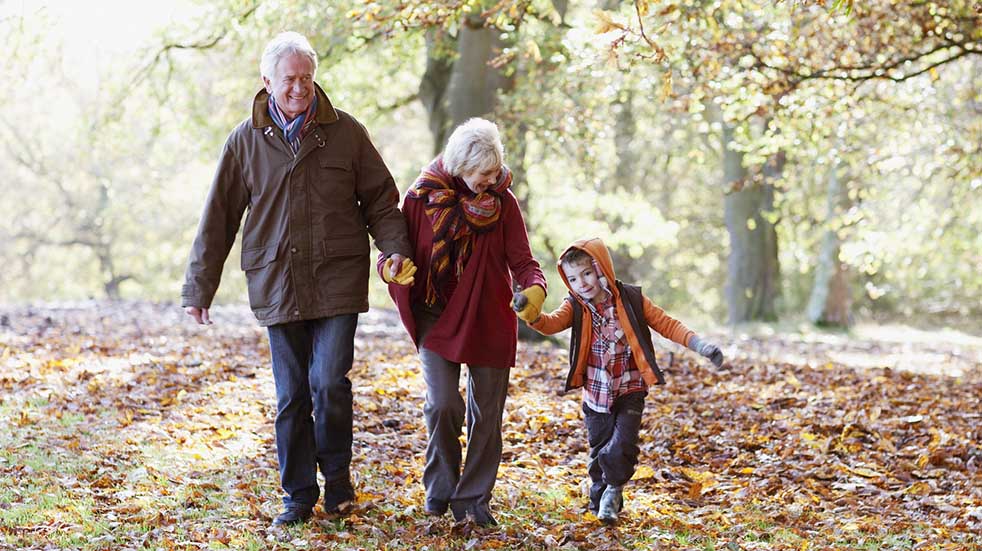 Now that summer is turning into autumn, the British landscape is changing. Up and down the country, woodland areas are being transformed into glorious collages of green, brown and gold.
These awe-inspiring natural environments provide the perfect setting for restorative walks, wildlife photography and even a spot of camping or caravanning. So it's no wonder that thousands of people take the opportunity to explore their surroundings at this time of year.
If you're keen to enjoy a UK break before the winter sets in, there are countless stunning locations in which to admire what nature has to offer. Here are just some of the nation's best autumnal hotspots, as chosen by you, the members of Boundless.
1. Be charmed by Churchill's birthplace
Blenheim Palace, Oxfordshire
Grandeur, both natural and architectural, abounds at the magnificent Blenheim Palace estate. But in autumn, the opulent mansion is outshone by its enchanting park with 2,000 acres landscaped by 'Capability' Brown in the 1760s and now planted with more than 450,000 trees. In October, mature beech, silver birch, lime, maple and oak trees blaze auburn, gold and crimson, reflected in the serene Great Lake.
To immerse yourself in this arboreal fireworks display, stroll the broad, flat paths that lead through the stately Italian Garden, tranquil Secret Garden, Water Terraces and Churchill Memorial Garden to the Arboretum for a concentrated burst of colour. "It's simply beautiful on a crisp autumn day, with blue skies, sunshine and nature at its best," says Boundless member Claire Tarrant. "Water, woods, wonderful buildings, plus a park for the children."
2. Venture into the Valley of Fire
Sir Harold Hillier Gardens, Hampshire
Credit: Mike Smith
Diverse displays reveal their wonders in turn throughout the year at Sir Harold Hillier Gardens near Romsey. Come autumn, you'll need your sunglasses for the dazzling foliage of the maples and oaks of Acer Valley, while the Valley of Fire is awash with maple, sweet gum and cherry trees, with sumach and Lindera adding yellow and orange hues.
"The summer displays are spectacular, but the transition into the softer golden days of autumn is my favourite time," says Boundless member Lorraine Lambeth. "As the russet leaves carpet the ground, the trees are bared against pewter skies in all their beauty."
• Read our guide to making the most of your local walks
3. Meander along the mountains' forested flanks
Western Snowdonia, north-west Wales
Snowdonia slopes down to meet the sea at Cardigan Bay, the lower flanks swathed in woodlands burnished gold in autumn. Boundless member Brian Paul recommends an October break here, using Porthmadog as a base – "And we live miles away in Norfolk," he adds. "Surrounded by Snowdonia and the north Wales coast, every time we visit, we come home with other things we'd like to do there."
A little east of town stretches the rare Atlantic oak woodland of Coed Felenrhyd and Llennyrch (pictured), laced with walking trails – pause beneath boughs aglow with autumn hues to spot dippers or even an otter in the babbling stream. More woodland wonders beckon along the Forest Garden Discovery Trail at Coed y Brenin. A dizzying array of trees line this gentle half-mile path, their colours transforming in kaleidoscopic fashion as the year ebbs.
More sedate are the horticultural gardens created at Plas Brondanw by Clough Williams-Ellis. He was inspired by Renaissance Italy, but the radiant foliage of the forested hills is pure British beauty. For an even more restful experience, admire woodland views from the comfort of a carriage on the Ffestiniog & Welsh Highland Railway.
4. Explore ancient oak woodland
Strid Wood, North Yorkshire
Credit: Derek Harper
At the southernmost edge of the Yorkshire Dales, Strid Wood is a remnant of ancient sessile oak forests. Now part of the Bolton Abbey estate, it stages a wondrous autumn show, says Boundless member Mike Edwards.
The vivid hues of those oaks, downy birch, hazel, beech and larch trees are only part of the magic, though: watch for roe deer, otters, kingfishers, dippers and woodpeckers, and colourful fungi that stud the forest floor in the later months each year. With its romantic ruined priory, cafés and largely level footpaths running through the woods on either side of the River Wharfe, it's a fine spot for a seasonal stroll.
• Learn how to take wildlife photos like a professional
5. Be wowed by 'Big Tree Country'
Central Perthshire
Through the autumn months, the hills around Pitlochry (pictured) – cloaked with woodlands of oak, aspen, birch, beech, oak and larch – take on the succession of traffic-light tones, from green to amber then fiery red. No wonder Boundless member William Thomson lauds the colours of central Perthshire, notably the woodlands of Tay Forest Park, easily explored on two feet – or two wheels.
From the centre of Pitlochry, saunter to the town's famous fish ladder to watch salmon leaping until late September. Continue along the bank of the River Tummel for views across Loch Faskally to its namesake forest, where you can drift through the woods to magical Loch Dunmore, another picture-perfect spot for leaf-peeping.
A little south-west, you can stride along the birch-wooded gorge, dubbed the Birks of Aberfeldy by Scots bard Robert Burns, to wonder at the Falls of Moness. If you prefer to leave your walking boots at home, you can drink in views across the wooded banks of Loch Tummel just steps from the car park at Queen's View, where you can also refuel at the visitor centre café.
6. Plot a poetic retreat
Forest of Dean, Gloucestershire
William Wordsworth knew a thing or two about natural beauty, so it's telling that a visit to the Forest of Dean moved him to pen his ode 'Tintern Abbey', with the evocative couplet: 'O sylvan Wye! Thou wanderer thro' the woods, How often has my spirit turned to thee!'
Today, the hills enfolding the River Wye are still blanketed by oak, beech and sweet chestnut bedecked with red and gold in autumn. Walking trails, including the long-distance Offa's Dyke and Wye Valley paths, reward hikers with spectacular vistas from viewpoints such as Symonds Yat and New Fancy.
There are plenty of less energetic ways to enjoy the arboreal displays, though: board the vintage Dean Forest Railway or admire more than 200 tree species from the level paths at Cyril Hart Arboretum. As an ideal base for your forest forays, Drew Alexander recommends Whitemead Forest Park, which is owned by Boundless and where members enjoy exclusive discounts.
• Discover 10 of the UK's best socially distanced days out
7. Roam regal routes
Bushy Park and Home Park, Hampton Court
England's monarchs have long treasured forests as royal retreats – and even today Hampton Court Palace is cushioned from London's sprawl by twin swathes of green: Bushy Park and Home Park. Boundless member Manjit Singh Sagoo advises an autumn visit, to admire not just the palace and its gardens but also the woody expanses nearby, criss-crossed by well-kept paths.
In Bushy Park (pictured), stroll beneath splendid avenues of mature horse chestnuts, gleaming gold then crimson in the run-up to winter. Or amble alongside the Long Water canal in Home Park, guarded by lime trees, the citrus tones of their crowns reflected in its still waters.
8. Explore alongside romantic ruins
Nymans, West Sussex
Missing international travel? Sate your wanderlust with a whistle-stop world tour through the magnificent gardens at Nymans, near Crawley. From the 1890s, the Messel family curated an extraordinary array of trees and flowers here, and it's in autumn that the wider estate, particularly the arboretum, really shines, with red oak, sweet gum and cypress donning rubicund crowns, while salvias bloom in regal purple, cornflower blue and vibrant scarlet into November.
"Try the Millennium Walk for the quantity and colours of the leaves," recommends Boundless member Alan Reader. This 2.5-mile circuit, which can be muddy after rain, traverses the arboretum and loops through bluebell woods and wildflower meadows, passing a lovely lake, cascades and monumental giant redwood.
What to look out for on an autumn woodland walk
It doesn't matter if you're eight or 80 – a walk through the forest can feel like a treasure hunt at this time of year, with a wide variety of fascinating plants, wildlife and fungi to spot. This handy guide from the National Trust details some of the things you might want to keep an eye out for. Print out a copy and carry it in your pocket, so that you can refer to it as you go.
Your book with confidence guarantee
Book your autumn stay at Whitemead safe in the knowledge that if the date needs to change, you can move it for free – and still enjoy your discount of up to 20% (terms and conditions apply). Find out more by visiting the Whitemead website.
All photos by Getty Images, unless otherwise stated