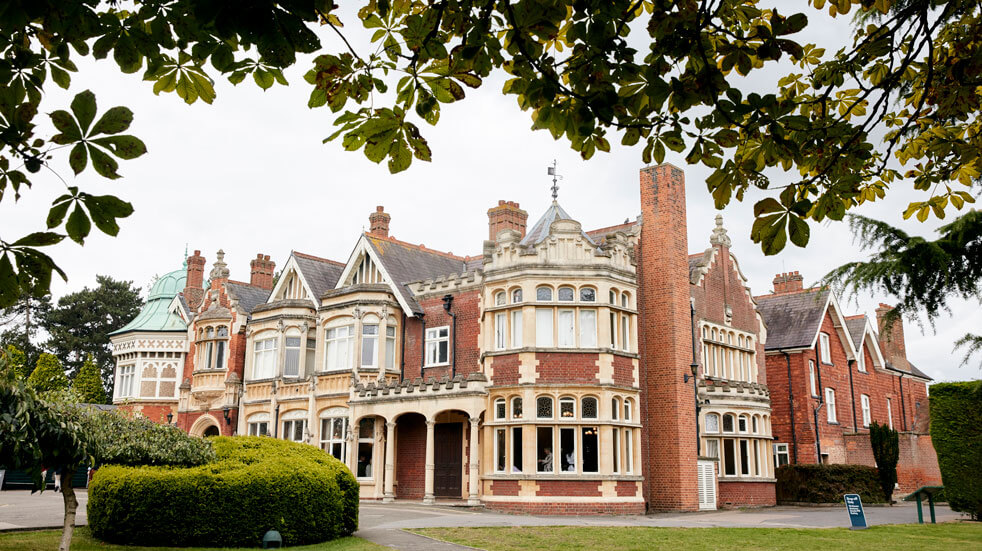 Bletchley Park was home to one of the Allied Forces' most powerful weapons, as the Boundless Social Breaks & Holidays Group discovered.
"I came here once," says Jack Whileblood quietly, looking up at the red brick facade of Bletchley Mansion, its bay windows gleaming in the morning sun. "For a job..." He tails off, deep in memories. "It had been full of people, full of life – and yet," he pauses, shaking his head in disbelief, "nobody knew it was here." He stops, suddenly aware that all eyes are on him. Can he tell us any more? "It was for a job," he repeats carefully. His lapel twinkles with discreet military pins, but it's clear that this modest Yorkshireman won't be pressed further. Some stories simply aren't for telling – and Bletchley Park certainly knows how to keep secrets.
With its elegant 19th-century manor and leafy landscaped grounds, this Buckinghamshire estate doesn't look like a vital wartime asset – yet during the Second World War it was nothing less than one of the Allied Forces' most powerful weapons. From the outside, Bletchley Park has the appearance of a genteel country club – there's a pretty little lake, and a tennis net on the lawn – but behind its closed doors, some of the greatest minds in British history quietly unravelled Nazi plans.
"Welcome to the home of the codebreakers," says Mike Chapman, one of Bletchley's many volunteer guides. "Almost 10,000 people worked here throughout the Second World War, decoding and translating encrypted messages that had been intercepted by the Allies – revealing the Axis Powers' whereabouts, their strategies, their weaknesses." On this crisp September day, Chapman is giving a group of Boundless members a tour of the grounds – a tantalising introduction to this richly storied spot.
"The intelligence gathered at Bletchley Park saved the lives of millions of people," he explains, gesturing to vast black-and-white photos of codebreakers at work. "Yet until the 1970s, it was Britain's best-kept secret. Its existence was completely confidential."
Many of the visitors with the Boundless group, such as Jack and Kay Whileblood, have come for personal motives – to follow in old footsteps perhaps, or learn more about friends' and relatives' wartime employment.
"My father was a communications officer in the Royal Navy," explains Kay Littlefield, from Chester, who has been a Boundless member for 30 years. "He was stationed in the Gibraltar Tunnels during the war and encryption was part of his everyday work – so for me, it's fascinating to see this."
Other Boundless members, like the Carr family, are simply inquisitive about the estate's top-secret and vital role in the war: "I've seen so many stories about Bletchley Park on television and in films," says Dorothy, who's here with her husband David and daughter Helen. "If it wasn't for this place, who knows what Britain would be like today?"
---
Head on more great British breaks with Boundless
Join up with the Camping and Caravaning Group
Do more with the Boundless Social Breaks Group
Take a tour of the British Legion's Poppy Factory
---
Why Bletchley Park was the perfect place for a secret base
In May 1938, Rear-Admiral Sir Hugh Sinclair – the chief of the Secret Intelligence Service – purchased Bletchley Park from a local developer, with the idea that it could become Britain's codebreaking hub. "It was perfect," Chapman tells the group. "Not only was it close to key communication cables – which gave them access to high capacity telephone, telegram and teleprinter traffic – but it had excellent road and rail connections to London, the north and to Oxford and Cambridge universities."
To crack the Nazis' sophisticated encrypting hardware, such as the infamous Enigma machines, Commander Alexander 'Alastair' Guthrie Denniston – the Head of the Government Code and Cypher School – knew that he would need great minds and Oxbridge seemed a good place to find them. "That September," explains Chapman, "a group of 150 men and women were sent here from London, with the cover story that they were part of 'Captain Ridley's shooting party'. But the rabbits and squirrels were safe – the group was, in fact, Bletchley's first codebreaking team. Little did they know how big the Bletchley codebreaking operation would become."
As the war effort gathered momentum, more personnel were drafted to Bletchley – and numerous wooden huts and brick-built blocks were constructed in the estate, serving as offices and canteens. Each hut held teams specialising in different tasks: decrypting and analysing intercepted messages from the German Army and Air Force, for example, or breaking the Enigma settings – which the Nazis changed daily – with ingenious Bombe machines.
Women were largely recruited as clerical staff or machine minders, but were hired as translators, mathematicians and codebreakers too. With their upper-class connections and linguistic skills, debutantes were particularly sought-after – though the majority of women came from middle-class backgrounds, bringing academic degrees and strong problem-solving skills. By the end of the war, women accounted for 75% of Bletchley Park's personnel – all of them sworn to secrecy, of course.
Exploring Bletchley Park's past
After the tour, the Boundless group splits up to explore the estate – much of which is filled with fascinating wartime memorabilia. In the exhibition spaces, you can pore over encryption machines, annotated manuscripts, teleprinters and more – and delve into the complex methods of codebreaking. Meanwhile, the displays of personal artefacts tell the human side of Bletchley's story – there are few photographs due to the security there.
In the main house, the library is staged as a naval intelligence office: one of Chamberlain's speeches plays on the wireless, while the desks are strewn with old typewriters, yellowing papers and woollen cardigans. It looks like the inhabitants have just popped out for a break. Next door, the old office of Commander Denniston has a leather-topped desk as its centrepiece, complete with a vintage telephone, ink pots and a teacup.
"Don't miss Hut 8 – it was home to Alan Turing's office," advises one of the volunteers, so we make our way across the lawns, where hidden outdoor speakers play the sounds of wartime aircraft, bicycle bells and the thwacks of a long-ago tennis game. This soundscape is poignant, powerful: close your eyes, and you could almost be back in 1945.
Turing, who has become one of Bletchley's most famous codebreakers, was arguably its greatest mathematical mind. Along with Gordon Welchman, he developed the Enigma-deciphering Bombe machines; he played a crucial role in cracking the Germans' seemingly impenetrable Lorenz cipher, and helped to decrypt complex naval messages – all from his cramped, dark office. Today, Hut 8 is set dressed to appear as it might have looked when Turing used it as his office – complete with a mug chained to the radiator (as he liked it).
Bletchley Park was decommissioned after the war, but its role during that time remained classified for decades – and its personnel weren't publicly honoured until 2009. Its nondescript huts became a training centre for the General Post Office, which is how Boundless members Mike and Jan Matty, from Cardiff, remember Bletchley. "We were here in this very spot in the 1970s, as GPO trainees," says Jan, gesturing to the green and grey buildings. "We had absolutely no idea of their history – you would never have guessed. When it all came out years later, I was so shocked. We had such a wonderful time here – and it's special to us now for even more reasons."
Outside the huts, in the softening afternoon sunshine, the ghost of a Spitfire roars from the speakers – and the laughter of debutantes and codebreakers dances on the breeze. "It gives you goosebumps, doesn't it?" murmurs Jan. These heroes are unseen, yes – but never forgotten.
Boundless Social Breaks and Holidays Group trips for 2020
If you would like to join the Boundless group on one of their adventures in the year ahead, the following are available to book now.
Tutankhamun Exhibition, Friday 20-Sunday 22 March
A two-night, half-board break with entry to the Tutankhamun Exhibition at Chelsea's Saatchi Gallery. From £199 per person based on two people sharing.
Oxford, The City Of Dreaming Spires, Friday 27-Sunday 29 March
Explore historic Oxford on this two-night half-board break at the four-star Riverside Oxford Spires Hotel. From £174 per person based on two people sharing.
Lovely Llandrindod – Heart Of Wales, Monday 6-Friday 10 April
Visit Llandrindod Wells for a four-night half-board superior room stay at the four-star Metropole hotel and spa in this historic town. From £240 per person based on two people sharing.
Keukenhof Gardens Spectacular, Sunday 19-Tuesday 21 April
See the Keukenhof Gardens tulip fields, with seven million bulbs across 70 acres; this half-board mini-cruise departs from Hull on P&O's Pride of Rotterdam. From £195 per person based on two people sharing.