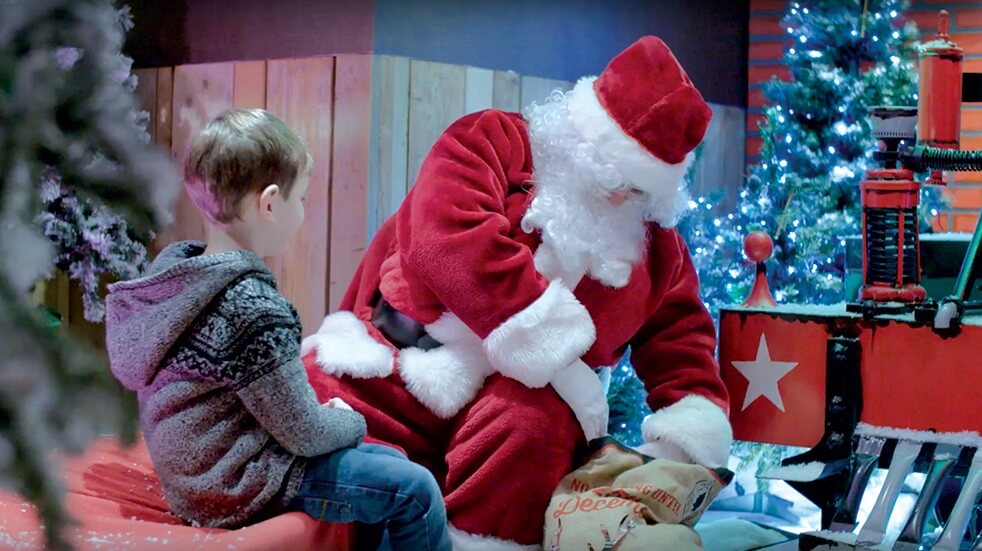 It's time to deck the halls at Whitemead Forest Park - the emphasis is firmly on helping guests make memories to treasure and nothing is too much trouble in the festive period.
Imagine this: it's Christmas Day and you're surrounded by your loved ones, feeling full of festive spirit and replete after a gourmet five-course turkey lunch. There are sounds of Christmas crooners in the background, swathes of green and gold ribbon flutter high above your head, and hundreds of twinkling fairy lights glint and glimmer in the background. Children play contentedly with gifts from Father Christmas and there's the comforting hum of chatter as extended family members catch up with each other after long absences.
Ordinarily, this festive idyll would likely be followed by a snooze in front of the Queen's speech or a long, sobering stint at the sink tackling the monumental clear-up. But not today. Today you're at Whitemead Forest Park and everything – yes, everything – has been taken care of. The only finger you need to lift is the one that will reach for that last, lonely mince pie.
If you struggle to picture yourself away from hearth and home at this most festive time of year, it's high time you reassessed. Every year, hundreds of guests descend on Whitemead Forest Park for the Christmas period, with families gathering from across the counties to convene at this beautiful wooded site in the heart of the Forest of Dean.
Indeed, it's one of the most popular seasons for the holiday park – and with expectations understandably running sky high, Whitemead's dedicated employees work tirelessly in the months leading up to it, ensuring every consideration has been made for their festive visitors.
---
Plan your perfect Christmas with Boundless

Enjoy Christmas in the wintery landscape of the Forest of Dean.
Whitemead's Christmas preparations
"We start thinking about Christmas as early as March/April, with decisions around menus and booking information" says General Manager Mandy Watkins, who has worked at the park for nearly 30 years. "And then, of course, there's the big push in November to transform the park."
The plans are now well under way. Christmas decorations, recently taken out of storage, are being lovingly cleaned and restored, one dedicated employee is in the process of updating and improving last year's grotto to create an even bigger, better seasonal spectacle, and flavour combinations are being practised and perfected so the all-important Christmas menus can be finalised. Sam Pawling is only two months into his role as Food and Beverage Manager, but already he has Christmas firmly in his sights and well in hand.
"We know this is the most important meal of the year for many people and expectations are high," explains Sam. "So, our job is to figure out just what people are expecting and to cater for that, but then to add a surprise – something unexpected that will make it extra special."
And it's not just the adults who are front of mind when it comes to planning – a great deal of care and attention goes into keeping the magic alive for the younger generation. The previously mentioned Christmas grotto is a subject of genuine pride for many of the Whitemead staff, and there are many activities that run through winter.
"We plan a special Christmas programme of activities that visitors can try during their stay," says Adam Lambert, the site's Senior Activities Instructor. "Most people think that activities only run in the summer but we've run archery in the snow before and it was really special."
Adam Lambert makes sure his elf costume still fits him.
For the site's smallest and most excited visitors, there's also the Elf Workshop where children can paint pottery, make teddy bears and create Christmas pictures. They have the chance to pen a letter to Father Christmas to make doubly sure that he knows exactly where to find them on Christmas Eve. Santa's elves are on hand to ensure everything runs smoothly, something Adam knows all about: "I was an elf last year," he smiles. And this year? "Oh, I'll definitely do it again this year. I really enjoy the teddy-making. It's lovely to see the kids walking around with the bears they've made, and how much they love them."
By late November Whitemead's transformation will be well under way. It takes just six people seven days to bring a festive flourish to the park. More than a hundred Christmas trees will be distributed around the site ("Every accommodation unit gets one," says Mandy, proudly). Decorations are meticulously chosen and polished before being carefully placed around the club house, the site's towering evergreens are lit up with warm-white lights and the driveway is illuminated with the utmost precision, guiding guests to their home for the week.
Dedicated staff
Nothing is too much trouble, Mandy explains, "because everyone cares so much about the customer experience, so everything's done to a really high standard. Decorating can even become quite competitive between Guest Services and the Food and Beverage teams…"
The dedication doesn't stop at the decorating either. Many Whitemead staff enjoy making the big day truly special for others. Nizaam Jones, who works in front of house – and is practising his Foresters hot chocolates and gingerbread lattes during our visit – sums this up succinctly: "I do miss being with my family at such a special time, but if I'm bringing joy to others, it's worth the trade. Besides," he adds with a broad grin, "we all come together as one big family here, so it's actually a great place to spend Christmas Day. We've got a great team of people right now and it really shows in the quality of the service."
Indeed, it seems that really, nothing is too much trouble. Guest Services' Scott Bullivant, who stood in for Santa in the Whitemead Christmas video last year, explains what makes Christmas at the park truly unique: "So many hotels are commercialised, but here we focus on the family aspect – on bringing people together to have fun and make amazing memories. It's all about togetherness."
Maybe it's just a little bit about mince pies, too.
Relax with family and enjoy time in the Whitemead cafe – including the special gingerbread latte recipe.
You can take a sneak peek at Whitemead Forest Park's Christmas celebrations:
All the Whitemead accommodation options will be decorated with a Christmas tree.