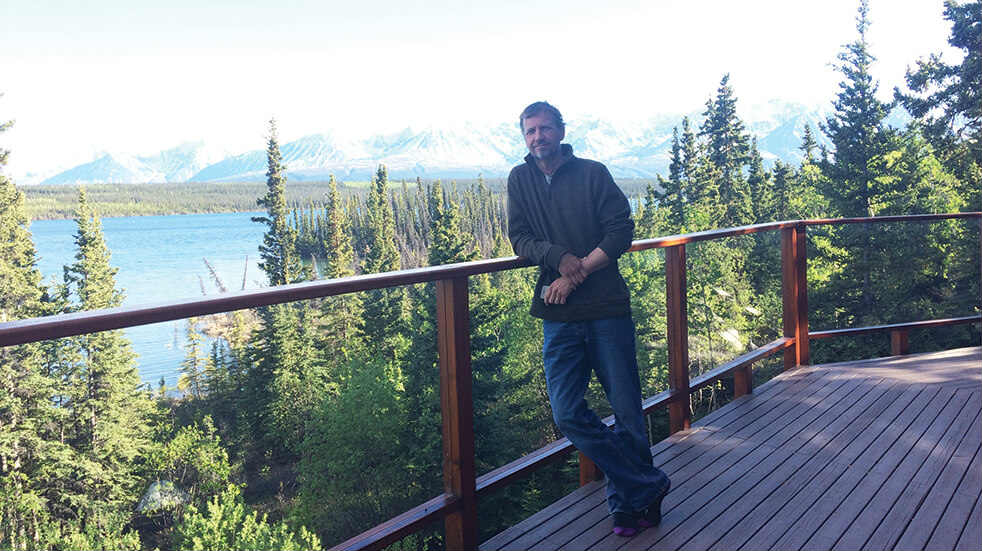 Airbnb has gone mainstream – and provides a fascinating way of exploring a destination, as Boundless member Tim De-Keyzer discovered
When I took voluntary redundancy from my job at Natural England, my wife Elayne and I decided to take the opportunity to travel. So, after a few months of planning, we set off on a six-month journey across North America, travelling up the west coast to Alaska, then east through British Columbia, the Canadian Rockies and Great Lakes. From there we headed to the east coast and to Nova Scotia, before finally heading south to Carolina.
Our aim? We wanted to experience for ourselves the wildlife and scenery of North America's great wilderness. We love walking and notched up more than 1,000 miles on our trip, hiking through primeval rainforests, up snow-laden mountains, around breathtaking glacial lakes and tumultuous waterfalls. We encountered bears galore, soaring eagles, playful otters and seals, and marvelled at the scale and splendour of the natural world around us.
Tim outside his Airbnb accomodation in British Columbia
We're not campers, and didn't want the restriction of an RV, so we decided to use Airbnb as one way to find accommodation. We had only used it once before, and that was in the UK, but we were encouraged by our daughter and other friends who had used the site more often. With over three million holiday rentals worldwide, there's no doubt Airbnb has gone mainstream.
When we set out, we expected to use motels and other accommodation as well, but we loved our early Airbnb places so much that we ended up using it 80% of the time, staying with nearly 70 different hosts over the course of our trip. Meeting these people and being welcomed into their homes became a rewarding part of our travel experience.
Airbnb provided us with the flexibility we needed on such a long trip, great value for money (averaging £67 per night) but most of all, great hospitality and the chance to meet a wonderful diversity of people while visiting some of the most beautiful places on the planet.
Here's our guide to seeing the world through other people's homes.
What kind of accommodation can you stay in with Airbnb?
There is a wide range of accommodation types to choose from, although this is sometimes more limited in more remote places. The facilities available in any location will vary enormously, but they will be clearly specified in the listing on the website. We always knew what we were getting, and found that our expectations were often exceeded.
We stayed in some self-contained places, with private access and a full kitchen and bathroom; and in some more rudimentary places, such as a remote log cabin with more basic facilities.
Where possible, we would usually opt for a room in the host's house, as this was the best way to get to know them – and any pets they might have (we missed our own dog). Some hosts have restrictions, pets and smoking being the most common – but these will be clear in their listing. And there are usually places suitable whatever the size of party, from single travellers to families.
Tim found a stunning place to stay in Jackson, Maine
What kind of people are Airbnb hosts?
One of things we enjoyed most about Airbnb was the invariably warm welcome we received from our hosts and how quickly they made us feel at home.
The hosts we experienced were without fail respectful of our space and we never felt under pressure to spend time with them – but we loved getting to know them, and the chats we had about our travels and life in general.
Many of them went above and beyond in their hospitality, treating us to lovely home-cooked meals, sometimes giving us lifts to inaccessible walking trails or helping us to plan our onward journey.
Thanks to tips from our hosts, we visited unspoilt places off the beaten track, we discovered free music festivals, enjoyed great local eateries and microbreweries, and avoided major road detours.
When you choose self-contained accommodation, it's likely that you will see less of your host – although we always found it easy to make contact with them if necessary.
How do you plan an Airbnb trip?
You need to create a profile and set up a payment method on Airbnb before you can use it. We booked very popular locations, such as national parks, up to six months ahead, but in most places a few days ahead was sufficient. A smartphone, the Airbnb app and internet access is all you need, and most Airbnb places we stayed had Wi-Fi access.
Airbnb will add local taxes (if applicable) and its own service fee to the initial price you see, so check the full price before confirming the booking. Payment is taken when a host accepts your booking request, but an immediate full refund is made if they cancel it. One of Airbnb's strengths is the two-way review process, which provides a helpful reference for both guests and hosts and quickly highlights any problems with either. We didn't encounter any situation where we were concerned about our safety or privacy.
How to become an Airbnb host
As Airbnb has grown, thousands of new hosts have started welcoming travellers into their homes and earning a little extra income. Manchester Airbnb host Clive Pyott explains how to get started and what you need to know.
"Being an Airbnb host is like opening your door to unknown friends. My son Joshua (pictured with me below) loves welcoming guests and showing them their rooms, he is learning so much from them. It's definitely a pleasure I'd recommend – I don't have so much time to travel right now, but it's a great feeling to have travellers coming to us. It's easy to use and a refreshing change to the old way to travel."
To find out more about using the service as a guest or host, visit
airbnb.co.uk