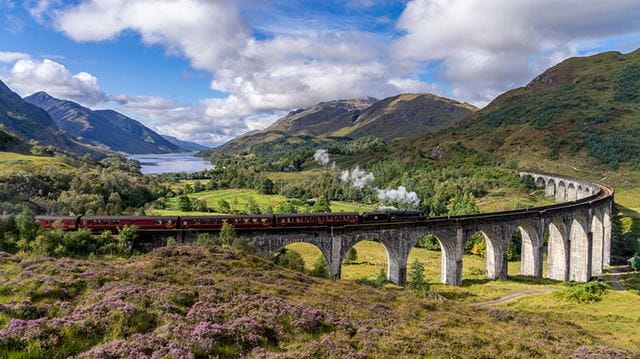 As a nation, we love trains: they're in our blood. Rail journeys in the British Isles come in all shapes and sizes, and while you can't actually climb on board right now, there's no reason not to make plans for when you can – so here are some ideas to get you on track.
The playwright Stephen Poliakoff once eloquently summed up the unique nature of train travel, saying that one of its joys is the way countryside rolls past the window like a film at the cinema.
And Edna St Vincent Millay, who won the Pulitzer Prize for Poetry in 1923, wrote in her poem Travel: "Yet there isn't a train that I wouldn't take, no matter where it's going."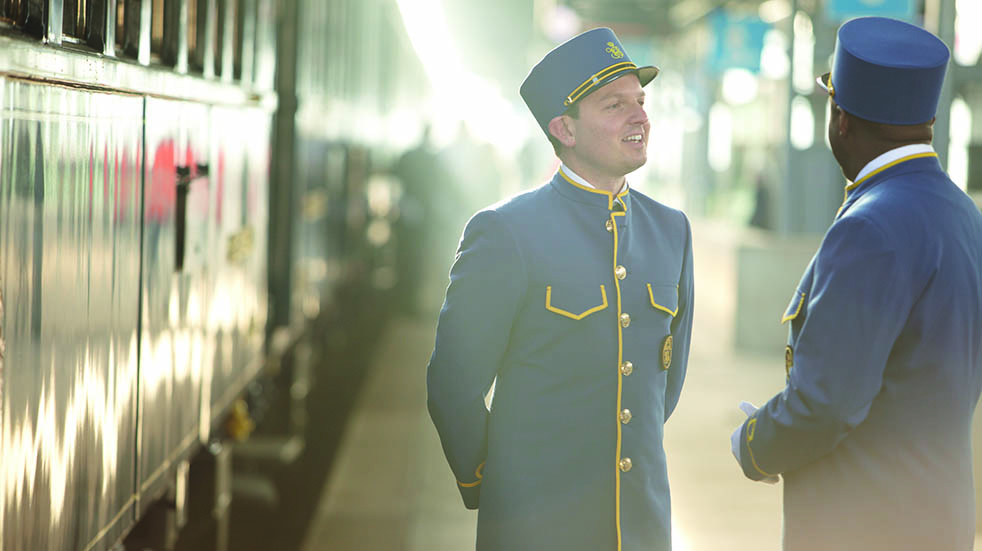 Photo: Belmond
How many people have felt like that about a car or plane journey? Strap-hanging on a commuter train aside, train travel retains an aura of romance and provides the most relaxing and pleasurable way to experience landscapes. It's also the most sociable way to travel.
And more people are doing it: there has been a huge increase in the number of train-based holidays, as well as regular journeys, in the last two decades – partly to provide an alternative to flying. There are myriad ways you can incorporate railways into your holiday plans – here are some of them.
Luxury train travel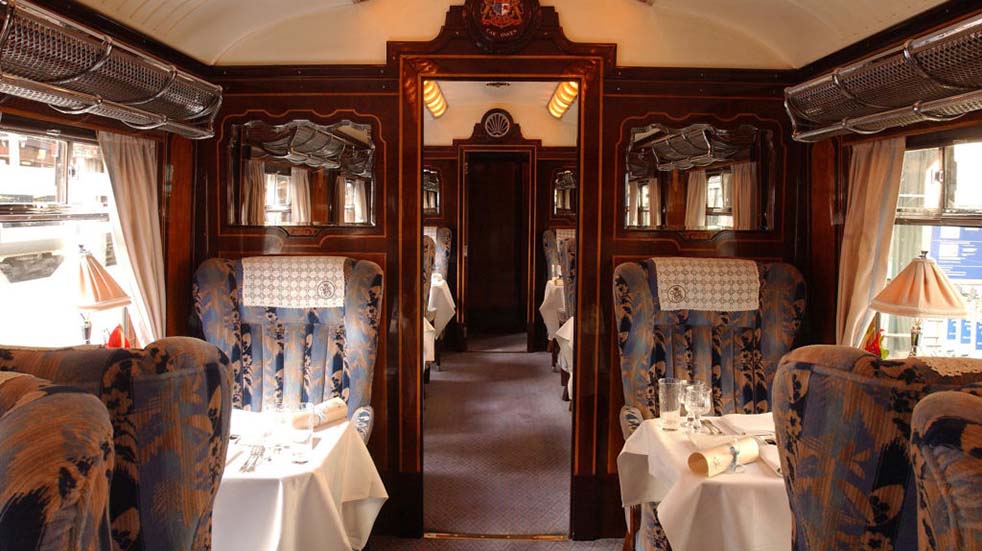 Photo: Belmond
The glamorous stardust of Belmond's continental Orient Express (above) has been sprinkled over two 'hotel on wheels' trains in the British Isles. The elegant dark blue coaches of the Orient Express provide an authentic inter-war experience of train travel – which means for ablutions, you have only a discreet washbasin hidden in a cupboard in your compartment.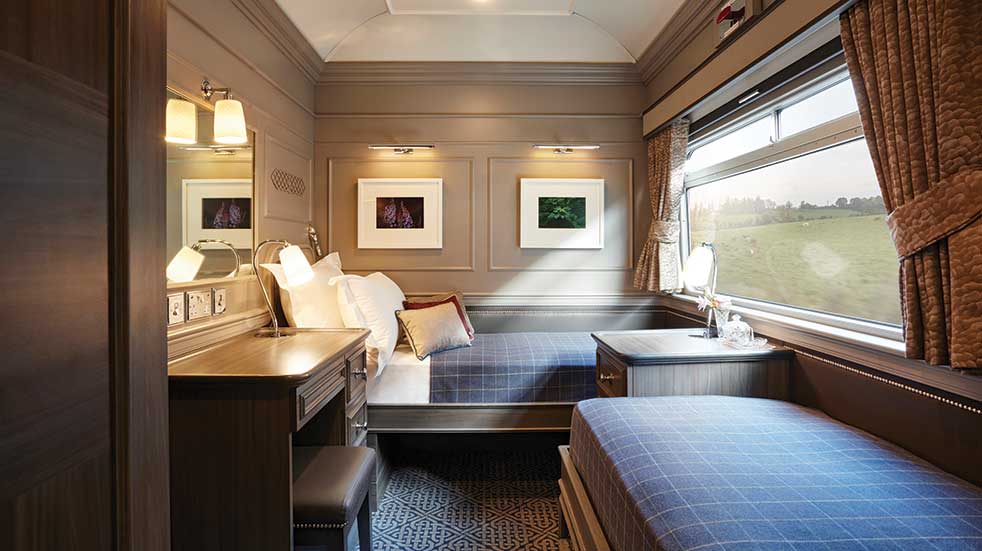 Photo: Belmond
No such authenticity affects the Royal Scotsman and the Grand Hibernian (above), the sumptuously appointed trains that cruise Scotland and Ireland respectively. Their elegantly designed cabins have en-suite showers and loos, and the social hubs of the train, the lounge and bar cars, have an observation platform for bracing air and glass-free photography. The Royal Scotsman even has a spa car.
Day excursions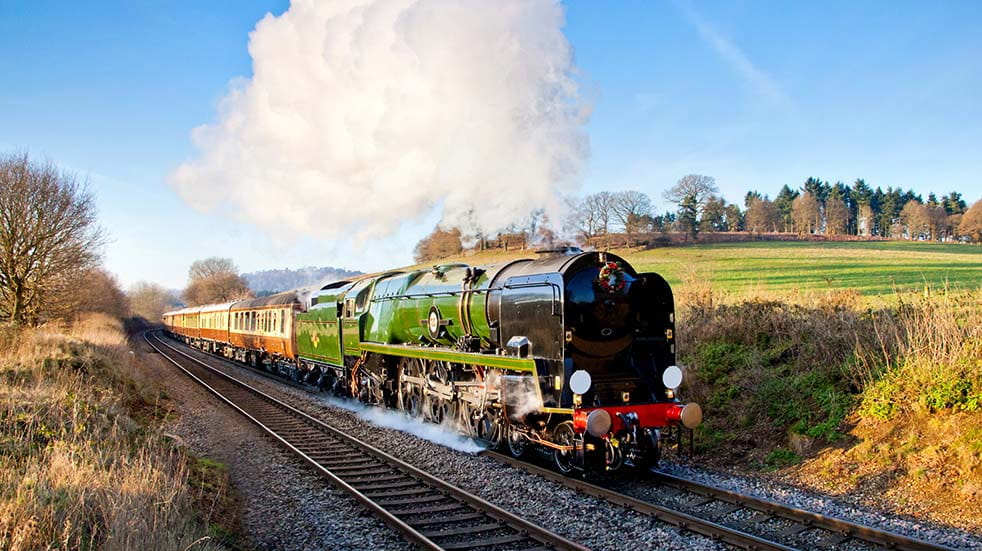 Photo: Getty Images
No less luxurious is Belmond's day train the British Pullman, made up of refurbished umber-and-cream coaches that once ran on services upholding the quality standards that George Mortimer Pullman made famous around the world. Departure stations include London Victoria, Truro and Penzance. As on all Belmond's trains, it is nothing short of miraculous that the tiny galley kitchens can produce such haute cuisine fare, served with style.
Hundreds of excursion trains to historic and seaside towns are operated by various other companies, some using steam traction and most offering the kind of dining experience that is only a memory on national rail services. Scenic routes are chosen wherever possible, such as the Settle–Carlisle or the Heart of Wales lines.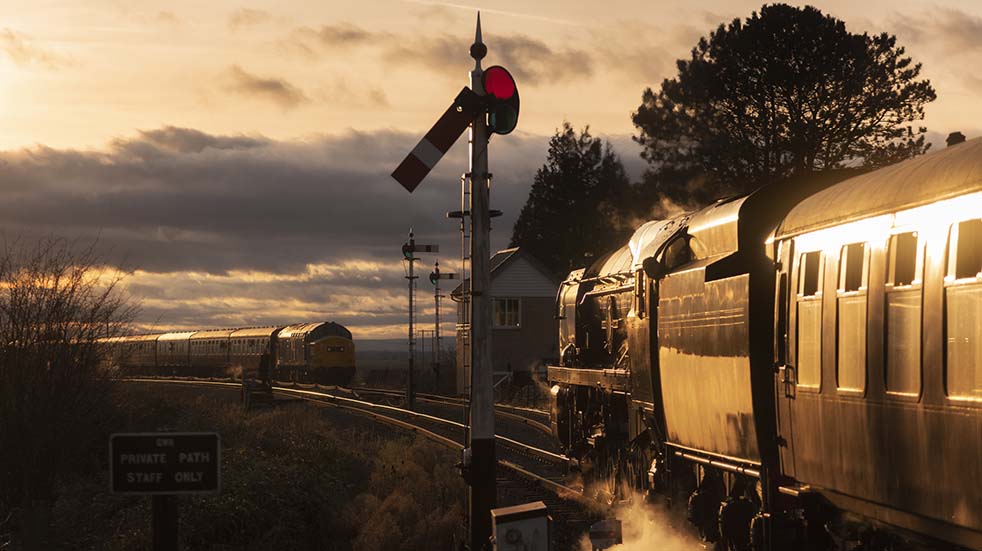 Photo: Getty Images
Steam Dreams offers day trips from London terminuses and cities and towns in the south of England. Pathfinder Tours organises dozens of day and weekend tours from stations broadly in the south-west and Midlands, though they stretch as far east as Reading. The Railway Touring Company's steam-hauled trains begin at over a dozen English and Welsh stations.
Saphos Trains departures from the north-west and West Country, while most of Vintage Trains' excursions begin in the West Midlands and include the Shakespeare Express, a regular summer Sunday service between Birmingham and Stratford-upon-Avon.
Heritage railways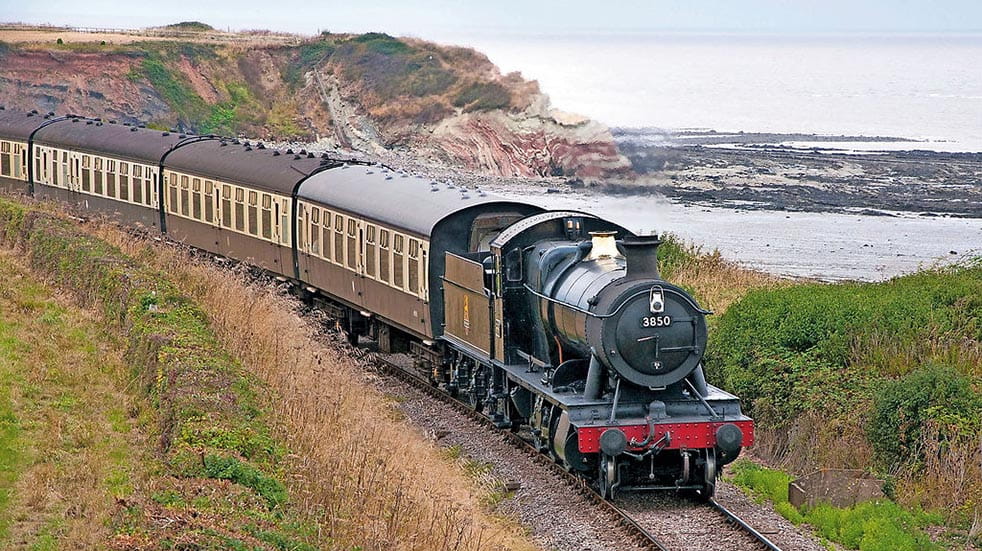 Photo: Getty Images
There are almost 200 heritage railway and tramway attractions around the British Isles, ranging from long miniature railways such as the Bure Valley in Norfolk to the 20-mile standard-gauge West Somerset Railway (above). Many of these railways offer the experience of stepping back in time and travelling in 19th-century carriages.
Besides the visceral sight and sound of steam trains, some provide useful transport through connections with the national rail network, such as the Swanage or North Yorkshire Moors railways, along with the various narrow-gauge lines that thread the Snowdonia National Park.
Rail-based holidays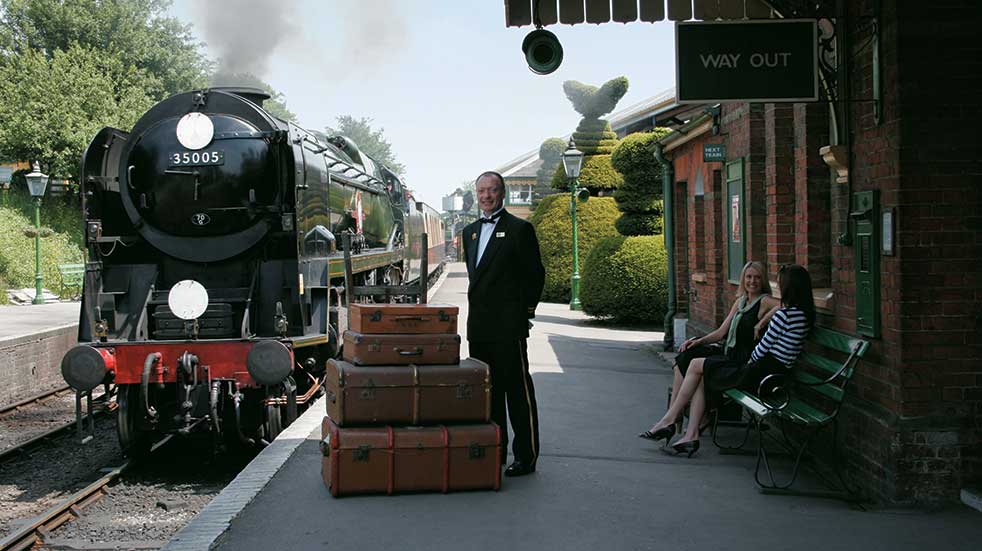 Photo: Belmond
A growing number of travel companies are offering holidays that avoid flights, and a few specialise in itineraries based around scenic railways and escorted by an experienced tour manager. Rail Discoveries is offering 36 tours of between four and 17 days around the UK and Ireland in 2020 – all take in at least one heritage railway or scenic national rail journey, but most rely on coaches for other visits, so the rail component can be quite small.
Offering a high standard of accommodation, most of Great Rail Journeys' 27 escorted holidays this year, lasting from five to 14 days, offer numerous departure dates. They also use coaches for parts of the itinerary, but take national rail journeys as well as heritage railways wherever feasible. Railtrail's 29 escorted holidays (four to 12 days) follow a similar pattern, as do Ffestiniog Travel's four UK and Irish tours, one offering the chance to drive steam and electric trains on the Isle of Man.
Tailor-made holidays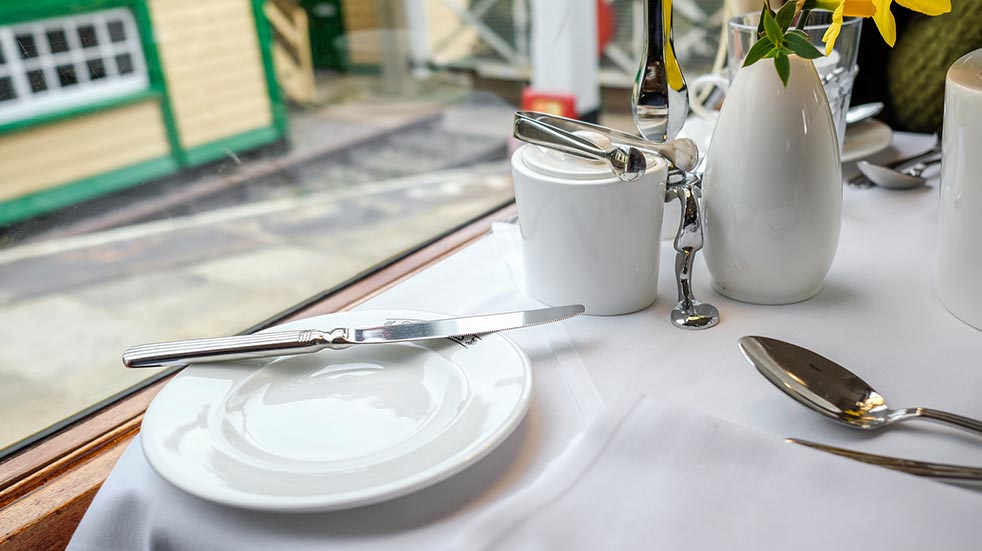 Photo: Getty Images
Websites make it easy to arrange independent holidays, tailor-making your own itinerary with greater use of rail travel, perhaps using one of 90 regional, local or line passes to save time and money.
There are innumerable scenic lines all over Britain and Ireland, many supported by community rail partnerships that look after stations and their gardens, arrange and promote walks from stations and foster a sense of local involvement in the places they serve.
Scenic Rail Britain has a fund of ideas about what to see and do from individual stations. If you want someone else to arrange everything for you, Ffestiniog Travel can devise and book national and worldwide rail-based tours around individual interests.
With all these options – and that's just the British Isles – why not get your holiday plans on track?
Five of the best railway-based novels

Photo: Getty Images
La Bête Humaine
Throughout Émile Zola's tale of infidelity, jealousy and revenge, his naturalistic storytelling brilliantly captures the atmosphere of the steam railway in what is possibly the most gripping of his novels.
Murder on the Orient Express
This surely requires no introduction but did you know that Agatha Christie relished her trans-European train journeys to archaeological digs in the Middle East?
Strangers on a Train
Alfred Hitchcock's famous screen adaptation may be better known but Patricia Highsmith's 1950 thriller is a compelling read.
The Signalman
Dickens' short ghost story, published in 1866, dramatised by the BBC in 1976 and usually screened over Christmas.
The Railway Children
Though written for children, Edith Nesbit's classic can be enjoyed at any age.
National Rail tips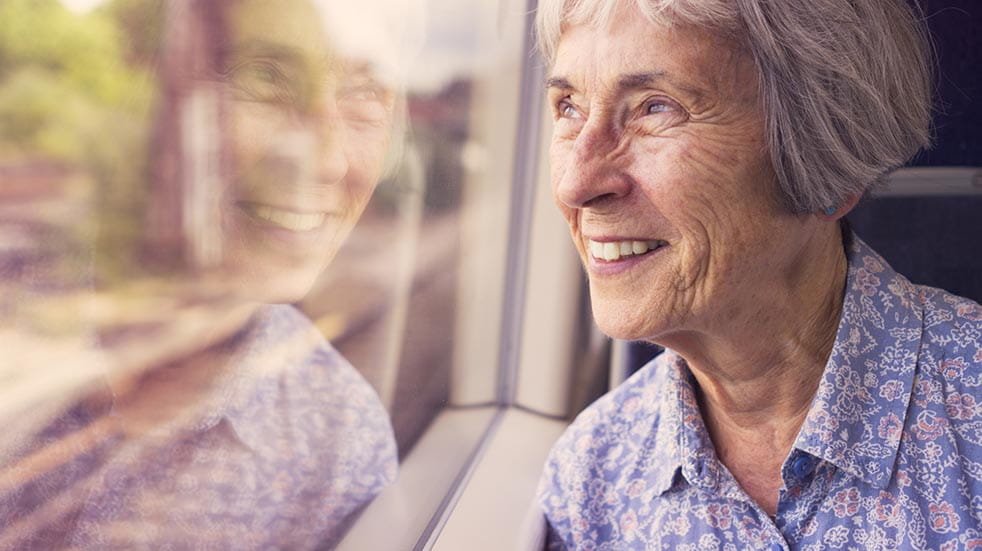 Photo: Getty Images
• Buy in advance for off-peak trains and the price may be a pleasant surprise. The best way to save is with a railcard (16–25, Senior, Family & Friends, etc); their cost can be recouped in a couple of journeys.
• An end to the anomalies and potential savings of split tickets is promised but, until then, check possible savings here
• If you're travelling in one area over several days, look at the local and regional rail passes on offer at Rail Rover, which arranges them alphabetically or by area. These can save you money as well as the time spent buying individual tickets.
• Download the free National Rail app. It gives timetable and real-time train running information and even tells you the platform number you need.
Four of the best UK rail trips
Photo: Getty Images
These two narrow-gauge railways thread the wild mountains of Snowdonia and provide the most relaxing way to appreciate their beauty. The Ffestiniog's (from £26.40 return) purpose was to carry slate from the quarries at Blaenau Ffestiniog down to Porthmadog, while the Welsh Highland (from £43 return) runs from Porthmadog to a striking new station a stone's throw from the walls of Caernarfon Castle.
Steam locomotives from South Africa haul the Welsh Highland trains through the majestic gorge of the Aberglaslyn Pass, while the Ffestiniog still has its 19th-century veterans, supplemented by more recent replicas. The intermediate stations provide access to fine walks – and don't miss a visit to Llechwedd Slate Caverns. Full-distance tickets can be booked ahead.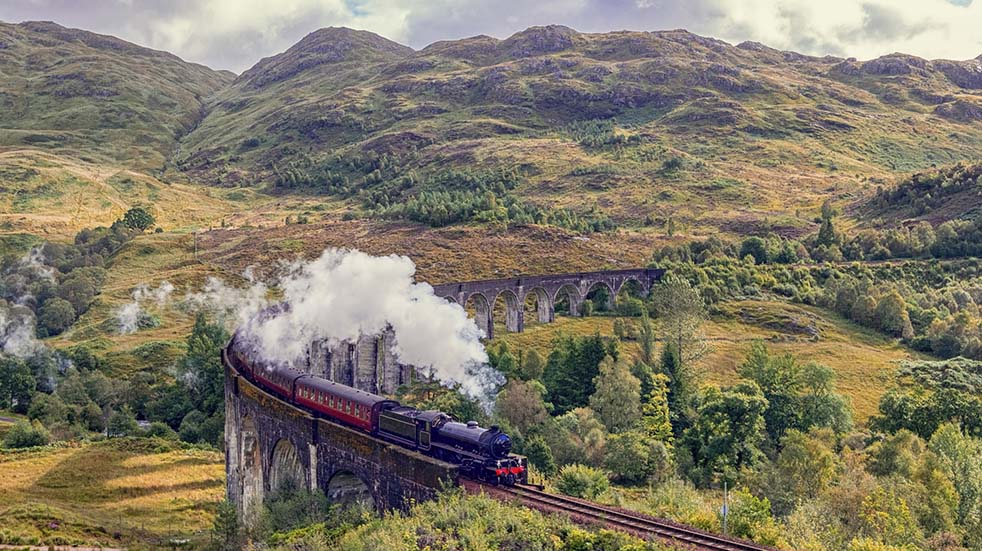 Photo: Getty Images
The line from Fort William to Mallaig is one of the most celebrated stretches of railway in Britain, used as a scene during Hogwarts Express journeys in the Harry Potter films and by a spring-to-autumn steam train that supplements the service trains. Leaving the shadow of Ben Nevis, The Jacobite (£43 return) skirts the water of Loch Eil and climbs to the familiar curve of the Glenfinnan Viaduct, with views over the monument to the disastrous 1745 Jacobite uprising.
Glenfinnan's station is a good place to break the journey, with its small museum and summer café. Inland views across mountains dotted with sheep pounds and stone cottages vie with seaward panoramas over the Small Isles of Muck, Eigg and Rum, the water often an emerald green.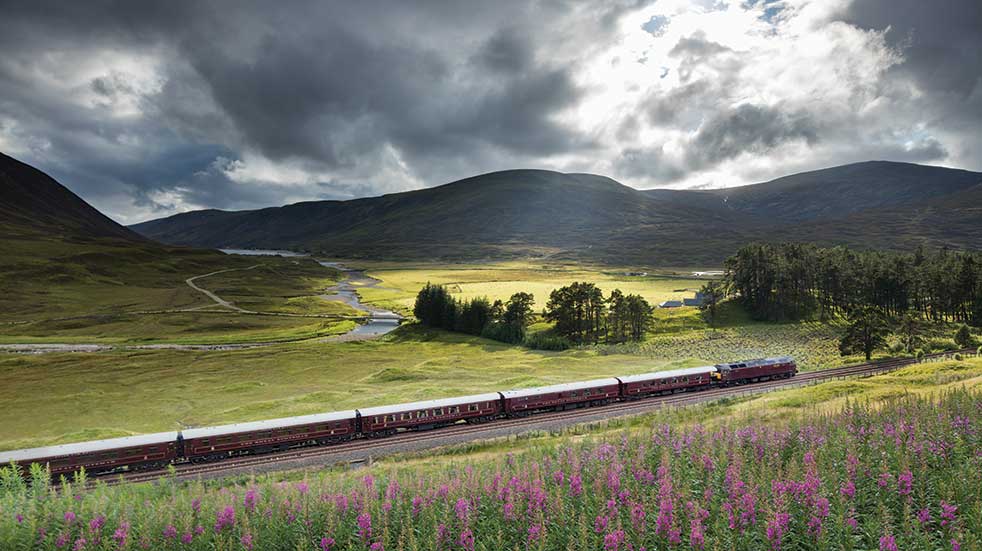 Photo: Belmond
The company that has become a byword for quality train experiences has translated the skills derived from running the Venice Simplon-Orient Express to three trains in the British Isles. The British Pullman (from £235) offers a programme of day excursions to cultural sights and events with sumptuous meals en route.
There is no more luxurious way to enjoy Scotland than the themed cruises aboard the Royal Scotsman (from £2,850), with lounge and bar car as well as opulent dining cars. Themed tours focus on food, scenic splendours, whisky and heritage homes and gardens. The Grand Hibernian (from £3,300) tours Ireland for up to seven days with similar themes and the same level of comfort and facilities as its Scottish counterpart.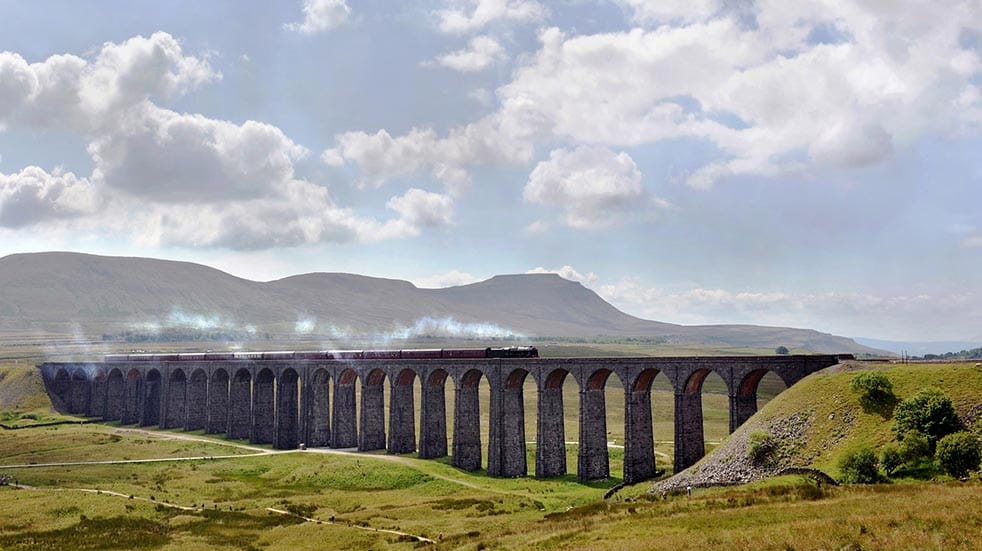 Photo: Getty Images
Travelling this magnificent railway (£29 return from Leeds to Carlisle), it's hard to believe it came within a whisker of being closed. These days, it takes freight off the roads and carries hundreds of thousands of passengers every year to enjoy the dramatic hills of the Yorkshire Dales.
Summer and winter, most trains have a complement of booted walkers bound for the many hikes across the fells from stations. The stationmaster's house at the southern end of the Ribblehead viaduct is now a holiday cottage, with only the nearby Station Inn for company. Moorland scenery and the peaks of Ingleborough and Wild Boar Fell give way to pasture and stone-walled fields as the train drops down the Eden Valley towards journey's end at Carlisle.
Have you been on any of these rail journeys? Tell us about your experience on Facebook or Twitter.