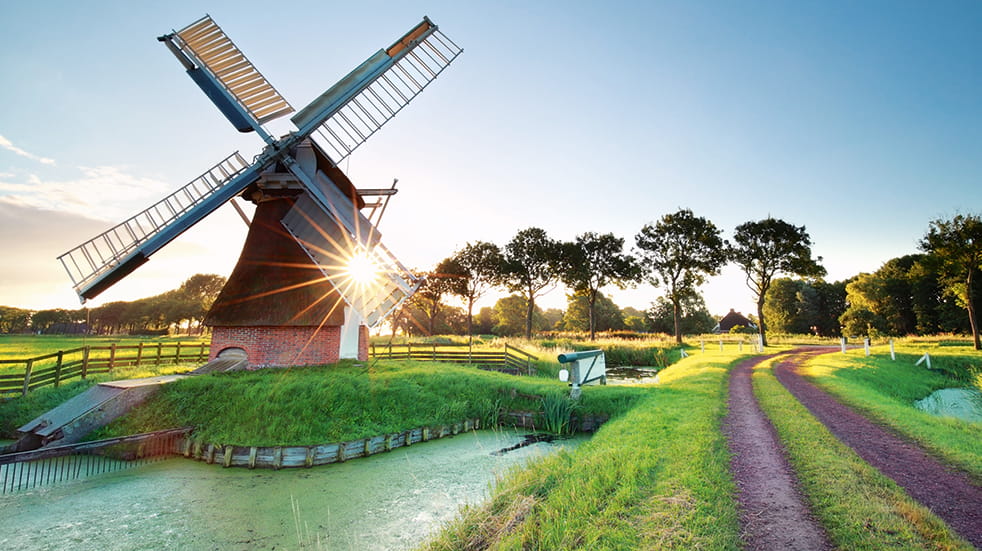 Why should you choose a ferry to travel for your next holiday or short break? Visit France, Belgium, Holland or beyond, from a short trip across the Channel.
With the armistice anniversary commemorations still ringing in our ears, and Normandy's plans to mark D-Day's 75th anniversary this summer in full swing, northern Europe is at the forefront of our minds. And if military history doesn't entice you, there's always the temptation of exquisite food, fantastic scenery and mind-expanding culture.
Ever-popular Europe tops the list of places we plan to visit in 2019, according to the latest ABTA Holiday Habits Report – if it's on your list, why not forget about airport queues, baggage restrictions and cramped airplane seats and travel with award-winning DFDS ferries instead?
With four routes from the UK to Europe and up to 62 sailings daily, there are plenty of affordable, flexible options to choose from. Will you book a mini cruise, a city break, or use your landing port as a springboard to explore Europe on a self-drive or cycling adventure?
That's one of the beauties of ferry travel; it gives you the freedom to travel with your own vehicle and embark on a touring holiday if you'd like to explore further afield.
With four ports to choose from, there are countless opportunities to tailor a break to suit your wishes – and whichever you choose to sail to, you'll get there in comfort and arrive relaxed.
Dover to Dunkirk
It's just a two-hour crossing to Dunkirk, which is steeped in history with its War Museum, collection of French art at Musée des Beaux-Arts and UNESCO World Heritage site with views over the harbour. It's also only six miles from Belgium, so it provides a handy route into Germany, Holland and beyond, too.
Dover to Calais and Newhaven to Dieppe
These ports lead you to the Normandy coast, where you might choose to explore the region's cheese and cider route, tour the historic beaches or journey further south – Paris is just a couple of hours' drive, or you could head all the way down to the Riviera.
Enjoy the view of Etretat in Normandy, from the neighbouring cliffs.
Newcastle to Amsterdam
An overnight crossing (or a mini cruise) will take you to this charming city for a mini break, or you can use it as a gateway to Belgium, Germany, Luxembourg or France, with limitless opportunities for exploration. Brussels, Bruges, Cologne and the Rhine Valley are three hours away or less.
Explore the picturesque canals in Amsterdam when you take a ferry from Newcastle.
Why choose a DFDS ferry?
Each ferry offers many on-board facilities including a shop, restaurants, bars and a children's play area. On the overnight crossings to Amsterdam, there's a cinema, casino and nightclub, too, as well as a wide selection of cabins ranging from budget to luxury, with disabled access and pet-friendly options.
Travelling this way means that you avoid all the stresses that come with air travel – the airport parking, queueing, baggage restrictions and cramped seats on the plane. Instead, you can relax in comfort on the ferry, stretch your legs, choose where to stop for a meal, drinks or snacks, and enjoy fresh air on the deck. With all of these fantastic facilities, you can enjoy that holiday feeling from the moment you step onboard.
Sailing with DFDS also means you can go on to enjoy the freedom of a self-drive holiday, with a car, caravan, motorhome, motorcycle or bicycle. It's time to set sail…
Boundless members save 10% on ferry crossings with DFDS
Visit our exclusive DFDS discounts page to find out more.
DFDS been voted Europe's Leading Ferry Operator for the seventh year running by the World Travel Awards – and it's also currently the World's Leading Ferry Operator. These are awards that recognise its dedication to customer service and top-notch facilities.
Established over 150 years ago, DFDS offers ferry crossings, mini cruises and short breaks across the continent, from the UK and western Europe to Scandinavia and the Baltics.