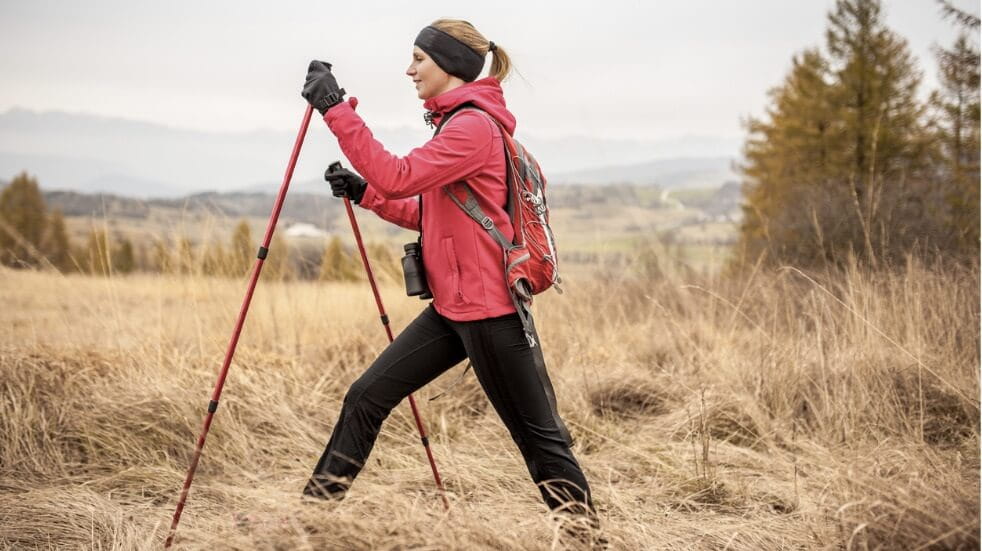 Not only is Nordic walking good for you, it's fun too – find out what the many health benefits are and how to get started.
Nordic walking can vary from a gentle march to a heart-pumping, arm- and leg-burning, full-body workout. Done correctly, it can burn around 40% more calories than normal walking. It involves the entire body, not just the legs, so no single muscle group gets stressed or over-worked. Enthusiasts say it uses 90% of the body's skeletal muscles, compared to swimming (35%), or running (70%).
Getting started
The only specialist equipment needed is extendable poles with a slim hand-harness. They have a small plastic boot, called a paw, which fits on the pole's sharp tip. On pavements or hard surfaces, the paw reduces noise, while the tip is good for grip on grass or soft surfaces.
Next comes the art of walking in a straight line, dragging the poles behind you. Marching with poles beside and behind makes for better posture and balance, and encourages walkers to look up, not down.
The only specialist equipment you need to start Nordic walking is a pair of poles.
A brief history of Nordic walking
Nordic walking started in Finland, when cross-country skiers realised they could adapt their winter fun to a snow-free environment. It wasn't just strolling or casual wandering, it was a work-out, striding vigorously and exercising the upper body and arms by using poles.
The technique soon spread through Europe and to North America, and has been a fixture in Britain for a decade. The benefits are tangible: increased fitness through low-impact exercise, simplicity of equipment and the social aspect.
Members of the Boundless York Group try Nordic walking.
What are the benefits of Nordic walking?
Nordic Walking UK claims it is the fastest-growing fitness activity in the world, with more than ten million participants globally. Because it is low impact, it can be enjoyed by all ages and fitness levels.
As the arms take more of the strain, a lighter load is placed on the knees and other lower body joints, which has made the activity popular with more mature outdoor enthusiasts.
Among the other claims made for Nordic walking are that it can strengthen bones, combat the effects of osteoporosis, reduce neck and shoulder tension and alleviate symptoms of repetitive strain injury. It can also combat stress, depression and other mental health problems.
To find a qualified Nordic walking instructor near you, see British Nordic Walking or Nordic Walking UK.
---
5 more ways to keep fit
1. Zumba
If you like to dance, you'll love Zumba. This aerobic workout mixes fast footwork and body movements from salsa, flamenco and other dances to sculpt your body and burn fat. When you're moving to the Latin beats, you won't even notice that you're toning your abdominals, thighs, glutes and arms.
---

2. Roller blading
Roller blading (or in-line or ice skating) is a great alternative to running because it's easier on the joints. Plus, it's a good aerobic workout that tones the lower body and builds leg strength. Try it in parks, on canal towpaths or cycle paths.
---

3. Electric bike riding
It's as easy as riding a bike... in fact, it's easier, with assistance from an electric battery. The beauty of an eBike is that you can make it as physical as you like: use a lower mode to burn calories and exercise muscles, and switch to a higher mode to climb a hill or take a break.
---
4. Fencing
If you want a fast-paced workout and you love to compete, sign up for a fencing class. Like a physical chess match, where you anticipate your opponent's next move and react to it, fencing is an exciting mental and physical exercise. It burns calories, improves speed, flexibility and coordination and tones muscles, too.
---
5. Pole fitness
You may raise a few eyebrows if you mention it in the pub, but pole dancing – in a class, and wearing gym kit – is a fun way to get fit. It builds upper-body strength as you lift your body off the pole, toning your arms and shoulders and improving posture. Classes can also incorporate dance moves and a floor routine for the lower body.
---
Boundless is here to help everyone make the most out of their free time. We have lots of ideas for how to relax and unwind during well-deserved time off, inspiration for fun days out and short breaks, and ways to save on events and experiences that will create unforgettable weekends for everyone.
To find out how Boundless can support your health and wellbeing strategy, contact our team today: atwork@boundless.co.uk.