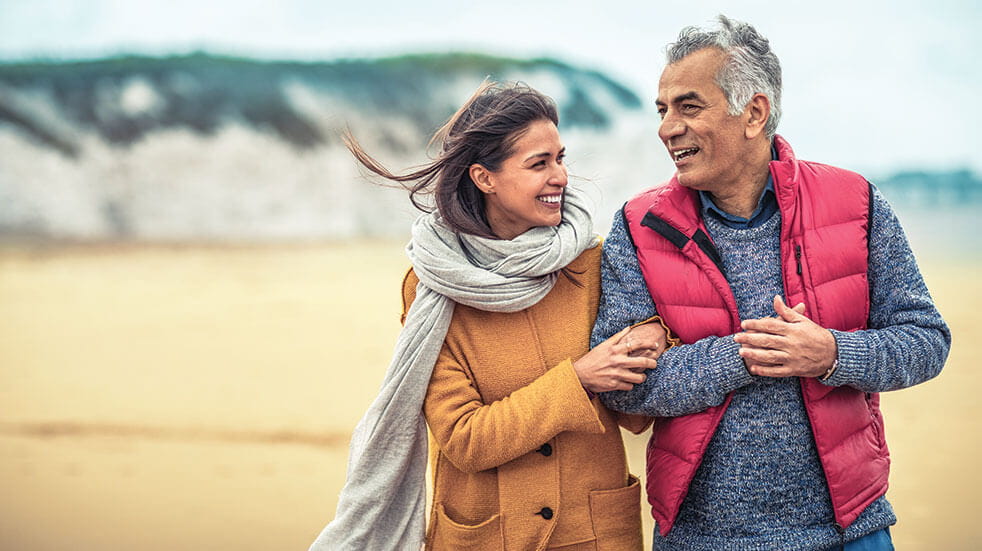 You may underestimate the impact that the changing weather can have on your mental and physical health – it's important to care for yourself in the colder months, and Simplyhealth's plans are designed to help you do just that.
Since 1872, Simplyhealth has been making it as easy as possible for people to access the healthcare treatments they need.
After months of summer sun, the colder winter weather can come as a bit of a shock to our health, as well as our psyche. And with flu often a worry at this time of year (in the NHS, for example, 1,497,613 days* were lost to flu and flu-like illnesses in 2018), Simplyhealth is ready to help.
If you're concerned about flu-like symptoms, you can take advantage of 24/7 access to a registered GP over the phone, which means that you can discuss your health concerns with a doctor in the comfort of your own home, when you need to (it might help to prevent the spread of germs in your place of work, too). And if you're given a prescription, a Simplyhealth plan also gives you the ability to claim cash back towards the cost.
Relieving aches and pains
For people who already suffer with joint problems such as arthritis, the colder weather can cause them to become more painful and stiff. The days may be shorter, but it's still important to keep moving and stay active. Many find acupuncture and physiotherapy to be a reliever of joint pain, while workouts can keep you warm and help you stay active. Regular visits to a physiotherapist can help to reduce potential aches and pains.
With Simplyhealth, there's no need to worry about the cost, as you can claim money back towards treatments such as physiotherapy and acupuncture using its Simply Cash Plan.
Avoid accidents in icy conditions
Trips and falls happen, especially during winter, when there is more water or ice on the ground. Not only are you at risk of suffering an injury to your wrists or your back, but unfortunately you also run the risk of facial injuries.
If the unexpected were to occur, the Simply Dental Plan covers you for worldwide accidents and emergencies, so you can get your mouth looked at as quickly as possible, wherever you are.
Money for eyecare and glasses
You may have been tempted to put your sunglasses away at the end of summer, but it pays to be aware that winter sun can still cause damage to our eyes. Not only are snow, ice and wet surfaces reflective, but you still get the natural effects from UV light even when it's not so obvious.
It's always good to have a pair of sunglasses (with a CE, UV 400 or British Standard Mark to ensure they offer adequate protection) to hand and to make sure that you're up to date with your eyesight tests, especially as poor light becomes more of an issue in the winter.
A Simply Cash Plan can help, by giving you money back towards optical services including prescription sunglasses.
"It's a good way to manage your money on everyday health costs. I've been able to get two new pairs of glasses that I'd have struggled to get otherwise! I'd recommend it to anyone."
Debbie, Yorkshire
Get more details of Simplyhealth's cash plans
Call 0330 102 5399 to see how you could save over £75 on one of our cash plans. Boundless members can receive up to two months' free healthcare when signing up to a Simplyhealth Cash Plan. Individual cover is £21.65 a month for a Level 3 Plan or £38.18 for you and your partner. Call us on the number above or visit our Simplyhealth page.
Terms and conditions:
1. The joining age for this policy is from 18 years old up to 79.
2. Offer of up to two months' free ends 31st August 2020.
3. Saving based on receiving your first two months' free on a Level 3 Simply Cash Plan for you and your partner.
4. You can read full terms and conditions on Boundless' Simplyhealth page.
---
*NHS Digital – Processed using data taken from the workforce Absence Minimum Data