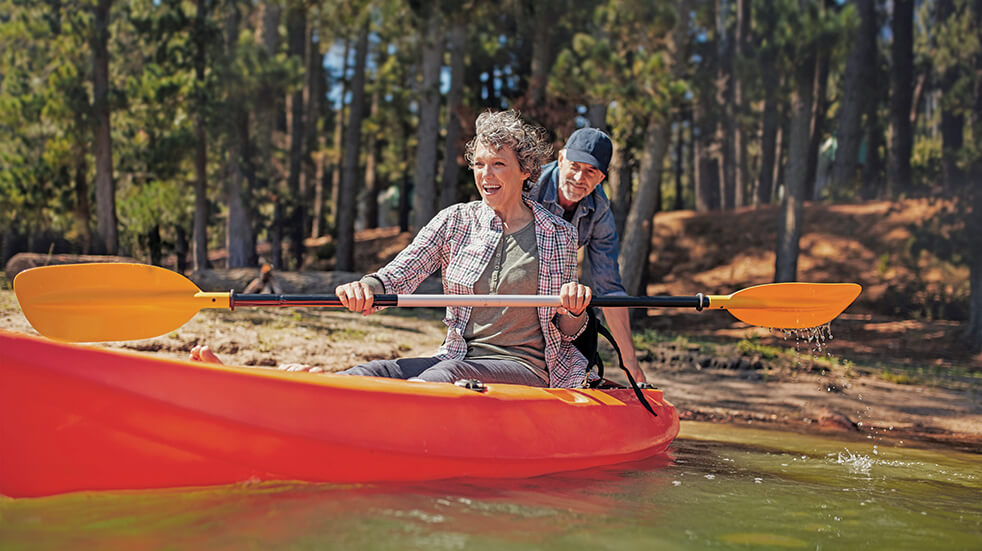 The plan covers you for both planned and unplanned expenses, so your health needn't stop you doing the things you enjoy.
At Simplyhealth, we believe in realistic goals and small changes that bring about long-lasting benefits. So we're not big fans of the 'reach for the sky' school of thought when it comes to New Year's resolutions – the type that rely on vast reserves of willpower and are often cast aside before the end of January.
Our philosophy is that doing anything that makes you feel better, happier and healthier is a big win. If it also helps you to make progress towards a longer-term goal, whether that's getting fit enough to hike up a mountain or solving a niggly backache, then it's even more cause for celebration. Our Simply Cash Plan could help you reach your goals – here's how...
A healthy new year
You know those little aches and pains you've been meaning to do something about? Don't take them into the new year. Seeing to those troublesome little niggles – anything from a sore neck to a long overdue sight test – is a good way to kick-start health resolutions. Taking a proactive approach to your healthcare helps you to feel that you're in control of it – which is beneficial in itself – and the great thing is, you can claim back a wide range of treatments on your Simply Cash Plan without needing a GP referral. It's an easy step forward.
Get the treatment you need with a Simplyhealth membership plan.
A cash-savvy new year
Most people feel the financial effects of Christmas festivities, so saving money is on the agenda as we tighten our belts in January. Small lifestyle changes, such as walking or cycling to work, or exercising at home rather than the gym, can make a big difference financially as well as helping you to get, or to keep, fit. That said, don't let money worries stop you from reaching your health goals.
Being a Boundless member means you can save up to £75* on a Simply Cash Plan and take care of your health without making a big dent in your bank balance.
A well-travelled new year
Want to see more of the world in 2020? January is typically a month where we get the winter blues and start dreaming of holidays and new adventures to cheer ourselves up. Don't let your body hold you back from trying something you haven't done before. By keeping on top of your health, which is easier when you can claim money back on your healthcare expenses – you have no reason to shrink away from the water park, mountain hike, ski slopes or whatever it is that you fancy.
Fast, easy and affordable access to healthcare with a Simply Cash Plan means you can focus on making 2020 your most memorable year yet.
---
Stay well through winter with Simplyhealth
How does a Simply Cash Plan work?
Choose a level of healthcare that suits you from the five available and pay a fixed price every month, from £13.43 for Level 1 to £43.91 for Level 5. You can add a partner for an additional cost and up to four children can be covered for free.
Claim back the cost towards a wide range of benefits* designed to look after every aspect of healthcare from muscle and joint care to mental health, money back on prescription glasses and lenses or dental and hygienist support and much more.
Speak to a GP on the phone whenever and from wherever you want, even overseas.
Choose whether you visit an NHS or private practitioner.
Make a claim, or monitor your pot to see how much you have left to claim, online 24/7.
Get up to two months' cover free
Save up to £75* with this exclusive offer for Boundless members when you take out a Simply Cash Plan. Call 0330 102 5399 or visit Simplyhealth for more details.
*Saving based on receiving your first two months' free on a Level 3 Simplyhealth plan for you and your partner. Eligible joining age for this policy is from 18 to 79 years. For full terms and conditions, please visit the Boundless Simplyhealth page.