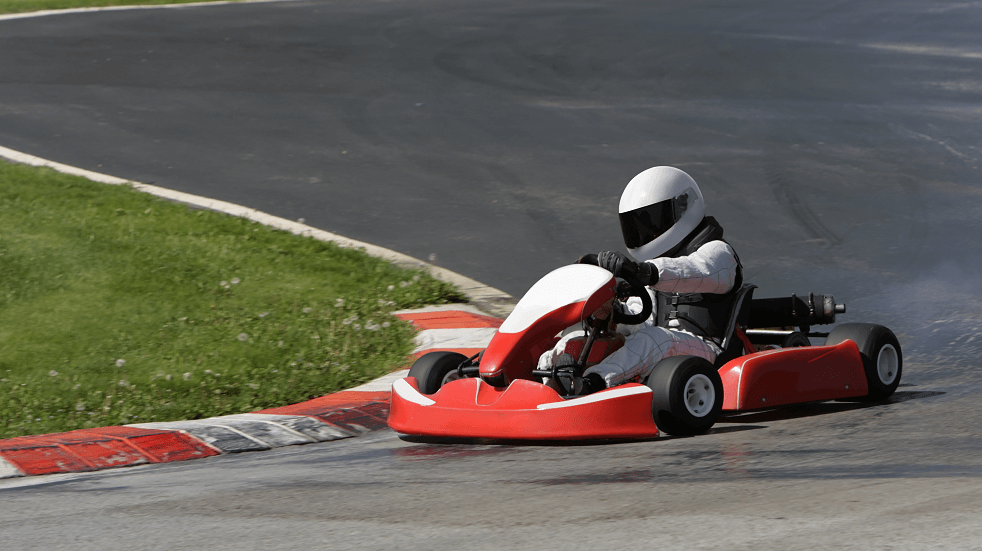 Please note this event has been postponed
At Boundless, we put members first and want to reassure you that our members and volunteer safety is our primary concern during the current situation. If you have pre-booked to attend a Group's event, please check with the organiser as to the status of this event. Please also keep an eye on the event listings on the website to check whether future events have been cancelled or postponed before booking or travelling.
For the latest information from Boundless on COVID-19 (Coronavirus) please click here.
6.30am to 6.30pm, Monday 1 June 2020
Boundless Karting would like to welcome Boundless and CSSC Members, their Families and Guests to our evening Karting event at Ellough Park. We cater for all members with all levels of experience so whether you are a beginner or a seasoned veteran you will find a challenge out there on the track. Please come and enjoy an evening Grand Prix Sprint, meet new friends and have a good time.

The Ellough Park 1080mtr circuit is located in Ellough some 2 miles south-east of the market town of Beccles in the county of Suffolk.
The track, which is fully floodlit, has existed on the old Ellough Airfield since the early 1960s, but was not fully developed until 2000. The circuit was extended in 2007, from 800m to just over 1000m. The circuit was extended further in 2010 to incorporate a new pits complex and add extra paddock space for hosting various championships.
Today, the track plays host to national and local kart championships, as well as charity events, stag parties and corporate days. It boasts fast technical and flowing corners designed by professional kart racing drivers. So what are you waiting for?

Event Summary
Drivers: Minimum age 16: Drivers aged below 18 will need their parents or guardians to sign the indemnity form at the circuit and be present at all times on the evening.
Refreshments are available
Spectators are welcome but please let the Organiser know you are there.

Event Reception
Drivers need to arrive by 6.30pm and on arrival all Drivers and guests should report to the Event Organiser.
Drivers will then be directed to 'Signing On' where they will 'be kitted out (free of charge) with racing overalls, a helmet and gloves (you may bring your own if you wish but they must be approved by the Circuit). If using the circuits helmets you will be asked to wear a balaclava which can be purchased at the circuit or bring your own if you have one.
Please wear comfortable and suitable clothing for the weather. Don't wear anything that would upset you if it became damaged or mucky, simple jeans and a T-shirt would be fine. If you do not have proper racing shoes then trainers are the next best thing and remember you will not be allowed to race in any footwear with open toes or heels.

Following reception it's off for a full Safety Briefing which all Drivers must attend.

Event Format: An Iron Man endurance race.

After the safety briefing Drivers will be sent out for a Practice/Qualifying session of 5 minutes.
After the qualifying session drivers will be gridded up in the positions that they qualified in. They will then take part in a 30 minute Iron Man race.

The minimum number of Drivers (aged 16 plus) for this evens is 10 and the maxim is 20.

Trophies will be provided for the top three drivers in the 30 minute race.
Please enjoy your evenings karting at the Ellough Park circuit but please remember that all drivers must be free of alcohol, illegal substances or prescription medication.
Booking: Entry Forms can be obtained from us or our Boundless web page
The entry form shows the various methods of payment. Alternatively you can use our new Online Entry System by using the following link which is currently being used in parallel with our old entry forms. The same payment method is to be used whichever entry system you use.

Facebook page

Entries: Please send all completed Entry Forms to our email.

If paying directly into the Karting Group bank account then enter the first three letters of your Surname /Ello for reference on the payment form.
Price
£46 Members
£48 Guests
Ellough Park Raceway, Benacre Road, Beccles, Suffolk, NR34 7XD
Please log in to see contact details.
Not a member? Join today and save items for later.
Interested?
If you'd like to attend this event please log in and use the button below to send the organiser your details.