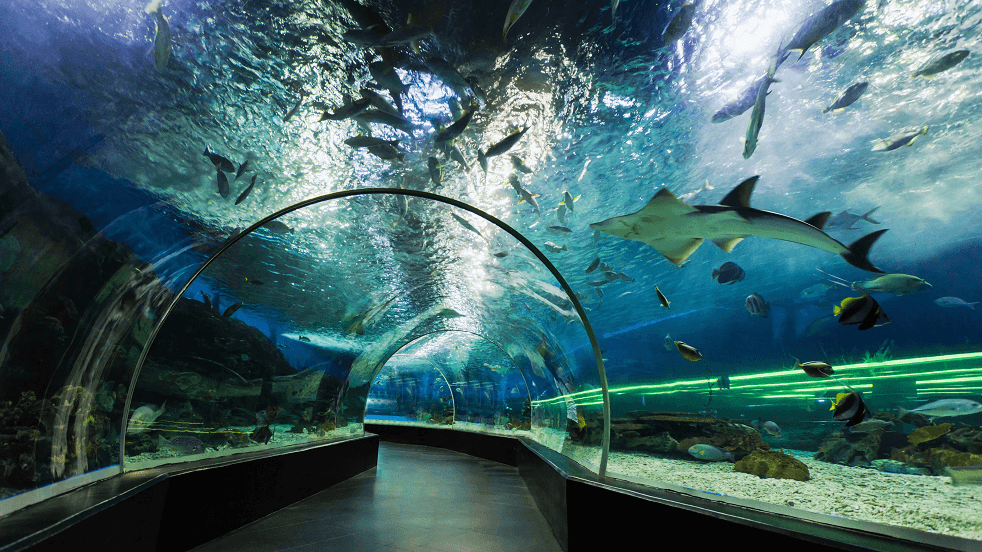 1pm to 4pm, Wednesday 8 April 2020
Come along and join us on an underwater safari through the deep blue sea via the longest underwater tunnel in the UK. Get up close to Sharks whilst standing on the 112 metres moving walkway, known to be the longest in Europe.
There are some 2000 creatures to view in the deep blue from Sea Horses to Sting Rays and Tiger Sharks. The latter are up to 3 and a half metres long, although they appear about 30% smaller because of the curvature of the acrylic arch holding back the millions of litres of sea water.
There are regular events throughout the day and during our visit the following will be taking place.
1.00 pm Ocean Feed - Underwater Tunnel
1.30 pm Tropical Reef and Seahorse feed - Main Hall
2.00 pm Sand Tiger Shark Feed - Underwater Tunnel
2.30 pm Featured Event talk - Main Hall
3.00 pm Seal Feed - Seal Harbour
3.30 pm Meet a Reptile - Shark Classroom
4.00 pm Underwater Safari - Underwater Tunnel

If it is all too much for you there is the Bridge Café on site and various seating else where where you can relax whilst viewing. But we look forward to seeing lots of you there, this is one not to miss.
Price
One the day
Adult £15.55, Child £11.00, Concession £13.50
Group Rate (12+) Standard £13.00, Child £8.90, Concession £11.65
Online Advance Booking
Adult £12.64, Child £9.00, Concession £11.00, Family 2+2 £43.28
As advanced online booking is the best buy, we suggest that attendees sort their own booking and just inform the organiser of their attendance. If you do not have access to a computer contact the organiser who will book on your behalf.
Forthside Terrace, Battery Quarry, North Queensferry, KY11 1JR
Please log in to see contact details.
Not a member? Join today and save items for later.
Interested?
If you'd like to attend this event please log in and use the button below to send the organiser your details.