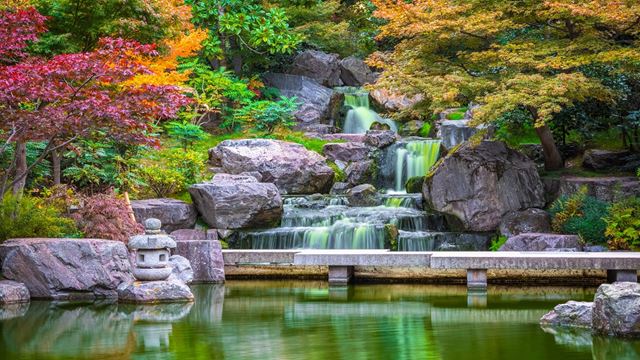 2pm to 4pm, Wednesday 28 September 2022
The Kingdom of Fife Group would like to invite you to the Japanese gardens at Cowden.
The Japanese Garden named Sha Raku En meaning a place of pleasure and delight is a unique and utterly authentic bridge between Scottish and Japanese culture. The garden also has many unique plants and trees, as well as structures with Japanese cultural significance.

The Japanese Garden itself is a stroll garden a relatively large garden, centred around a lake, with meandering paths which can be wandered around to take in the changing views. while It features two bridges the 'yatsuhashi' zigzag bridge and the 'sorihashi' arched bridge which, in Japanese culture symbolise our journey through life.

The full circuit of the Japanese Garden from the car park is 560 metres, however for those with limited mobility, there is the possibility of a nearer drop off point with just a 60-metre walk to the nearest bench from which the majority of the Japanese section of the garden is visible. The main garden paths are hard surfaces and include some gentle slopes. There are further paths through the woodland garden to explore; these vary in surface finish.

1 hour to 1 hour 30 minutes is sufficient to explore the Japanese garden and Christie Walk, if you wish to include the outer woodland walks, please allow an additional 1 hour.

The Garden has ample car parking with separate coach parking and disabled parking.

There is a tearoom with outdoor seating, a small shop and a plant sale area.



Price
The ticket price is £6 per person and must be paid no later than 14 days prior to the event.
Refreshment options (2021 prices) for group bookings are:
A cup of tea or filter coffee plus refill and an empire biscuit or shortbread. £4.50pp
A cup of tea or filter coffee plus refill and a scone with jam & cream. £5.50pp
The Japanese Garden Upper Hillfoot Rd, Dollar FK14 7PL
Not a member? Join today and save items for later.
Interested?
If you'd like to attend this event please log in and use the button below to send the organiser your details.