About bar
Event Date:
Saturday 18 April 2020
|
|
Venue:
Cheddar Gorge and Caves, Somerset BS27 3QF
|
Ticket Price:
£12.95 per adult and £7.50 per child
Boundless Events COVID-19 (Coronavirus) Message:
At Boundless, we put members first and want to reassure you that our members and volunteer safety is our primary concern during the current situation. Unfortunately, this event has been cancelled. You can find more information within the FAQs.
General Content
Save up to 35% on admission – that's up to £7 off per ticket
Tour of Gough's Cave with audio guide, plus visits to Dreamhunters at Cox's Cave, Cheddar Museum of Prehistory, Beyond the View and Jacob's Ladder and Cliff Top Walk
Free guide book
Free children's activity books
Free exclusive tour and tasting at the Cheddar Gorge Cheese Company
Exclusive Boundless members' area
Free prize draw to win lots of Cheddar Gorge goodies
Exclusive member parking (for first 50 members)
Guided Coach Tours of the Gorge
Join us on this very special Boundless members' day out at the beautiful Cheddar Gorge and caves. Located in the heart of Somerset, Cheddar is one of Britain's natural wonders, with dramatic cliffs towering 450ft into the air and a spectacular cave system plunging deep underground. Designated an area of Outstanding Natural Beauty, you'll also find plenty of picturesque spots to relax for lunch or afternoon tea.
Not only is Cheddar Gorge a brilliant day out, it's also a Site of Special Scientific Interest (SSSI) and a Special Area of Conservation (SAC). The combination of natural grandeur and the opportunity to learn about mankind's prehistoric past make it the perfect place for a members' day out.
The Enchanted Cave – new for Easter 2020
During our Boundless members day, Cheddar Gorge and Caves are going to be really celebrating Easter with a new 'Enchanted Cave' attraction. You can roam an underground, illuminated trail discovering mystical chambers where fairies glisten, flowers grow, crystals sparkle, and eggs glow. The fairies in Gough's Cave are friends with the Easter bunny and often help hide eggs for all the boys and girls to find.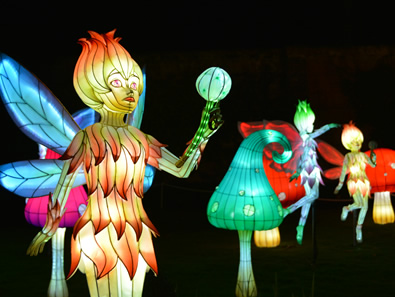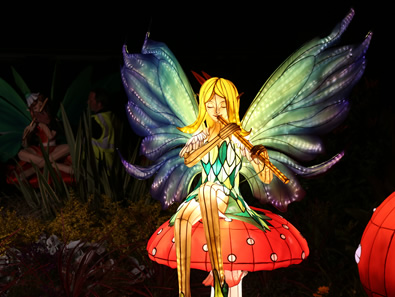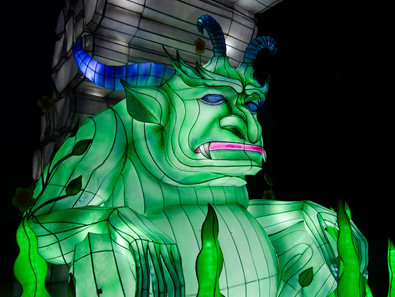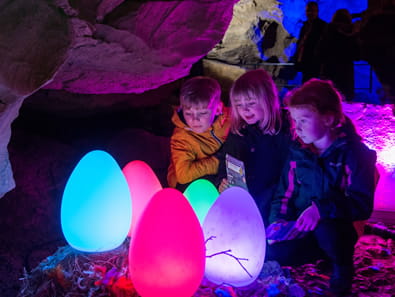 But there's a problem, the mischievous troll has hidden the fairies' glowing eggs. If they can't find their precious eggs in time, then they can't help. Luckily, the troll is sleeping so it's your chance to hunt for them. On your travels, you'll meet seven guardian fairies who hold clues to figuring out what's so special about the eggs. Can you get past the troll to find the eggs? Will you discover why the eggs are so important? If you do, you may receive a treat from the fairies as a thank you.
Gough's Cave
Home to the largest underground river system in Britain, Gough's Cave is 377ft deep and boasts some huge rock formations. You'll be provided with a fascinating audio guide free of charge so that you can make the most of your visit.
Beyond the View
Take a thrilling cinematic journey through the gorge, travelling along the cliff-top walk and through the village of Cheddar itself, learning the history of the area as you go.
Museum of Prehistory
Many of the finds excavated in the Cheddar area are on display here, and there's also a replica of Cheddar Man, Britain's oldest complete skeleton, found in Gough's Cave in 1903.
Dreamhunters – The Adventures of Early Man
Housed in Cox's Cave, this multimedia experience uses state-of-the-art projectors, sound and lighting to tell the story of how our ancient ancestors lived.
Cliff Top Walk and Lookout Tower
You'll feel on top of the world as you take in the breathtaking views on this three-mile walk along the top of the gorge. The area is home to rare plants, such as the purple orchid and the famous Cheddar pink, and rare animals like the Hazel dormouse and pearl-bordered fritillary butterfly.
Cheddar Gorge Cheese Company
This is, of course, Cheddar cheese country, and a day out in the area wouldn't be complete without an exclusive tour of the Cheddar Gorge Cheese Company, a family-owned, independent artisan cheesemaker. Their award-winning cheeses are rated as some of the best Cheddars in the world and you'll get a chance to sample their amazing produce during your visit.
Boundless members' area
The Boundless team will be on hand to make sure you have a great day, and they'll be dishing out maps, guide books and kids' activity packs. Plus your name will be entered in the free prize draw for all kinds of Cheddar Gorge goodies.
Guided Tours
Boundless will be operating coach tours of the Gorge with one of the venues official guides. As you travel through the Gorge you will learn about how it was formed and what makes it so important as an area of outstanding natural beauty. The guided tour will travel throughout the day from the members car park at the top of the Gorge to the Caves and attractions at the bottom of the Gorge.
Ticket Prices
Boundless members' day isn't just about giving you perks on the day – you can also save up to £7 per ticket*.
Boundless member prices:
Adults (16 and over): £12.95 (35% discount based on £19.95 on-the-day cost)
Children (5 – 15): £7.50 (41% discount based on £12.70 on-the-day cost)
Infants (4 and under): free
*Based on Boundless members' ticket price of £12.95 compared with an on-the-day public ticket price of £19.95.
Please note that tickets will be available to purchase through Boundless until Monday 13 April. Boundless tickets are only available in advance and cannot be purchased on the day.
At every one of our events, we'll have an official boundless photographer on site to capture the best moments for you, your family and friends. All photos will be available for you to download after the event.
If you upload any of your own pictures to social media be sure to use the hashtag #bemoreboundless for a chance to be featured on our social pages.
By purchasing tickets, you are consenting to having your photo taken and these images used on any of our marketing platforms. If, however you do not wish to have your photo taken or appear on our website or social pages please do let us know on arrival and we will ensure arrangements are made.
Not yet a Boundless member? Join today for £28 to book your tickets for the Boundless members' Cheddar Gorge day out.
logo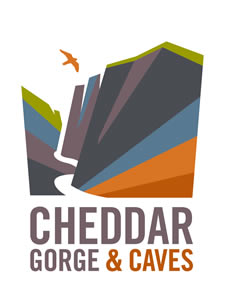 Location
FAQs
Q
What is your position with the COVID-19 (Coronavirus) outbreak?
A
It is with great sadness that Boundless has decided to cancel the upcoming Members Day at Cheddar Gorge on April 19th 2020.
Boundless have been continually monitoring the latest public health and government guidelines regarding the evolving COVID-19 situation and acting in accordance with their advice.
The safety and wellbeing of our members, volunteers and staff is our primary concern and therefore the only action for all involved is to cancel the event.
Tickets purchased for the event will be fully refunded back onto the card you paid for them. Any cheque payments will be issued a refund cheque via post. All payments will reach you within 10 working days.
The event was extremely popular with our members and we are hoping to run the Boundless member day again in 2021.
We are truly sorry that we have had to make this extremely difficult decision and thank you all for your patience, understanding and support in this unprecedented situation.
Q
How can I get there?
A
Postcode: BS27 3QF
From: London, South Wales, The North, The Midlands, The South West
Join M5
Exit J22
Take A38 north for 7 miles and follow brown tourist signs onto A371 then B3135
From Bristol (18 miles):
Take A38 then A371 and B3135 OR take A37 then B3135
From Bath (23 miles):
Take A39, then B3135
Cheddar Caves are at the bottom (south-west) of the Gorge
Q
Where can I park?
A
Boundless members can park for free at the exclusive member car park at the top of the Gorge. Parking is limited, and you will have to request it when booking your tickets. A coach will operate throughout the day from the members car park to the caves and attractions. This coach is exclusive to Boundless bookers.
If the Boundless car park has been fully allocated then we recommend parking in one of the public carparks. We recommend you arrive before 11am, especially during the school holidays and on bank holidays, to ensure you find a parking space easily. There are several car parks located throughout the gorge and village, costing £5 per day and £3 from 3pm – 5pm. Funds raised via parking costs contribute to the conservation of the gorge.
Parking ticket stubs entitle you to a 10 per cent discount in the Cheddar branch of Costa Coffee. This offer is only valid on the date printed on the ticket and at the Cheddar branch. Not to be used in conjunction with any other offer or promotion. Valid for standard opening times and voucher is to be given up at point of purchase.
Q
How do I get my free guide book and book my free tours?
A
Visit the Boundless members' area next to Costa Coffee above the main ticket office – we'll have everything you need to make the most of your day. You can pick up your Boundless goody bag, guide book (one per ticket order) and book your tours for the day.
Q
Are there any age restrictions?
A
No. Admission prices vary depending on age.
Adults (16 and over): £12.95
Children (5 – 15): £7.50
Infants (4 and under): free
Q
I have a friend or family member who wants to come as well.
A
Great, bring them along! Just make sure that the booking is made by a Boundless member.
Q
How and when will I get my tickets?
A
To buy tickets, please click on the yellow box at right-hand side of your screen. You'll receive a confirmation email with an e-ticket attached – please print your e-ticket out and bring it with you on the day. When you arrive, please visit the Boundless members' area directly above the main ticket office next to Costa Coffee. This is where you can pick up your tickets and book your tours.
Q
What time does this event start and end?
A
The day will run from 10am – 5pm. Please note that Boundless tickets will only be accepted on Saturday 18 April 2020.
Q
What is your refund policy?
A
Event tickets are non-refundable. This is because we have a very limited number of tickets and we may not be able to reallocate them. Tickets may be transferred to your friends or family but please email memberevents@boundless.co.uk to inform us of any changes.
Q
How accessible is the site for people with mobility difficulties?
A
Cheddar Gorge and Caves want to provide a great experience for all ages, abilities and backgrounds. For detailed information about accessibility. Find out more here.
Q
Does the venue offer carer tickets?
A
Visitors with disabilities can bring a carer with them free of charge. Once you've bought your tickets, please email us on memberevents@boundless.co.uk or call 0800 669944 so we can add your carer ticket to your booking. You'll need to bring relevant proof of entitlement such as a 'plus one' travel card or letter from Disability Living Allowance, as this will be asked for on arrival.
Q
I don't have an email address or credit card. Can I pay by cheque?
A
Yes. If you would rather pay by cheque contact our friendly membership team on 0800 66 99 44. Please note that you will not receive your ticket until your cheque has been received and payment has cleared. If we do not receive your cheque with 14 days of placing your order, your ticket will be cancelled and you will be notified. Telephone bookings will close 21 days before each event takes place.