Eleanor Oliphant is Completely Fine
Eleanor Oliphant is Completely Fine by Gail Honeyman
'The only way to survive is to open your heart'.
Eleanor has a tendency to say exactly what she means and avoids social interactions, which are definitely not on her schedule. She lives a life of routine, involving frozen pizza, vodka and phone chats with Mummy, keeping her life as empty and steady as possible.
Then one day everything changes when she meets Raymond, the bumbling and deeply unhygienic IT guy from her office. Together Raymond and Eleanor come across Sammy, an elderly man who has fallen over and help him. From this, unexpected friendship begins to form and Eleanor has a glimpse of the life she's always wanted to lead.
Through her friendship with Raymond slowly Eleanor's heart and past begins to unravel...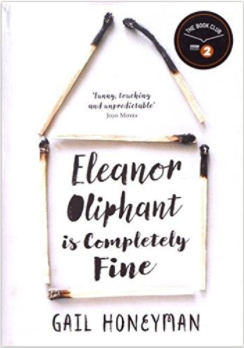 ---
About the Author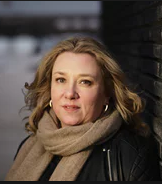 Eleanor Oliphant is Completely Fine is Gail Honeyman's debut novel and was written whilst she worked full time, fitting in writing before and after work, and during her lunch break. She was inspired to write the novel after reading an article on loneliness and realising this is something that can affect all of us, including young adults She'd had the idea for a while but was prompted into writing it as her 40th birthday approached.
Her novel was a success before it was even finished, it was shortlisted for the Lucy Cavendish Fiction Prize as a work in progress. Since release it's won the Costa First Novel Award, chosen as one of the Observer's Debuts of the Year for 2017 and rights have been bought by Reese Witherspoon's production company to take it to the big screen.
Gail lives in Glasgow and is already signed up to write her second novel.
---
Reading Room Reviews
I really enjoyed this book. It's quirky, sad, poignant, funny and with quite a twist. Some of the things Eleanor says we might take as strange, but they are completely logical, as when weighing her breasts. Shame that part wasn't followed up on. Good that her colleague realises there is a lot more to her, that he really listens to her instead of writing her off as weird which is what everyone else does. I loved it & would thoroughly recommend it. We need to notice and support people like Eleanor. Take time for them. Who knows what they've been through.
Nicky, Reading Room Member
I would give this book 4 stars, it is an enjoyable read , characters are well written, sadness isn't sensationalised and the ending is good, hopefully happy but not unrealistically so. I love the way her story unfolds together with her making real friends
Deborah, Reading Room Member
I thoroughly enjoyed reading this book; the characters were totally believable and developed as the plot line unfolded. It was funny, shocking, sad and thought provoking - we've all met an Eleanor Oliphant! I agree with Kathleen about the ending. What a fantastic first novel - an author to keep an eye on.
Karen, Reading Room Member
A thumbs up from me as well. In some ways I found the style rather like The Rosie Project - an engaging main character who is at odds with society in many ways yet is very likeable. Eleanor provides humour through her observations about the 'normal' dress-codes and lack of manners in society for example. The storyline is believable, with depression and isolation following a very traumatic childhood which Eleanor tries very hard not to think about. I like the interactions with Raymond and the way we are not told how their relationship will develop in the future. The only part I struggled with was the Mother's weekly phone calls when in fact she had been dead for years. If you continued to hear her voice would it not be intermittent rather than once a week at a certain time?
Jackie, Reading Room Member
I loved this book so much that I lent it to a friend and bought it as presents for another two. I'm looking forward to seeing how the future film portrays this fascinating set of characters.
Nicola, Reading Room Member
I enjoy the book and would give it four stars. When we are introduced to Eleanor she is living a limited life with a social worker her only visitor. You soon realise that her hypercritical mother has left her unable to communicate easily with others. It's only when a new IT guy at work befriends her that she starts to see what she has been missing. When she is at her lowest, he persuades her to seek therapy for the trauma from her past. Gradually she makes the journey from a dysfunctional family and the care system to realisation of what normal family life is and can start to face the future. The book resists the temptation to take the cliched way out and make the pair more than just good friends at the end of the book, although it leaves the door open.
Kathleen, Reading Room Member