Three Things About Elsie by Joanna Cannon

This book has a Reading Room Rating of 3.5 stars!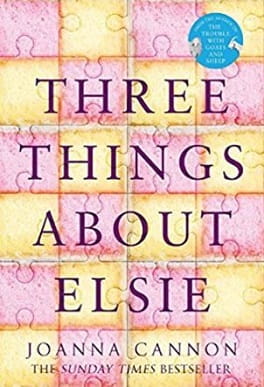 ---
I really enjoyed this book. It is full of well-observed witticisms and the characters are really well-drawn. And throughout there are the unsolved mysteries: what is the 3rd "thing" about Elsie and what is the secret about Ronnie Butler/Gabriel Price, and, to a lesser extent perhaps, Mrs Honeyman. As the clues are only revealed gradually through the book, this kept me turning the pages. I also felt the combination of 1st and 3rd person narrative worked well – particularly what turned out to be the unreliable 1st person narrative of Florence.
A well-observed mystery in a sheltered-housing complex – an unusual premise but which I think worked very well.
Highly recommended.
Sue, Reading Room Member
I felt this was an enjoyable read, although nothing especially memorable nor recommendable. I felt it was going along the same lines as Elizabeth is missing. Both are good from the point of view of showing the reader that people with dementia can be perfectly lucid at times and then have highly problematic periods. I enjoyed the character Elsie, how she was relied upon by Florence and what transpires about Elsie at the end. I also enjoyed Florence's thoughts to herself, many of which she ended up saying out loud to the embarrassment of others. The part with Ronnie and Florence's never ending period on the floor was much less of a page turner for me though. 3 out of 5 from me.
Jackie, Reading Room Member
I had the misfortune to read this book on holiday as it had been highly recommended by a friend. I'd give it 2 stars overall. I thought it was a pale imitation of Elizabeth is Missing and certainly not as well written. It was overlong and might have had more punch if it had been shorter. The build up to the Ronnie revelation was overlong and thus lost any dramatic effect. I found the Rest Home setting depressing.
Anne, Reading Room Member
I loved this book although I did listen to it on Audible rather than read it. The narrator was excellent and brought the characters to life. I loved it so much I've listened to it twice. I think there is real empathy for people like Florence who are in homes and how if the right people care for them and listen to them it can make all the difference. The author has professional experience working with people with dementia and it shows. Whitby as a location for the trip was interesting, the author went there a lot. I wonder if I would have given the same review if I'd read it rather than listened to it. 5 stars.
Nicky, Reading Room Member
It took a while for me to get into this book, but I am enjoying reading it now, I still have the last chapter to read. I love the characters and think they are well written, what comes over most to me is that it was so easy for people not to listen to the elderly and the feelings of isolation this brings to them. I would give it 4 stars
Deborah, Reading Room Member
I have found this a difficult book to review as I have not been able to decide whether I enjoyed it or not. Having not read her before, I enjoyed her writing style and her observations around old age. I was not so keen on the mystery story as I felt it was rather slow. Unlike many reviewers, I did not guess the third thing about Elsie so I enjoyed this aspect of the story. I have read Elizabeth is Missing some years ago and I think I had similar feelings about that - perhaps it is the theme of dementia which I do not find massively appealing. On the whole, I would say give this a go as it is well written and would give it 3.5 stars
Carolyn, Reading Room Member