Recommend a friend
You'll receive £10 to spend with Love2Shop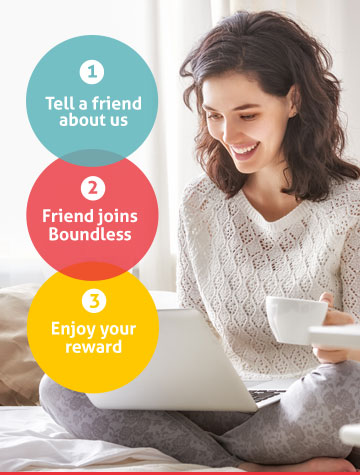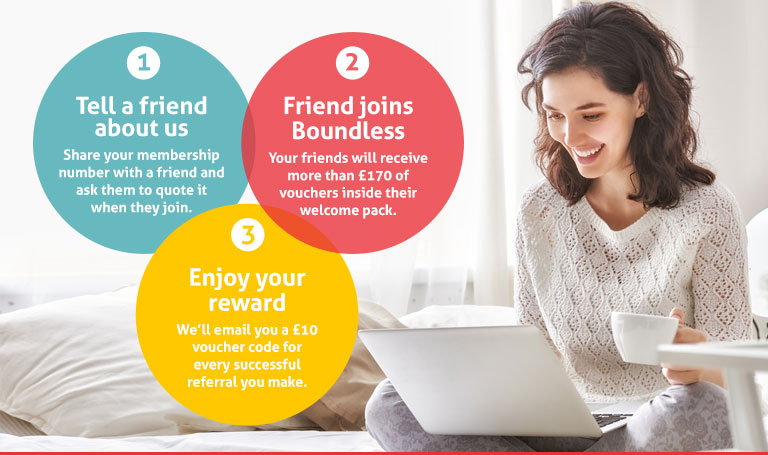 Who can I recommend?
Recommend a friend allows Boundless members to recommend their friends and family to join Boundless. Friends and family do not need any connections to the Civil Service or public sector, and are only eligible when they quote an existing Boundless membership number when joining. Boundless will be unable to fulfil rewards if a valid membership number is not given.
How do I recommend someone?
It's easy to recommend your friends to Boundless. You can share your customer number – found on your membership card – or click here to send your friend a personalised email. Then, once your friend quotes your customer number when they join online or over the phone, we will send you a £10 Love2Shop e-voucher.
There's no limit to how many friends you can recommend and every time someone joins you'll get a £10 e-voucher. So imagine if ten of your friends join that's £100 just for you!
How do I get my reward
The reward for every successful recommendation is a £10 Love2shop reward code. The code will be supplied to the email address affiliated with your online Boundless account. To claim your rewards you must have an email address associated with your account. You can change your preferences within your online account at any time or call us on 0800 669944.
Where can I use my reward code?
We send your reward code by email. This email includes your 14 digit code, details of how to redeem and a link through to the Love2shop reward platform where you can choose your reward from vouchers, e-codes and gift cards.Terms and conditions apply.
Happy shopping!