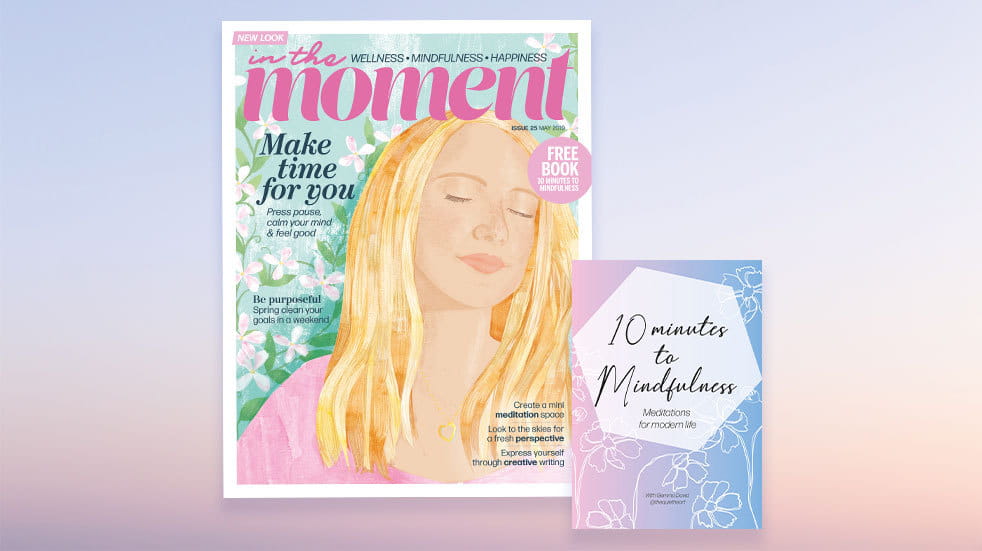 Enjoy 6 issues of In The Moment magazine delivered to your door for just £28.84 when paying by Direct Debit saving 20% vs. the shop price. If subscribing via Direct Debit, your subscription will automatically renew at the same price after six issues. If you're paying via Credit Card, then you will pay £63.49 for 13 issues. You may cancel at any time and receive a full refund on any outstanding issues by contacting your bank or building society. Written confirmation may also be required.*
PLUS as a Boundless member you will receive an exclusive gift - a 14oz ecoffee Bamboo Cup (worth £9.99 RRP). Enjoy each issue with a fresh cup of coffee or calming herbal tea.
Join Boundless for only £27 per year to take advantage of this offer
---
Each issue of In The Moment magazine is full of mindful ways to help you live a calm, happy and fulfilled life. Honest, uplifting and supportive, the aim is to guide you in making positive changes to your life by giving you expert advice and tools to help you choose what works for you.
Feel-good features, insightful writing, mindful makes and calming ideas
Adventures near and far for a healthy body and mind
A sense of community, friendship and fun
Extra gifts or pull-outs with every issue
Ideas that embrace every aspect of women's lives: friends, family, self, work, rest and play
There are two ways to subscribe to this offer…
Online: Visit the Buy Subscriptions website

Please login

to order online. The discount has already been applied to the price displayed here, so you do not need to quote the offer code.
By phone: Call 03330 162 112** to speak to a friendly customer services adviser using your exclusive quote code when you login.
*The discount shown is calculated as a percentage of the full shop price. This special introductory offer ends 31st December 2019. This offer is available to new UK subscribers only, subject to availability. Your ecoffee cup will be sent within 28 days of placing your order, Immediate Media Company reserves the right to send an alternative kit of similar value. Your subscription will start with the next available issue. If subscribing via Direct Debit then you will pay £28.74 every 6 issues (saving 20% off the shop price). If you're paying via Credit Card, then you will pay £63.49 for 13 issues (saving 18% off the shop price).
**UK calls will cost the same as other standard fixed line numbers (starting 01 or 02) and are included as part of any inclusive or free minutes allowances (if offered by your phone tariff). Outside of free call packages call charges from mobile phones will cost between 3p and 55p per minute. Lines are open Mon to Fri, 8am – 6pm and Sat 9am – 1pm.