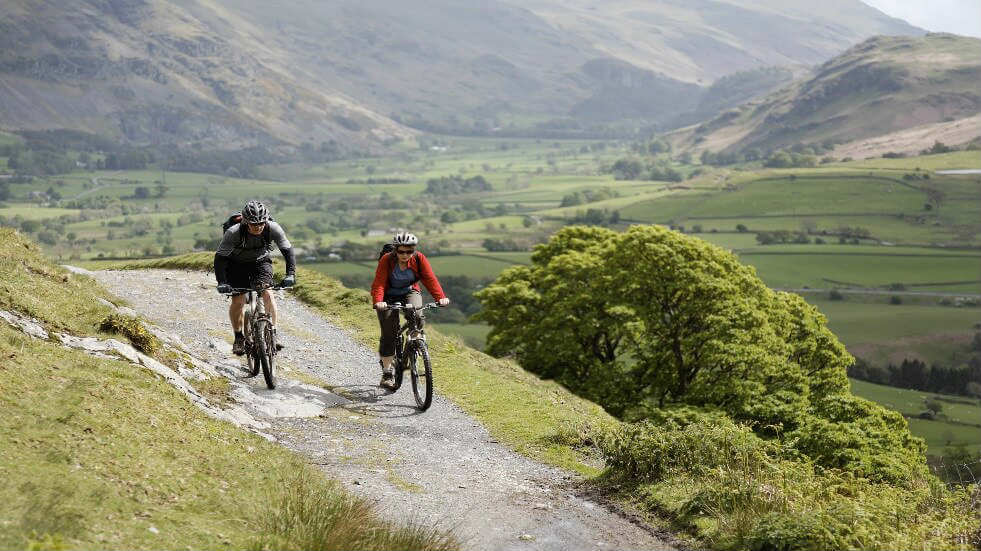 Britain is a rich and varied land when it comes to bike riding, so no matter where you live you never have to go far to experience supreme, scenic cycling. Here are 15 of the best routes.
Cycling is a free and easy way to get about, brilliant for both commuting and for days out with friends and family. We've gathered together our favourite cycle routes around the UK for fabulous views and stunning scenery, whether you're looking for a gentle ride with kids or a challenging climb.
---
Southern England
Level: easy, 15 miles (24km)
Connecting two iconic cities in the South West of England is the 15-mile (24km) Bristol to Bath traffic-free path. No matter whether you're a racer, commuter, pootler or toddler, the path sees cyclists of all ages and abilities cohabiting in the name of pedal-powered transport. Enjoy an ice cream at the Warmley café, witness an old steam engine in action at Bitton and have lunch at the pubs in Saltford.
It's one of many off-road paths developed and maintained by sustainable transport charity Sustrans, including the Camel Trail in Cornwall, the Peregrine Path in Monmouth and the Spen Valley Greenway in Dewsbury.
---
Level: easy, 18 miles (29 km)
The Camel Trail from Padstow is a car-free path for cycles and pedestrians, past breath-taking views of the Camel Estuary. Part of the region is designated an Area of Outstanding Natural Beauty, and you may spot wildlife including otters, dormice, kingfishers and bats.
It runs along a disused railway line so it's a flat route, perfect for a gentle cycle and suitable for kids. Stop off at Wadebridge after five miles, the Camel Valley Vineyard, or carry on another six miles from Wadebridge to Bodmin, towards the hills of the moor.
---
Level: easy, 4 miles (6km)
Numerous routes take you around the tarmac paths of Richmond Park, from easy routes for families up to challenging loops with steep hills. There's a 20 mph speed limit within the whole park, and some paths have pot holes so take care.

For this gentle family-friendly ride, begin at Roehampton Gate, past Sheen Gate and on to Richmond Gate, returning via Sawyer's Hill. If you want to avoid cycling alongside cars, stick to the paths around the ballet school and Pen Ponds. There's another suggested 5-mile route on the Richmond Park website.
---
Level: easy, 29 miles (48km)
Britain is a hilly place, not least within its National Parks – a veritable rollercoaster of peaks and troughs. But if hills aren't your thing, then praise be for the New Forest, a largely pancake-flat park on a grand canvas, and an idyllic hotspot in the sprawling south of England.
Brockenhurst is the perfect place to base your ride. In every direction stretches an abundance of quiet lanes tailor-made for cycling, particularly for new riders. Watch out for the ponies, which roam the park unencumbered and often traipse onto the road.
---
Read more of our expert cycling how-to guides:
The best bike racks for your car
How to start cycling as a family
Mountain biking in the Forest of Dean
---
Wales
Level: easy, 5 miles (8km)
It may be short, but the cycle-friendly stretch of road covering this limestone headland above the Welsh seaside town of Llandudno is very, very, sweet. The name, given by the Vikings, means 'sea monster' and it's what this lumpy protuberance resembles from the town's promenade.
Rising 207m out of the sea it's a mini-mountain to the residents here, and one that is experienced best by bike, with the five-mile Marine Drive skirting its way around its tip. With such extraordinary views, be sure to keep at least one eye on the road.
---
Level: hard, 25 miles (40km)
This route starts out in the industrial landscape of Merthyr Tydfil which, depending on your outlook, may not be the most auspicious start for a scenic ride – but bear with us as this trail genuinely goes from one extreme to the other. You'll find yourself cycling alongside the gurgling River Taff and over the spectacular Cefn Coed Viaduct before climbing gently up to not one, but three crystal clear reservoirs – Pontsticill, Pentwyn and Talybont.
Further on, you'll take in crashing waterfalls while enjoying the mountain landscape as the Monmouthshire and Brecon Canal takes you into the picturesque town of Brecon. It's part of the 55-mile Taff Trail from Cardiff, if you're up for a longer ride. A Sustrans map is also available.
---
Eastern England
Level: medium, 14 miles (22km)
East Anglia isn't renowned for its hills, but the Cromer Ridge route takes in the highest point in Norfolk – Beacon Hill, at 103 metres. The views from these paths make for a great cycling route, as you travel past Cromer's Victorian Pier, flint villages and the National Trust's Felbrigg Hall.
It follows Sustrans' Cycle Route 30, but some sections are off-road with uneven farm tracks and cattle grids. The circular route will take around three hours but if you don't fancy the extra two miles up to Beacon Hill you can return to Felbrigg Park from Aylmerton Church.
---
Level: medium, 18 miles (29km)
The traffic-free Water Rail Way cycle route begins at Lincoln Cathedral and is mostly flat as it follows the disused railway line. You'll pass the fenland scenery, along with a series of artworks on the route inspired by Lord Tennyson's writing.

The 18-mile route includes the return to Lincoln. If you're wanting more of a challenge, carry on to Boston, a total of 33 miles each way.
---
Level: easy, 5 miles (8km)
Cambridge county council has produced a special cycling guide based on Cambridge and the Great War, crossing the river Cam and encircling numerous places of interest around the city centre. This famously flat part of the UK is great for cycling, and there's a guide to Cambridge cycle routes with plenty of helpful information.

The Cambridge and the Great War route passes some of the city's most famous university colleges, including Trinity, King's and Corpus Christi, plus the library, museum and churches
---
Northern England
Level: hard, 26 miles (46km)
As a cycling destination, the Lake District has few peers and the market town of Keswick is a perfect place to set up base. From here there's an anti-clockwise, 26-mile (46km) loop that takes you over two of the best mountain passes in the national park. First up, Whinlatter; a relatively gentle two-mile climb carved through Britain's only true mountain forest of the same name and a regional mountain biking hotspot.
Then there's Honister, beginning by Buttermere Lake, gradually at first before transitioning to something far more testing towards the summit. You'll feel remote but like most climbs in the Lakes, you're never too far off the grid. For the more adventurous, these two climbs are included (from the opposite direction) in May's Fred Whitton Challenge cycling event, an ultra-tough 112-mile ride through the best of the region.
---
Level: medium, 17.5 miles (28km)
One of eight 'Big Skies Bike Rides' that take in the colourful, rolling chalklands of the Yorkshire Wolds, this starts on the high Wolds at Sledmere estate, where you can enjoy the parkland and views to the Vale of York before travelling through picturesque villages and unspoilt countryside.
There are memorials, churches and a Neolithic burial mound to investigate as you take in the landscape that inspired David Hockney – filled with quiet lanes, bridleways and cycle paths, it's a dream for two-wheeled explorers.
---
Level: medium, 32 miles (50 km)
The complete Hadrian's Cycleway route (Sustrans' National Route 72) runs for 174 miles, from Ravenglass in Cumbria to South Shields in Tyne and Wear. There are plenty of attractions to stop at along the way, making the full journey last for four or five days.

The section from Anthorn to Carlisle is mainly flat, with stunning views over to Scotland, and you'll pass the RSPB reserve at Campfield Marsh, before the beginning of Hadrian's Walk at Bowness-on-Solway. As you approach Carlisle the amount of traffic increases, but there's a cycle lane alongside the main road in parts. In the historical city there's plenty to explore, including the Castle, Cathedral, parks and boating lakes. Our route includes a return back to Anthorn, or you can carry on towards Brampton or Haltwhistle across the hills of the North Pennines
---
Scotland
Level: easy, 4 miles (6km)
It would be churlish not to include the spectacular scenery of the Highlands here, and this route takes in the particularly beautiful Loch an Eilein. The stunning sheets of water and scenic woodland surrounding them would be quite enough to satisfy anyone, but there is also a captivating ruined castle nestled on an island in Loch an Eilein to enjoy as you scoot along the undulating track.
If you start from Inverdruie car park, adding a couple of miles on to the route, you'll pass a pretty croft en route to the loch's car park – and you could extend it to 12 miles if you also take in Loch Morlich.
---
Level: medium, 44 miles (72km)
The centrepiece of this stunning ride in the Northwest Scottish Highlands is the wild, single-track mountain pass of Bealach Na Bà – the closest thing we have in Britain to the long, winding roads of the Alps. Linking the remote village of Applecross with civilisation, the Bealach is, at 9km, one of the longest climbs in Britain and boasts the greatest height gain (626m) of all.
From Shieldaig, a good base, the shortest loop is 44 miles (72km), and you should head clockwise to catch the climb from its best side. Keep a close eye on the weather and be sure to attempt it in the summer: getting caught out in the cold on this peninsula is an experience you won't forget in a hurry.
---
Northern Ireland
Level: hard, 25 miles (40km)
South of Belfast, the Slieve Croob and Mourne mountain ranges offers views over to the Isle of Man on a clear day. The Slieve Croob cycle route begins in the market town of Castlewellan and passes through the Castlewellan Forest Park and by Slieve Croob mountain, which rises to over 500 metres above sea level.
You can also stop at Murlough National Nature Reserve (with free entry) with miles of sand and shingle beaches. The circular route finishes back in Castlewellan with a challenging uphill climb, so reserve some energy for this final stretch.