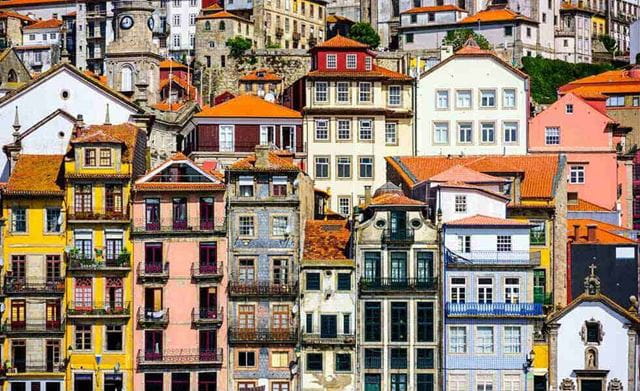 What to do
1. Walk around, get your bearings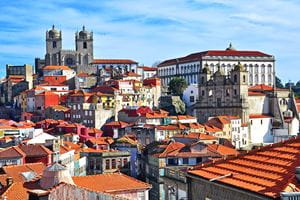 Porto is a compact city, which means you can easily explore all of the sights without using public transport, but it's hilly in places, too, so take comfy shoes. Set out without worrying too much about where you're heading, instead taking time to soak up the ambience of its atmospheric cobbled streets filled with shops, cafés, restaurants and crumbling townhouses, some of which are abandoned. If you prefer a little direction, the UNESCO Ribeira (old town) on the Douro riverfront, with its table of towering townhouses and steep streets, is a good place to start – you'll find Casa do Infante, where Prince Henry the Navigator was born in 1394.
---
2. Go shopping
Rua Santa Catarina is a vibrant and charming street in the centre of Porto lined with big brand-name shops and smaller, independent stores, many with beautiful old shop signage. Refuel at Café Majestic at the end of the street, a Belle Epoque-era with an ornate interior with magnificent carved wood panels, mirrors and chandeliers. For traditional souvenirs, head for the vast Vida Portuguesa, a huge old-fashioned emporium crammed with Portuguese products, including ceramic swallows, cork knick knacks, tinned sardines and soaps in pretty vintage packaging. Next door, take a peek inside the city's famous bookshop, Livraria Lello, to see its Neo-Gothic revival interior and magnificent staircase and stained glass roof.
---
3. Sample the local tipple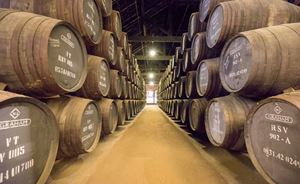 No trip to Porto would be complete without finding out more about what the city's most famous for: Port. Vila Nova de Gaia on the other side of the Douro river is where you'll find all of the city's famous port lodges, the most sophisticated of which is Graham's, which also offers a great view from its hilltop position. Its 1890 cellars are stacked with thousands of port casks. There's also a renovated museum.
---
4. Take a tram ride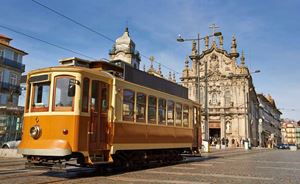 A trip to Foz, Porto's beachy suburb, is a great excuse for a ride on a vintage tram. Hop aboard Line 1 on Rua do Ouro (21), then settle back into the 1920s car as it skirts along the Douro out to the Atlantic. portotramcitytour.pt
---
5. Take in the view
The Teleferico de Gaia cable car winds up and down the riverfront of Vila Nova da Gaia from the top level of Ponte de Dom Luis I to the Douro's edge. It's a short but spectacular journey that gives you an elevated view of Porto across the water and the roofs of the port lodges beneath you.
---
6. Find the Azulejo tiles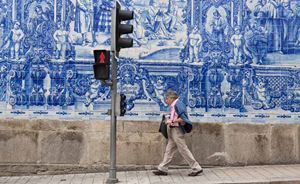 Porto is famous for its smattering of buildings and monuments clad in Moorish Azulejo tiles. The early 20th-century Sao Bento station is a perfect example, its magnificent tiles showing the history of Portugal. Another gem is the striking Capela das Almas on the Rua Santa Catarina, its entire exterior clad in the tiles that tell the story of the lives of various saints, including the death of St Francis and the martyrdom of St Catherine.
---
7. Tour the vineyards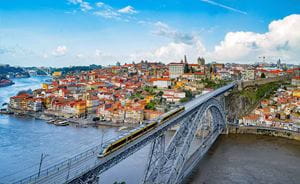 You can easily drive into the wine area from Porto, but it would be far more memorable to experience a journey on the historical Linha do Douro (Douro Line), a 160km river-hugging train track from Porto to Pocinho, via more than 20 tunnels, 30 bridges and 34 stations. Get off at the little village of Piñhao about 1.5 hours away, for lunch in a little bodega, before wine tasting at the wine house attached to the station, run by one of the local wineries, Quinta Nova de Nossa Senhora do Carmo.
---
What to eat
A hearty Portuguese snack
Don't be fooled by the rough-around-the edges look of Casa Guedes. This local favourite tasca serves tasty, filling and cheap meals, but is best known for its famous pulled-pork sandwiches. Space is tight, so you'll need to be prepared to queue for a table inside or on the terrace on the square. But it's worth the wait.
Praca dos Poveiros 130
---
A traditional lunch
You'll find Casa Evaristo, a traditional Portuguese eaterie, close to the city's beautiful Capela das Almas on Rua Santa Catarina. It's a cosy and cheap lunch spot, offering the perfect introduction to Portuguese home-cooking – the food is simple but tasty with the fresh ingredients and a homemade feel – and cheap.
Rua de Fernandes Tomás 535, 4000-443 Porto, Portugal
---
Where to stay
Maison Des Amis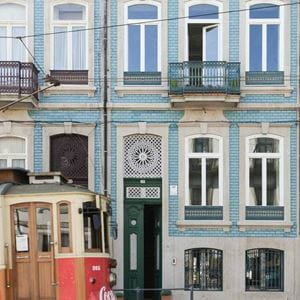 If you enjoy hotels with an interesting history and story to tell, this stunning family-run guesthouse set in a once-abandoned former furniture showroom that belonged to the owner's grandfather is an ideal choice. It has been completely refurbished, its original features restored, including all the original antique furniture, once left to gather dust and now used to kit out the four guest rooms, dining room, lounge and reception area. There's also a sunny back-garden terrace for breakfast in the summer.
Rua da Restauração 431, Porto, Portugal