How does Boundless choose its partners?
We handpick them to make life a little easier for you. With us, you can take care of anything from your supermarket shop to a brand-new car – and save money at the same time. We run member surveys, record feedback through member services and monitor partner engagement to make sure we are tailoring our partners to best serve members' needs.
How do I know if a company is a Boundless partner?
So that you can quickly and easily identify them, we've created our Boundless Partner Approved logo – where you see this, it means the associated organisation agrees to our Partner Charter rules. Which means, in turn, you know you can put your faith in these companies because we've done all the legwork for you.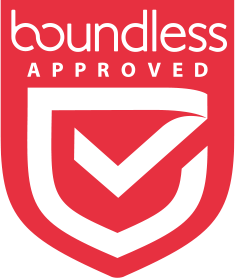 So, what makes up the partner charter?
1. Better Value
We make every effort with our partners to save you money off their public price. This might be a discount or in the form of added value, such as fast -track check-in or a bottle of wine on arrival at your accommodation. Either way, we work hard to give you something that's extra special.
2. How do I know if a company is a Boundless partner?
It also means that Boundless has checked out the organisation. We know it has a sold financial position, it's properly insured and is regulated by a relevant body, where applicable. For example, any travel company will be ABTA bonded and an insurance company will be FCS regulated.
3. Cheap phone calls
We guarantee either a UK freephone telephone number or, at the very least, phone numbers that begin with 01, 02 or 03 and are charged at the usual geographic rate. This means that should you need to, you can easily reach our partners and it wont cost you an arm and a leg.
4. Customer service
We only select brands that provide excellent customer service for our members. It might mean they've won an award, they are a household name or have top ratings and reviews for their customer service. This, together with our checks, assures every partner is a reliable company.
How can I feed back about my Boundless Partner Experiences?
We have put our trust into these partners so you can trust them too. If you need any help, you can always come to us. Please email us at info@boundless.co.uk or call on 0800 669944.