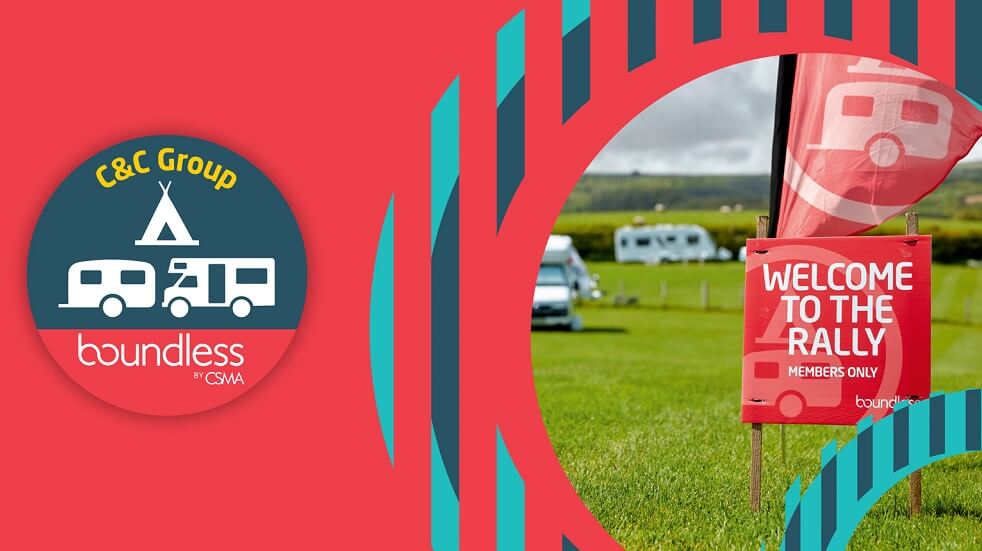 With over 40 rallies taking place throughout the UK and Europe, the Camping and Caravanning Group provide great value, great locations and a chance to meet with other enthusiasts.
The Boundless Camping and Caravanning group offers members a fantastic variety of rallies to suit all tastes, from relaxing retreats to fun-packed activity breaks across the UK and Europe.
Every rally is carefully organised by dedicated rally marshals, who have kindly volunteered their time to make sure you receive the very best for your money, and an organised choice of rallies for you and your family throughout the year.
Organised UK and European Rallies
Suitable for caravans, motorhomes and tents
Open to members, families and friends
Choose from unique events with activities and social evenings for all the family
Provisional Rally Calendar 2020
All 2020 UK rallies will be listed on this page from the 5 January when booking opens.
UK rallies that begin after 31 March will only open for booking from 5 January, however you can get the dates in your diary with the 2020 provisional calendar.

Download the Provisional Calendar here>>
---
Rally Booking Form
Great news you can now complete the Rally Booking Form online visit boundless.co.uk/ccbooking for more information
---
Join our dedicated team of Rally Marshals
Keep an eye out for our Introduction to Marshaling Rally - details and booking will be on this page from the 5 January.
We're always on the lookout for more volunteers to run new and exciting rallies.
Interested in running your own rally or want to share a destination or event you think would make an ideal location? Whether it's basic camping or a holiday park packed full of luxuries, a laid-back retreat or an activity break, our Member Communities team would love to hear your ideas. Please get in touch at ccgroup@boundless.co.uk or call us on 0330 123 2551.
Here are just a few of the benefits you can enjoy as a rally marshal:
Full dedicated support
Expert volunteers happy to share knowledge
Marketing support to promote your event
Your rally will be included in the C&C handbook, which is available to all members
Allowable expenses paid as rally marshal and assistant marshal
Choose where you want to go – UK or Europe
---
Please remember that tents are welcome on rallies....
February 2020
Mon 24th Feb to Mon 2nd Mar
Spring in the Forest Park
Whitemead Forest Park
Doug & Rosalie Parker
June 2020
Mon 1st Jun to Sat 13th Jun
Romantic Royan
Camping "Le Logis du Breuil"
Brian Roberts
Mon 8th Jun to Thu 18th Jun
Early Summer in Loire
Camping Les Saules
Keith Harris
Please feel free to get in touch, our committee members will be happy to hear from you
"Many thanks to Barry & Lynn and all the assistant marshals for a super rally. Not easy with the unexpected weather. Good to meet old an new ralliers at the lovely venue of Whitemead. "

"I would like to thank Barry & Lynn Lovatt and their assistant Marshal's for a first class rally, also nothing was too much trouble for park staff who had to contend with the adverse weather conditions. The entertainment was excellent, the service andfood was great, Whitemead is great place for families & couples. Thanks again."