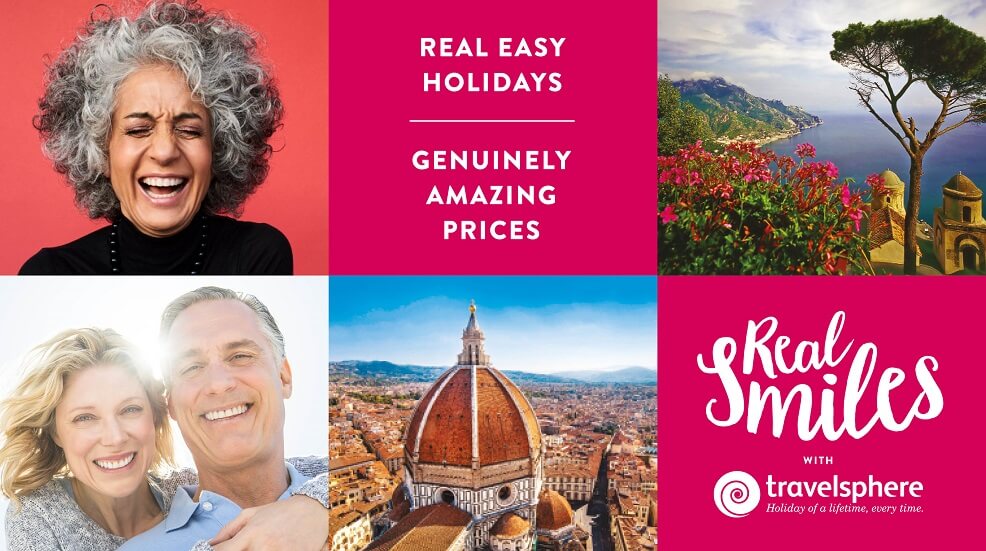 8 days in Sicily from £1099pp* On this delightful Sicilian journey, you'll discover evocative landscapes sweeping down to pretty seaside towns, Roman villas overloaded with art treasures and Mount Etna, Europe's most imposing active volcano.
A Week in Andalucía. 8 days from £799pp PLUS £50pp Boundless discount. Unwind and soak up the sun while discovering the best of Andalucía.
Secret Lakes of Italy. 8 days from £899pp PLUS £50pp Boundless discount. Soak up the stunning scenery at six 'secret' beauty spots of northern Italy.
Cruising the Winelands of France. 8 days from £1,899pp PLUS £50pp Boundless discount. Sample some of France's finest wines as you sail the Garonne and Gironde Rivers.
8 days half-board on the Amalfi Coast. Admire the beautiful picture-postcard scenery that makes this region so special. From £649pp + £50 Boundless discount*.
YoutubeId-QIOIGjXdIk4
---
---
Your Travelsphere discounts and deals
Create incredible memories and save money at the same time with Travelsphere holidays and Boundless. Available to all Boundless members, our Travelsphere discount codes can save you up to £100 on short and long haul holiday destinations – meaning more money to put aside for sightseeing, cocktails and gifts!
Wherever you choose to explore, however you choose to travel, Travelsphere believe it's the people you're with that make all the difference to your precious time away.
Travelsphere have specialised in providing escorted tours across the globe for over 50 years, and still love to share their passion with like-minded people. As Boundless members, you get to enjoy the benefits of extra savings on your Travelsphere holiday.
Your holidays mean the world to you and Travelsphere want to ensure you get the most from them. They pack so much into their holidays. Flights, transfers, accommodation, world-class Tour Managers and many local excursions are a given.
Your included meals, which are customised per tour, give you a flavour of the local culture and cuisine but there is always plenty of time to explore yourself.
From fascinating history to awe-inspiring natural wonders and the chance to learn something new, shared experiences in good company are something you'll never forget.
Login or join Boundless for only £27 a year to access these amazing Travelsphere discounts.
Click below to see your exclusive member offers
About Travelsphere and your discount
Explore our other Travelsphere discounts below.
£50 saving per person on short-haul destination holidays**
£100 saving per person on long-haul destination holidays**
No surcharges
Save up to £1000 per couple (Worldwide)
Fly from your local airport – local and connecting flights from £99 per person
Book two or more holidays on the same day and save an additional £50 per person
Free VIP private door-to-door airport transfers for all worldwide holidays (not European)
Make Your Own Way
Rock-Solid Guarantees
Login or join Boundless for only £27 a year to access these amazing Travelsphere discounts.
Guaranteed departures
You can have complete peace of mind that when you book any tour featured with the Travelsphere brochure, it's guaranteed to depart as promised. Also, look for the tick when you're browsing the Travelsphere website.
Guaranteed price match
Travelsphere tours give you fantastic value for moneys, so they're confident you won't find a better price.
Guaranteed price promise
You deserve the best, and when you book early, Travelsphere will guarantee you'll get the best price available. If you see your holiday advertised for less that you paid, they'll refund the difference.
100% protection
Every Travelsphere holiday is ATOL protected or covered by our financial failure insurance, meaning your money is completely safe.
Join Boundless to claim this offer and lots more like it across popular lifestyle, travel, finance and motoring brands!
*Price includes member discount
**Terms and conditions apply, click here for more information.
Phone lines are open 9am – 7pm on weekdays, 9am – 5pm on Saturdays and 10am - 4pm on Sundays. Additional terms and conditions applicable to our Travelsphere discounts can be downloaded below.
Download